Estimated read time: 2-3 minutes
This archived news story is available only for your personal, non-commercial use. Information in the story may be outdated or superseded by additional information. Reading or replaying the story in its archived form does not constitute a republication of the story.
Team coverage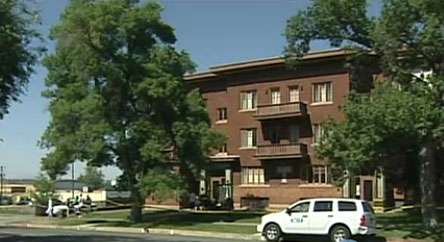 Ogden police are investigating what appears to be a double homicide. The bodies of two women were found at two different locations Sunday morning.
Police have a man custody who claims responsibility for both murders. Jacob Ethridge, 31, of Roy, turned himself in Sunday morning. Police believe he met the victims either early Sunday morning or late Saturday night. He's now in the Weber County jail on two counts of first-degree murder.
Police got the first call around 6:30 a.m. after a tenant found a body in the back parking lot of the Peery apartment building on the 2400 block of Adams Ave.
A neighbor, Lilia Anguiano, says hours earlier she heard arguing and what sounded like verbal threats.
"Then about 2:30 you heard a loud noise. Didn't sound like a gun. I didn't think it was a gun," she said.
Initially police were working on that single homicide. But then Ethridge turned himself in and gave police information that led them to the body of a second woman in a building just one block away from the first crime scene.
Lt. Mike Ashment of the Ogden City Police Department explained, "He came into the station and he basically said that he was the person responsible for that homicide, and there was another victim that would be harder to find."
Ogden police say the neighborhood is known for crime. A worker at the U.S. Forest Service, which is across the street from the crime scene, said, "We've had e-mail notices saying be careful when walking from the car to the building and back." They even have a guard out front watching these streets.
Several months ago, in the same building where police found the body of the first victim Sunday, a woman was violently raped. She spoke to Eyewitness News following that crime. "He had the gun pressed to my head really hard. I was afraid of him accidentally shooting me," she said.
Her attacker has not been found, and police say it's too early to know if the crimes are connected. But neighbors are fed up.
Lilia Anguiano said, "It's a tragedy that I don't ever want to have my kids go through. I want my kids out of here as soon as possible."
The first victim is believed to be in her 40s. The second victim is believed to be in her 20s. Police say it appears both victims lived some sort of transient lifestyle. One woman says she knew one of the victims as "Wyoming," and the other as "Rose."
E-mail: wjohnson@ksl.com
E-mail: aadams@ksl.com
E-mail: tcallan@ksl.com
×
Most recent Utah stories