Estimated read time: 2-3 minutes
This archived news story is available only for your personal, non-commercial use. Information in the story may be outdated or superseded by additional information. Reading or replaying the story in its archived form does not constitute a republication of the story.
Four people are being hailed as heroes for helping save a man trapped inside a burning semi truck.
The accident happened last night. In seconds, the truck hit a concrete barricade, skidded about 300 feet and caught fire. The driver was inside and unconscious.
Daniel Jones, who helped rescue the driver, told us, "There were four or five cars in front of us stopping really fast, so I slammed on my brakes."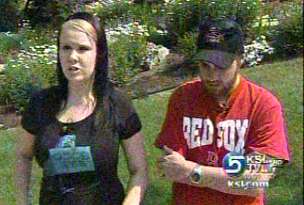 Jones and Wendi Christiansen were on their way to a concert last night. When they came across the accident, they knew they wouldn't make it to their concert. "The truck was on fire. We knew someone was in there. We knew we had to get him out," Jones said.
The crash knocked the driver out. Christiansen called 911 while Jones worked with two other people to help. "The front of the car was busted up, crushed in. The tires were crazy and the bottom was burning," Christiansen said.
Robert Nixon, with the Utah Highway Patrol, said, "These people were able to unjam the door and open it and get the gentleman out before it was engulfed in flames."
After the driver was safe, the group held towels to his bleeding head and talked to him to keep him calm. "He was confused, he didn't understand why his truck was on fire," Christiansen said.
Highway Patrol troopers say the man was taken to the hospital with relatively minor head injuries. He was lucky, considering the situation he was in.
"There's good people out there, and we're glad those four people stopped," Nixon said.
But Jones says the credit for the save really belongs to one man who, he says, actually got the door open and grabbed the driver. But he says that man didn't stick around. "That guy is the real hero, and he went on his way after, like, 'huh, I've done my job for the day,'" Jones said.
We were able to identify that man, but when we called him, he declined to go on camera, saying he's not a hero.
The trucker is still in the hospital; his condition is not being released.
E-mail: sdallof@ksl.com
×
Related links
Most recent Utah stories