SALT LAKE CITY — Not long before the Japanese bombed Pearl Harbor in December 1941, Ralph Henderson of Arimo, Idaho, was drafted into the Army.
"Sure, there's pride," he said. "There's still pride."
He was eager to serve his country and went to train in Wyoming. But unlike so many other young draftees marching off to war, Henderson would take the closest part of his family with him.
"Boyd went with me," he said.
Ralph's identical twin Boyd signed up after Ralph was drafted. They were born Sept. 6, 1918.
"My mother encouraged me to go with him," said Boyd.
Their mother thought they could look after each other. In fact, four Henderson brothers and a brother-in-law all served at the same time.
The twins were in the barracks in Wyoming when the Japanese attacked Pearl Harbor.
"All of the fellows in the barracks come out and say, did you hear what happened? The Japanese had bombed Pearl Harbor," Ralph said.
They had never heard of Pearl Harbor. But soon they were on their way to North Africa as part of the 805 Tank Destroyer Battalion.
"I was scared," said Boyd. "Scared as can be."
The twins served in separate companies and only saw each other a couple of times in battle, but they were always in each other's thoughts.
"I worried about him all the time," said Boyd.
"Don't you think it would be tough?" Ralph asks.
Ralph worried about whether he would be buried in Italy. Boyd was sure he'd come home. Boyd said he was certain his LDS faith and a blessing before the war would carry him through.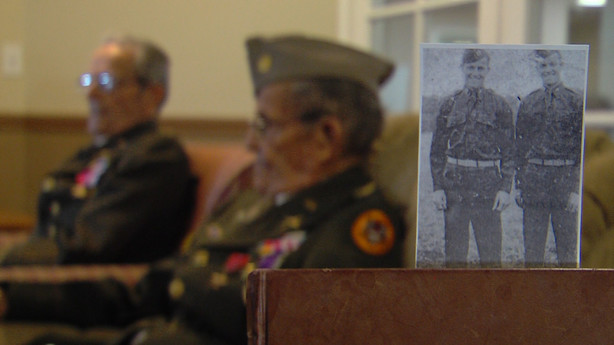 "I remember the blessing I got, and I had full confidence I was going to go through it, and I did," he said.
Boyd commanded six destroyers as the battalion advanced into Italy. As the Germans retreated, the battles were long and fierce.
"Three or four days at a time, and then you would push the Germans farther out," Boyd said.
The unit was decimated.
"We lost them all along the way," he said. "There were casualties."
Boyd captured a German flag at the Coliseum in Rome and had a rare chance to get his photograph taken with it and his brother. More often, they were unaware they were on the same battlefield.
"We were fighting side by side," said Ralph. "But we didn't know Boyd was there and I was there."
Ralph earned a Silver Star and a Bronze Star for heroic actions behind enemy lines. Boyd received a Purple Heart.
"We got a terrible shelling and one of the shells penetrated the armor plating," said Boyd.
Shards of metal from the plating went into his back, but he was back in action after a short stay in the hospital.
As the war wound down, Boyd was in Dachau when they liberated the infamous concentration camp and buried the dead. At first, they had no idea what had been going on there.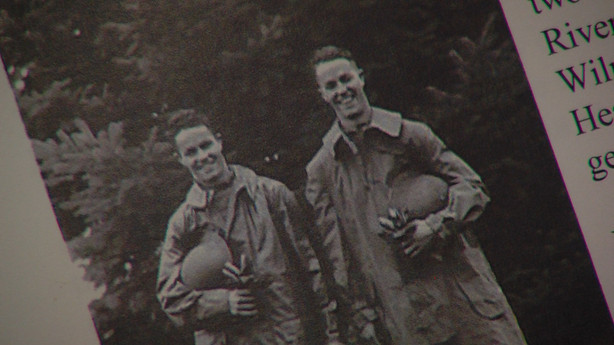 "We crossed over the Rhine River into Germany and we smelled this awful smell. We kept going, and it was Camp Dachau," he said. "I felt bad that these people had to die that way."
Both men made it home alive and got into their family lumber business in Idaho. Today, they live near family in southern Idaho.
They said they will always remember the love they felt when they saw each other in the midst of war.
"I always did," said Boyd. "I always had love for him."
×
Photos