Estimated read time: 3-4 minutes
This archived news story is available only for your personal, non-commercial use. Information in the story may be outdated or superseded by additional information. Reading or replaying the story in its archived form does not constitute a republication of the story.
SOUTH JORDAN — Staplers, rulers and grade books are classic items teachers take to school, but 20 Utah teachers could be carrying a more unexpected tool in the coming months — a gun.
During the Utah Education Association break Friday, the Utah Shooting Sports Council offered a free concealed weapons class structured specifically for teachers and others working within schools. The class involved discussion, demonstration and practice scenarios in safe gun use in school environments.
After the instruction, participants could pay a $49 fee and submit an application for a concealed carry permit to the Department of Public Safety.
Utah laws not only allow concealed weapons in public schools, but it prevents districts or administrators to prohibit concealed weapons.
Clark Aposhian, Utah Shooting Sports Council chairman, has instructed concealed weapons classes to teachers each year since the early 2000s. He said the lack of danger-preparedness in schools make them easy targets for crime.
"A shooter who wants to end his life via suicide but take a whole bunch of other people with him, probably wants to pick a place to exact that evil plan without getting return fire," Aposhian said. "We are hoping to show that Utah schools and universities are not a place to do that."
Aposhian focused his lesson Friday on expounding on the districts' disaster policies. Most teachers who attended the class said their district's policy was to lock the door, turn off the lights and hide in the most protected section of the classroom.
After Aposhian instructed the teacher on what to do in the classroom, the group went to the parking lot for practice situations.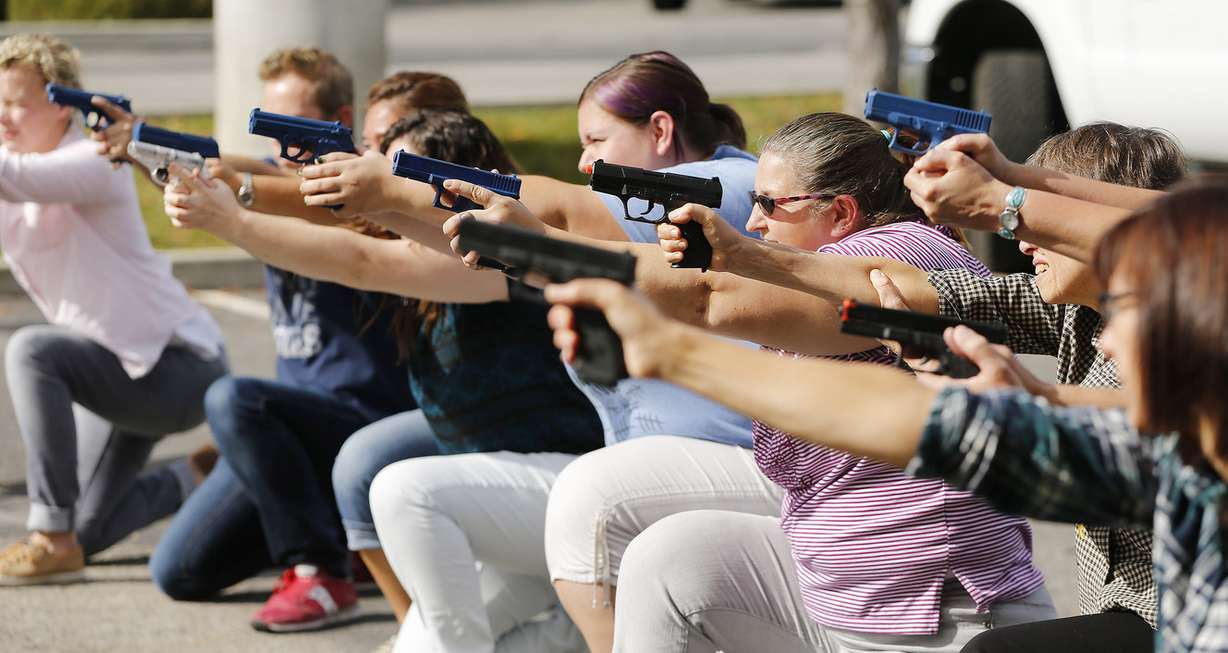 Janette Pocock, a Salt Lake County elementary teacher, said she feels a lot more comfortable dealing with school lockdowns after the training.

"Crises happen," Pocock said. "It's one thing to hide and be quiet, but there are times when people break into those classrooms, and if you have a gun, you're more likely to be able to handle that at the same level as the shooter than if you are just covered by chairs."

Not all educators believe teachers carrying firearms is a good idea.

"Teachers have so much other training to undergo. They just aren't equipped to handle firearms," said retired elementary educator Malinda Lund, citing a situation in last year when a Taylorsville teacher accidentally shot herself in the foot.

Shannon Diotaivti, a Jordan School District elementary school teacher, said she believes more guns in schools will lead to more injuries to innocent people — even if the guns are kept as a protection.

"I just think about how much I love those kids and what could happen to them," she said. "What if you forget to lock the gun up?"

Despite mild opposition, the Utah Shooting Sports Council plans to hold concealed weapons classes for educators during UEA breaks to come.

"We need to allow teachers, bus drivers, librarians and others to carry firearms if we are serious about protecting our kids," Aposhian said.

**Contributing:** Jed Boal
---
Tori Jorgensen is a Deseret News intern and current communications major at Southern Utah University. Find her on Twitter @TORIAjorgensen Email: vjorgensen@deseretnews.com
×
Photos
Related stories
Most recent Utah stories