Estimated read time: 3-4 minutes
This archived news story is available only for your personal, non-commercial use. Information in the story may be outdated or superseded by additional information. Reading or replaying the story in its archived form does not constitute a republication of the story.
SALT LAKE CITY — They say you can't go back, but Brian Hultman did.
Back to the place he went down, and with the doctor who helped him heal.
Hultman, of Jackson, Wyoming, had competed in the grueling 206-mile bike race from Logan to Jackson, known as LOTOJA, nine times before, even towing an injured friend for part of a race by connecting the front of his friend's bike to the back of his own.
Photos from a 2013 camping trip show a happy family just weeks before catastrophe: Hultman, his wife, Wendy, and their three children were young, healthy and vibrant.
"I was going out of Star Valley and into Thayne, and I had two guys behind me," Hultman said. "I said, 'Hold on. Hold on. We'll get there.'"
He was about to have a massive, catastrophic stroke.
"Then, on the left side of my vision, I had equations and numbers, like math-type things," Hultman recalled.
His vision on the right side, he said, is hard to describe.
"There were no borders. It was like art," Hultman said.
He tried to figure out what was happening.
"That's weird," he said. "Why am I seeing math equations and limitless boundaries?"
Unaware of the trouble he was in, Hultman wanted to finish the race.
"My right arm was somewhat stuck to my handlebars. My right leg wasn't cooperating either," he said. "Other than that, I was good to go. But I really wasn't."
The rest of his memories are flashes. Hultman remembers his wife's voice in the emergency room.
"She just said … 'I love you.'" he said. "All of them were like three-second clips, and then I was gone."
Slowly, painfully, Hultman fought his way back at University Hospital, working his way up to walking at a spot that is still marked off with tape in the hallway that became his makeshift "racetrack."
And he's still fighting. His gait is slightly off, and he sometimes struggles to find the right words when speaking. But his recovery has been remarkable, doctors said.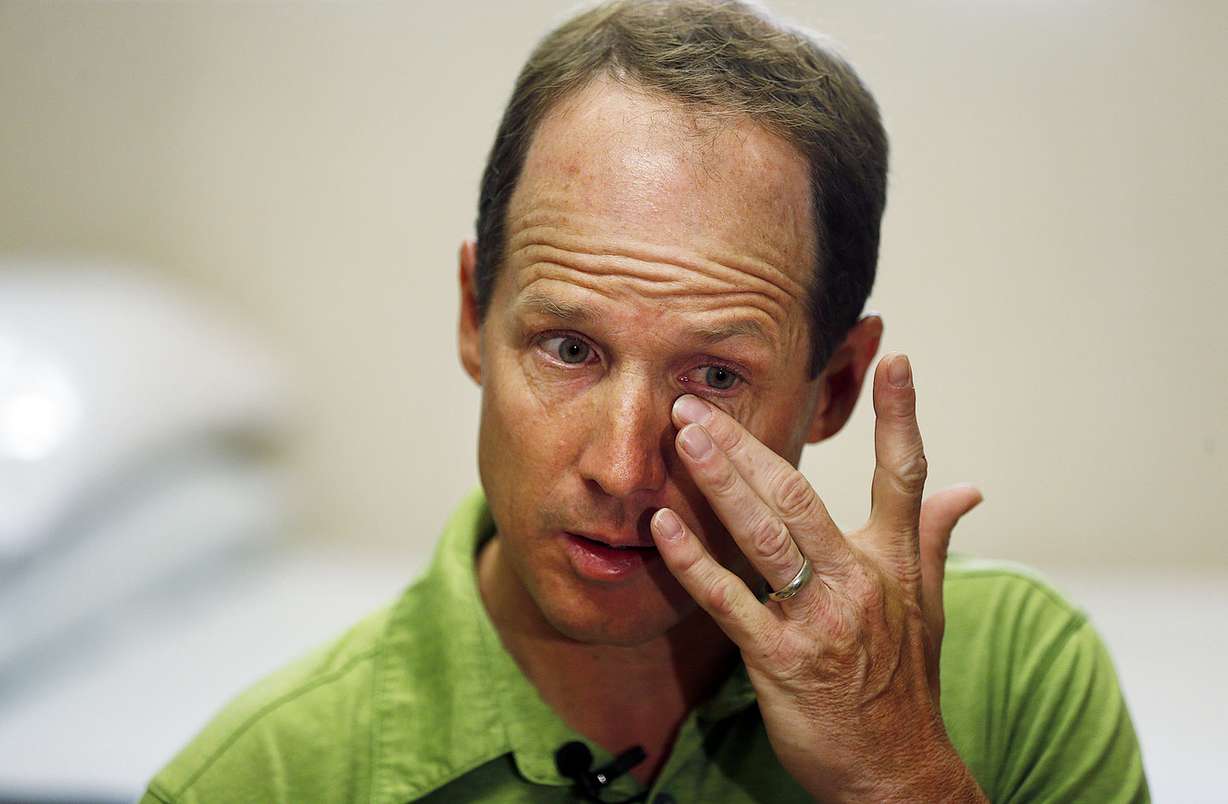 "I'm not frustrated. I'm determined," Hultman said.
Though race officials gave him a trophy, it wasn't enough. He had to go back and finish, the doctor he'd bonded with during recovery at his side.
"It's just who I am," Hultman said. "It felt really good to finish it."
On Sept. 12, doctor and patient crossed the finish line together. It was a victory for them both.
"I was completely paralyzed on my right side," said Dr. Steven Edgley, a physical medicine and rehabilitation specialist at University Hospital. "I could not feel anything. I could not feel anything on my right hand and was totally mute."
You see, Edgley, too, had a stroke — 14 years ago during residency.
"I saw a clear need of more quality of stroke care, especially stroke rehab care," he said, slowly and deliberately.
Edgley changed his focus to physical medicine and rehabilitation, his life's work.
"This has become my purpose," he said.
They say you can't go back. But Hultman and Edgley proved you can. And they found it's a sweeter ride the second time around.
"It felt perfect," Hultman said. "It was nice to have everybody there."
Signs of a stroke — the FAST method
F Face drooping: Is one side of the face slack or numb? Can the person smile normally?
A Arm weakness: Are both arms functional. Does one droop downward, or is the subject unable to lift one?
S Speech difficulty: Is the subject able to speak normally, or is there a slur?
T Time to call 911: If any of the above symptoms exist, call for help immediately. Be sure to check the time at which the symptoms began appearing.
Information courtesy of strokeassociation.org
×
Photos