Estimated read time: 2-3 minutes
This archived news story is available only for your personal, non-commercial use. Information in the story may be outdated or superseded by additional information. Reading or replaying the story in its archived form does not constitute a republication of the story.
One of the biggest celebrations in Utah for the Fourth of July is in Provo. It's America's Freedom Festival, which will attract tens of thousands of people.
Stadium of Fire is scheduled there for tomorrow night, starring Miley Cyrus. But the first big event is in the morning. The Grand Parade begins at 9 a.m., and people are trying to adjust to new rules enacted by Provo City this year for saving a place for the parade.
The biggest change is along Center Street. No one will be allowed to save a place for the parade until 5 a.m. tomorrow, meaning no one can sleep along the parade route on Center Street overnight.
On University Avenue, no one was supposed to stake a spot until three o'clock this afternoon; however, by one o'clock, people were already saving places because they said it wasn't being enforced, and if they waited until 3:00, there wouldn't be any places left.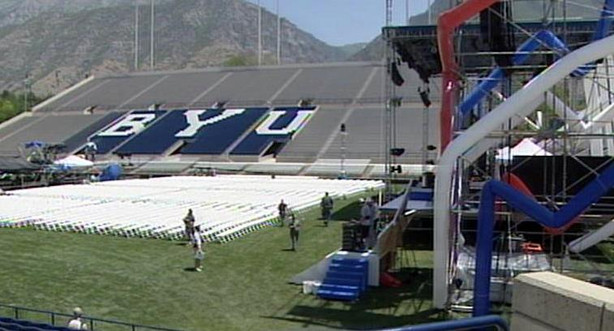 Parade-goer Paula said, "It's just that so many people are not following them that it's put pressure on you to get a spot and it's hardly one p.m."
Danielle, another woman we found saving a spot, said, "I was trying to wait until 3, but if I were to wait until 3, it was all going to be gone."
And Michelle said, "People that don't come out and don't save a space usually will just go in front of you and put their blankets right in front of you. Then your children can't see, so it's a little frustrating."
Crews are finishing the setup at Lavell Edwards Stadium for tomorrow night's Stadium of Fire. Along with host Glenn Beck and the Blue Man Group, teen star Miley Cyrus will perform to a sold out crowd.
However, while all of the tickets were sold out within minutes back in April, there are still tickets out there. People who were trying to cash in on Miley's popularity bought extra tickets and have posted them for sale at prices well above face value.
We checked some Web sites today and found that many of those prices are going down. So if you really want to be at the show tomorrow, you may now be able to find some tickets for close to what they originally sold for.
E-mail: spenrod@ksl.com
E-mail: rjeppesen@ksl.com
×
Related Links