Estimated read time: 4-5 minutes
This archived news story is available only for your personal, non-commercial use. Information in the story may be outdated or superseded by additional information. Reading or replaying the story in its archived form does not constitute a republication of the story.
PROVO — It was the first in-person look at the 2015-16 BYU men's basketball team at media day Tuesday. Only five players who appeared in game action from last year's squad will be options for BYU head coach Dave Rose this year.
BYU will try to replace Tyler Haws, the school's all-time leading scorer.
Rose said this year's team dynamic feels similar to that of the 2011-12 team following "Jimmermania."
"It kind of reminds me of four or five years ago when we were trying to replace Jimmer as far as scoring is concerned," Rose said. "Tyler (Haws) was such a consistent scorer for us. I think the way we'll do that is kind of similar to that year where we'll have a lot of guys who will share that role. I think there are five or six guys on this team capable of scoring in double figures."
Of the 15 players on BYU's active roster, 11 are underclassmen, and nine are new to the program.
"One thing we've been able to do in my 10 seasons is return a core group that can help the younger, inexperienced guys understand not only our system, but the way we practice, what we do, kind of our culture," Rose said. "I think with Nate (Austin), Corbin (Kaufusi), Chase (Fischer), and Kyle (Collinsworth), there's pretty good communication to this group about what our expectations are."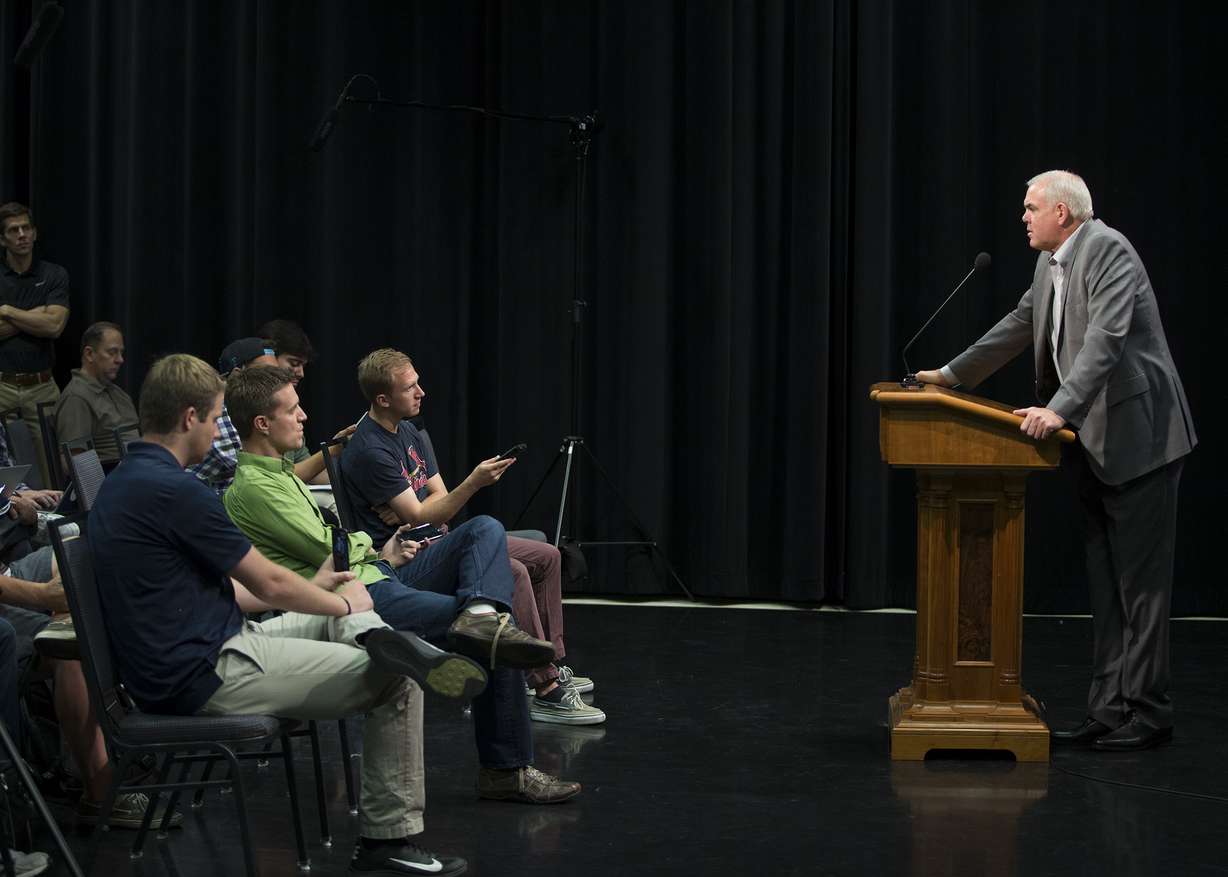 A common observation among players was that, even with the loss of Haws, this year's team could be tougher to play against. Many think points will come in bunches from a wider variety of scorers than in years past.
"I think we will be more balanced because of the inside-out threat," BYU guard Fischer said. "Obviously, I would never badmouth Ty (Haws), he's unbelievable, but it was tough some nights because everybody knew where the ball was going. He still scored and was great for our team, but I think it will be different now with our new personnel. I don't think it's out of the question to say we'll be a more balanced team."
The Cougar defense was highly criticized after last season's heartbreaking loss to Ole Miss in the first round of the NCAA Tournament. Rose and his players are confident it will be better, particularly because of the new faces.
"I'm really pleased with our defensive improvements," Rose said. "I think personnel adjustments will help us. The last couple of years, we've had a tough time with the depth of our frontline. We played smaller guys. It was tough to guard us, but it was also hard to guard our opponent's guys. I believe with the size, strength and depth of this frontline, if that group is as good as I think it will be, it will show on the defensive end."
"Ever since I've been here, we've been in the top five in scoring nationally, but our team really hasn't been able to rely on defense at all," Austin said. "This year, I think that's going to change. I think we said the same thing last year, but with injuries it was hard to really rely on the defense. I think defense is the biggest key to having a big year and winning a conference championship."
Related Story
BYU is also starting to see some of its heralded recruits trickle into the program. The roster features many talented incoming players, but there is also a strong veteran presence. That is exactly the formula Rose had in mind when he was first hired on to coach the Cougars in 2005.
"It was really important to me when I took this job 10 years ago that we didn't just have good teams but have a great program," Rose said. "We wanted to be consistent year after year and not just plan for a big year. We're still looking for that really big year, but we also want to be consistently good."
Rose admitted his patience has been tested at times during the process, but his vision for the program is beginning to take shape on the court. Blake Dorton is a student at BYU studying broadcast journalism and French. Blake hopes to pursue a career in sports broadcasting following his graduation. Follow Blake on Twitter @BlakeDorton.
×
Related Stories