This archived news story is available only for your personal, non-commercial use. Information in the story may be outdated or superseded by additional information. Reading or replaying the story in its archived form does not constitute a republication of the story.
SALT LAKE CITY — In a scramble to collect costumed fans in the final minutes, Salt Lake Comic Con claimed the Guinness World Record for gathering the most people dressed as comic book characters in one place.
Last-minute participants answered calls through the convention hall Friday to be the final few hundred members of the record, including "Arrow" and "Hobbit" star Manu Bennett, who rushed over from a panel he was presenting at the comic and pop culture event.
At the final count, 1,784 fans of all ages were tallied, surpassing the previous record by about 250 people.
"To see nothing but a sea of costumed characters if just kind of mind-blowing. … It's not just about numbers. There's something to be said about the 'little train that could,'" said Salt Lake Comic Con co-founder Bryan Brandenburg as he stepped out to the convention floor to flag down a passing fan dressed as Captain America.
While Salt Lake Comic Con has been drawing thousands of attendees at each event since its 2013 launch, many of whom come in costume, the challenge for setting the world record was ensuring enough people would show up at the designated meeting spot. Additionally, only costumes for characters who had originated in comic books, not movies or TV, were eligible.
"You can have the best organized record attempt, but the trick is getting people in the door. I've seen it happen time and time again," Michael Empric, a Guinness World Record adjudicator. "I know they have enough people attending the comic con. They just need them in the record attempt to count."
Empric confessed he was unfamiliar with most of the costumed characters parading into the hall, leaving verification to a small group of local comic book experts who were brought in for the task. Participants were counted by scanning official record attempt cards, which they carried with them throughout the endeavor.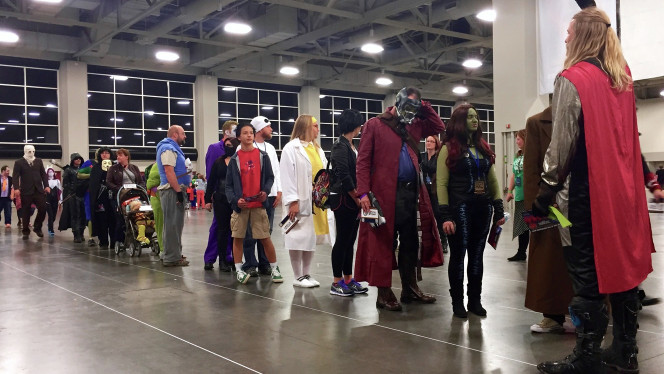 McKenzie Romero/Deseret News
Once assembled, participants sang and danced through the required five-minute judging period, raising chants of "USA!" when the record was announced and Bennett, Brandenburg and event co-founder Dan Farr carried a large, framed certificate down to the crowd for a photo.
Among the record-setting crowd was Josh Dorius, of Draper, who was celebrating with his 5-year-old twin boys, Ben and Colin. Dorius and Ben both wore homemade Aquaman costumes, put together with brightly colored athletic clothing and duct-tape accessories, while Colin showed off his Batman jumpsuit.
"I asked them if they wanted to do it, and they got really excited about seeing all the superheroes together," Dorius said. "They chose their costumes, and I kind of followed."
For 12-year-old Kaylee Handy, the highlight of going to school Monday will be telling her friends about dressing as Marvel's Black Widow for the record attempt while her father portrayed Captain America and her mother stood by his side as the hero's love interest, Agent Peggy Carter.
"Whenever we go to costume events, she always says, 'I love our family,'" Kaylee's father, Mike Handy, teased his daughter.
While the family often makes their own costumes as part of Utah's 501st Legion, a costumed fan group well known for dressing as "Star Wars" characters, the outfits they suited up in Friday were professionally made. In fact, Kaylee noted, the Black Widow costume she wore was once her mother's.
"We're sharing," Kaylee said. "I told my friends at school I got to dye my hair and everything."
The family plans to attend the final day of the convention Saturday dressed as Imperial officers from the original "Star Wars" trilogy.
The record attempt at the end of the convention's second day served as preview for Saturday morning's Superhero Run 5K, where costumed runners will circle the Salt Palace to raise funds on behalf of South Davis Community Hospital.
Runners will be joined by Sean Astin, who has starred in "The Lord of the Rings" movie trilogy and "Marvel's Agents of Shield" TV series.
×
Photos
Related Links
Related Stories