This archived news story is available only for your personal, non-commercial use. Information in the story may be outdated or superseded by additional information. Reading or replaying the story in its archived form does not constitute a republication of the story.
SALT LAKE CITY — For many, it's a trip they've awaited for over 70 years. Fifty veterans from across Utah are in the Washington, D.C., area as part of the Utah Honor Flight on a free trip to see the memorials built in their honor.
Among them is Max Burdick, who served on the USS St. Louis, and is one of a few remaining survivors of Pearl Harbor. He's also known as "Ironman Max," known for competing in Ironman Triathlons well into old age.
But even men of iron cry, and such was the case with Burdick, who was sobbing on the flight out to the East Coast. The Utah Honor Flight has a tradition called "Mail Call," hearkening back to the days when servicemen overseas would await letters from home. Each veteran receives a surprise packet of letters from friends, family and schoolchildren.
"I finally learned that somebody cared," said Burdick with tears in his eyes. "Psychologically, it's really what hit me today, you know? Somebody cares."
The Utah Honor Flight is completely free for the veterans and is only possible through donations. This trip was sponsored by members of the Utah House of Representatives, who raised more than $35,000 out of their pockets.
"They are the reason we are where we're at today," said Rep. Lee Perry, one of three members of the House who accompanied veterans on this trip. "Without them, where would we be as a country? Where would we be as a people? And so, they deserve this because of all that they've done to sacrifice for each one of us."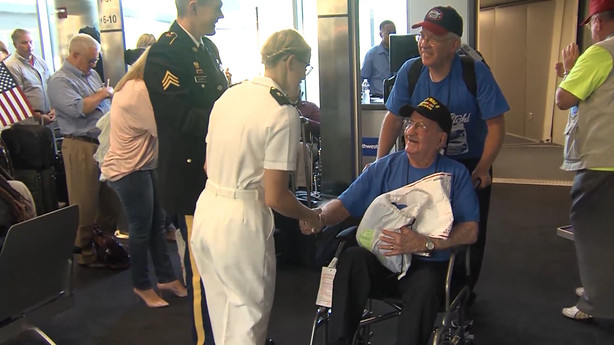 Rep. Brad Dee has already been on an Honor Flight; he went last October. He said he has a personal connection to these veterans.
"I have a little legacy with my father and my father-in-law," he said. "With their service in World War II and their sacrifice — one in a prison camp for nine months — that was a tragic time for those people, and a tremendous blessing to us."
Dee said after his first journey with the Honor Flight, he knew he had to help.
"I got involved with it," he said. "I sponsored a few, and when I came back after October, I said, 'The House has got to do this. We need to step up.' And my colleagues rallied around it, and it was amazing. Most contributed to this flight so we could get off the ground."
Those donations paid off, especially when the veterans exited the plane in Baltimore. Crowds of strangers, alerted to the veterans' arrival by Honor Flight volunteers who work at the airport, gathered at the gate and cheered for each man and woman as they entered. For many, it was the respect and appreciation they never received when they came home.
"Well, I'm just inundated," said Burdick. "I'm overwhelmed. It's the greatest thing that ever happened to me."
To Dee, those feelings are exactly what veterans like Burdick deserve.
"We were on the tipping point," he said. "I honestly believe, as much study as I've done on World War II, we were on the tipping point. And these men and women rushed to enlist. They weren't drafted. Most of these people rushed to help and to liberate and to fight for freedom."
If you'd like to make a donation, sponsor a veteran or help one apply for a trip, head over to utahhonorflight.org. All veterans are eligible, whether they served overseas, saw combat or served at home.
×
Photos
Related Links