Estimated read time: 6-7 minutes
This archived news story is available only for your personal, non-commercial use. Information in the story may be outdated or superseded by additional information. Reading or replaying the story in its archived form does not constitute a republication of the story.
SARATOGA SPRINGS — On the one-year anniversary of her son's shooting death at the hands of police, Susan Hunt vowed Thursday that she won't accept a settlement with police that doesn't explicitly clear him of wrongdoing in the fatal encounter.
Darrien Hunt, 22, died when two Saratoga Springs police officers shot him six times in the back after he unsheathed a 3-foot souvenir katana sword he was carrying and ran from them near a Panda Express restaurant on Redwood Road. The officers had confronted Hunt as he walked down the street with the sword on his back, which family members say was part of a Japanese anime costume.
Flanked by dozens of family members and friends at the site of the shooting Thursday, Hunt announced she declined a $900,000 civil settlement with the city of Saratoga Springs and the two officers who shot her son, saying she would have been required to stay quiet about the incident.
"To me it was a gag order (saying), 'Here's hush money, don't ever say Darrien's name again,'" she said. "I hope there will be a legacy instead of a hush order."
An attorney for the city declined to comment about any offer.
Well-wishers gathered Thursday on the lawn of the restaurant near the spot where Hunt was shot to release balloons into the sky, play his favorite music, and retrace his final steps. Susan Hunt hunched over with emotion and was consoled by family members after completing the walk-around.
"I feel sadly that the majority of (Saratoga Springs residents) would prefer that I just shut up and go away," she said. "But the truth is Darrien didn't swing the sword at the officers."
Kerahn "KJ" Hunt retraced his brother's last steps by himself Thursday morning to commemorate his final moments alive. He was mostly quiet with reporters in the afternoon, but said he was there to show love for his slain brother. KJ Hunt also wore patches of other men who have been killed recently in police shootings. He named each man as he pointed at the patches.
Related Story
"The list goes on and on," he said.
KJ Hunt, 21, also carried a katana sword with him as he walked around the shopping area where his brother was killed. Police approached him Thursday after receiving complaints, according to his mother.
"Saratoga Springs said they got calls from multiple people and they pulled him over," Susan Hunt said. "I reminded them it's an open carry state."
Cindy Moss, an aunt to Darrien Hunt, spoke to supporters, including several that wore Guy Fawkes masks and carried flags associated with the Anonymous activist movement. Moss lamented what she calls a lack of legitimate oversight for police.
"The bad things that we see as a family is they're allowed to make any decision and not be held accountable," Moss said.
She also said the investigation by the Utah County Attorney's Office into the shooting was characterized by "secrets kept and lies told" that cloud the reality of what actually occurred.
"It's hurtful, very hurtful to us as a family that people would think he'd hurt anyone," she said of her nephew.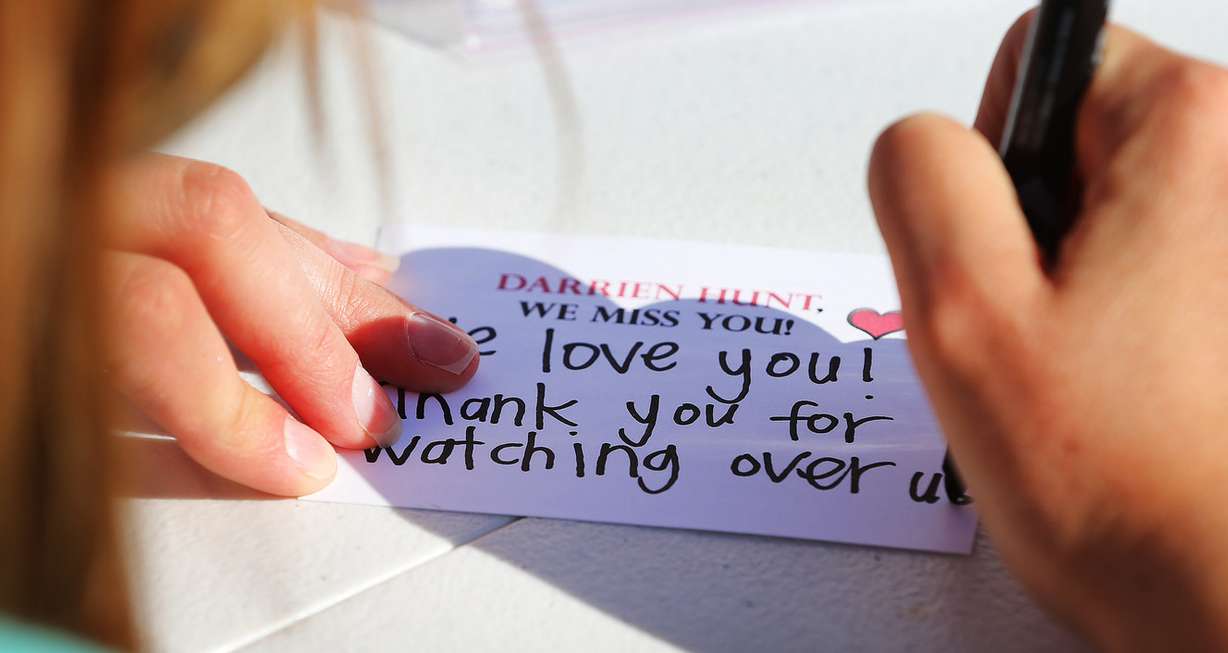 In January, the Hunt family filed a $2 million civil rights lawsuit against Saratoga Springs and the two officers who shot Hunt. The lawsuit calls the officers' use of deadly force unlawful and excessive.
The family's objective isn't a payout, but rather an acknowledgement that the shooting of Darrien Hunt was brutal and unnecessary, Susan Hunt said.
"It was nothing do with (money), it has to do with clearing his name, and with truth and justice," she said.
The family last week dismissed their attorney in the lawsuit. Robert Sykes, who lists civil rights and police malpractice cases among his notable experience, said Thursday he received a message from the family last week requesting his files on the case.
"Susan Hunt wanted to go a different route," Sykes said. "I don't really know what happened."
Sykes did not elaborate on the difference of opinion. However, Hunt said she dropped Sykes because he wanted to accept the settlement offer from Saratoga Springs.
---
It was nothing do with (money), it has to do with clearing his name, and with truth and justice.
–Susan Hunt
---
"He was thinking it was a great deal and a good way to go," she said.
The family's new attorney, Paul Lydolph, of Lehi, declined comment Thursday.
The officers — Saratoga Springs Police Cpl. Matt Schauerhamer and officer Nicholas Judson — were found legally justified in the shooting by Utah County Attorney Jeffrey Buhman. Buhman said at the time that the officers reasonably believed Hunt, who was still carrying the unsheathed sword as he ran, posed a threat to patrons in nearby stores.
Over the past year the shooting has attracted waves of attention, in part because of the outcry from Hunt's family and friends.
Related Story
Hunt believes her son was killed not because the sword he carried posed a threat, but because of the color of his skin. Darrien Hunt's aunt has said that her nephew had had previous encounters with Schauerhamer and the officer's judgment was biased by his unfounded assumptions about the 22-year-old.
The shooting has also been the subject of an investigation initiated earlier this year by the U.S. Attorney's Office and the FBI. That investigation is still underway, a spokeswoman from the U.S. Attorney's Office confirmed Thursday. No updates have been released.
Susan Hunt said she called the FBI two weeks ago, asking for an update. They reportedly told her they were reaching the conclusion of their investigation. However, Hunt criticized that investigation as well, saying they gathered all of their information from Saratoga Springs police.
"What kind of independent investigation is that?" she asked.
Meanwhile, Susan Hunt has been the subject of her own legal dispute. Hunt was charged earlier this year with misdemeanors stemming from a confrontation with Saratoga Springs police. She has pleaded not guilty to interfering with an arresting officer, a class B misdemeanor; driving on a denied license, a class C misdemeanor; failing to disperse, a class C misdemeanor; and disorderly conduct, an infraction.
Hunt's attorney in that case, Ron Yengich, submitted a diversion agreement to Saratoga Springs Justice Court on Wednesday, according to court dockets. If the agreement is signed by Judge Carolyn Howard, the case will essentially be put on hold for an agreed upon amount of time until it is eventually dismissed, contingent on good behavior.
"It was a huge relief, but it was such a bogus charge anyway," Hunt said.
Howard indicated in an order Thursday that she will hand down a decision on the agreement at a Sept. 18 hearing.
Contributing: Andrew Adams
×
Photos
Related stories
Most recent Utah stories