Estimated read time: 2-3 minutes
This archived news story is available only for your personal, non-commercial use. Information in the story may be outdated or superseded by additional information. Reading or replaying the story in its archived form does not constitute a republication of the story.
JACKSONVILLE, Fla. — Abigail Noelle Jones was born in early August and wasn't expected to live.
Erika and Stephen Jones found out at 18 weeks that their second baby had all the markers for Down syndrome.
"Initially, we were shocked and scared, mourning the loss of a 'normal' baby," Erika Jones wrote on the 8.08 Photography blog. "But God quickly worked on our hearts and his peace surpassed our fear."
But the Jones family discovered another bombshell at Erika's 30-week ultrasound: Their baby had a rare tumor covering her brain and likely wouldn't live past delivery.
"The doctor prepared us that this was really bad," Erika Jones told ABC News. "The prognosis was very poor."
Additional ultrasounds showed the tumor growing quickly, and Jones delivered baby Abigail on Aug. 6, weighing in at 8 pounds, 11 ounces with a head full of dark brown hair.
"Our expectation was that we wouldn't have much time with Abigail after she was born, but our hearts leapt with joy when a beautiful pink baby girl came out screaming," Jones wrote. "She is moving, nursing, squawking, sticking out her tongue, opening her eyes, holding our fingers and doing all things a baby does."
The tumor is too aggressive to operate on, and Abigail is too little to survive chemotherapy, doctors said. Despite thriving so far, the Jones family aren't sure how long they have with Abigail. They met up with local photographer Mary Huszcza with 8.08 Photography to take family pictures. The results have gone viral and captured the hearts of people all around the world.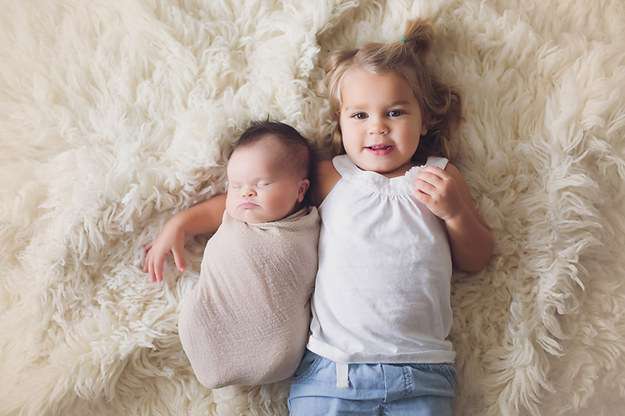 The pictures show a glimpse of the love the family has for their new baby, especially proud big sister, 2-year-old Audrey. Huszcza told themighty.com that she was holding back tears while photographing the family.
"I want (people) to see the beauty and hope that abides within grief and sadness," Huszcza told themighty.com. "I don't want people to see these images and say, 'What a sad situation.' I want them to see how beautiful Abigail is and that, despite the unimaginable pain her family is feeling, their faith in her purpose is strong.
The Jones hope that sharing their story of faith will bring peace and hope to others.
"God has a plan for her and is using her to touch people's lives," Stephen told Buzzfeed News. "She a wonderful blessing and miracle that we have."
Visit 808photographyjax.com to view the full session.
undefined
×
Photos
Most recent Family stories