Estimated read time: 3-4 minutes
This archived news story is available only for your personal, non-commercial use. Information in the story may be outdated or superseded by additional information. Reading or replaying the story in its archived form does not constitute a republication of the story.
PROVO — In 2003, the BYU football team faced Boise State for the first time in program history, and it was not pretty for the Cougars in the 38-point loss.
Since then, Boise State has had BYU's number, winning three of the next four games, including last year's 55-30 running in Idaho.
With the absence the past few seasons of the Red-and-Blue, in-state rivalry between the University of Utah and BYU, an out-of-state rivalry has been brewing between the Cougars and the Broncos, catching real fire this week as some Boise State fans tried to wave their orange and blue flag on BYU campus.
Several Twitter posts showed that some Boise State fans got up to the top of LaVell Edwards Stadium to replace one of the BYU flags above the stadium with a Boise State flag.
And yes, the flag flew for a short time until BYU officials were informed and switched the flags back. For those few moments, however, as orange and blue waved over the stadium, a message was sent that Boise State is not only the top football program in Idaho, but also in Utah.
With a 24-7 all-time record against BYU, Utah and Utah State, the message has been received.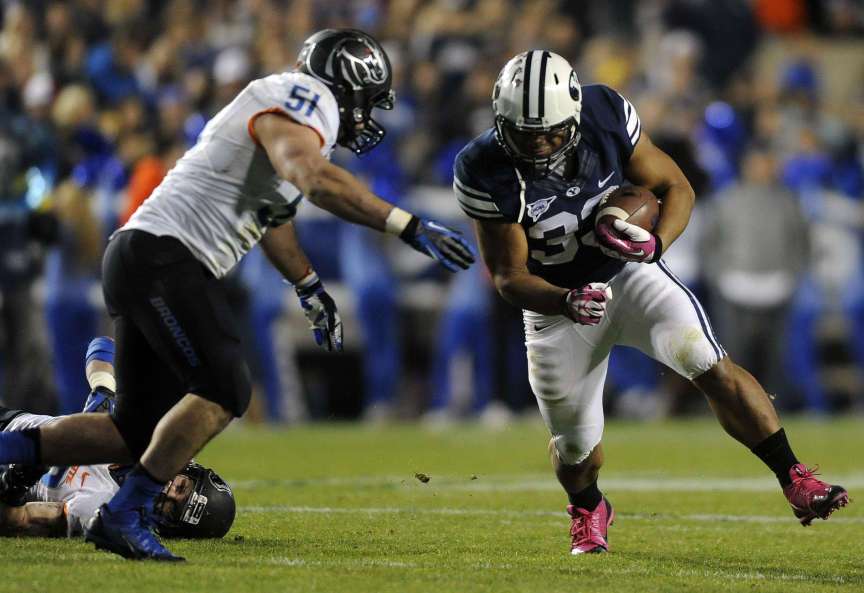 Colby Pearson, a BYU wide receiver and native of Blackfoot, Idaho, said this is one of his favorite games of the season.
"I love it. I look forward to it. I have it circled on my schedule every year," Pearson said. "My final decision of where I wanted to play ball was between Boise State and BYU … it has a special place for me."
He said he sees this contest as a rivalry between the respective states.
"It is always a pretty gritty game and pretty physical," Pearson said. "It will be a tough match … we have to be on top of our game."
The running game, which did not play a big factor in the win against Nebraska until the final drive, is going to be crucial for the Cougars going into Saturday's meeting, especially to take some pressure off new starting freshman quarterback Tanner Mangum.
Offensive lineman Kyle Johnson said watching film has taught the team to be more aware of opposing defensive schemes.
"Anticipating what the defense is going to do … when they just sit there, it's easy to know what they are going to do. But when they are moving around a lot you need to anticipate what they are going to do," Johnson said. "We have been repping that a lot this week and I think we will be much improved in that area."
Johnson spoke about BYU and the excitement of playing at home, starting Mangum at quarterback with his calmness and poise running the team, and his own foot injury from last year, but he emphasized what he sees as Boise State's goal.
"I don't think they have much competition in Idaho," Johnson said. "Boise State runs the state. They want to come down and make it a rivalry between Utah and Idaho."
LaVell Edwards Stadium will be decked out in a "white out" on Saturday. But Boise State, however, would prefer the blue and orange to shine that night.
With "state against state" bragging rights on the line, and an opportunity to be nationally ranked next week, the Cougars don't want to leave any traces of orange in sight after the game, whether that be on the scoreboard, the field or flying above the stadium.
Tanner is a student at Brigham Young University studying business management. He is from the great northwest of Portland, Oregon. He hopes to find a profession that combines his passion of sports broadcasting and marketing.
×
Most recent Sports stories