Estimated read time: 4-5 minutes
This archived news story is available only for your personal, non-commercial use. Information in the story may be outdated or superseded by additional information. Reading or replaying the story in its archived form does not constitute a republication of the story.
SALT LAKE CITY — Here are 10 local stories you may have missed this weekend. As always, click on the headline to read the full story.
Where some see trash, Andy Meredith and his wife Candis see hidden treasure.
"My grandma sold her house when I was 11 and I vowed that one day I would buy it back," Candis Meredith said. "So when I turned 20, I knocked on the door and said 'Would you sell me that house?'"
That became her first restoration. When she married Andy Meredith, he was only able to help her on nights and weekends.
Salmonella-tainted cucumbers imported from Mexico are responsible for sending seven Utahns to the hospital, and residents are being told to throw away cucumbers that may be contaminated, health officials said Friday.
In all, 27 states are affected in the recall, which was issued following 285 cases of Salmonella Poona since mid-July.
Police say a father and son working in a garage early Saturday were confronted at gunpoint by a man who demanded their money and wallets.
After a struggle, the gunman fled and later held up a convenience store.
The string of events began at 6:25 a.m. Saturday on Monarch Drive, where the father and son were working in their garage on a home remodeling project.
After receiving part of his mother's liver in an organ transplant, a Sandy teen went on to win gold in several events at the 2015 World Transplant Games.
Ashton Arndt, 18, was born with severe jaundice and couldn't gain weight. When his liver failed, his mother discovered she was a match and donated part of her liver to him when he was 6 months old.
A former dance teacher and Utah Jazz dancer has been sentenced to jail for having sex with a 17-year-old student at the studio she owned.
Amber Telford, 33, was sentenced Thursday to 30 days in jail for a sexual relationship with a 17-year-old boy who danced at the studio she owned at the time. She will then be required to perform 150 hours of community service, complete probation and register as a sex offender, according to court documents.
Sports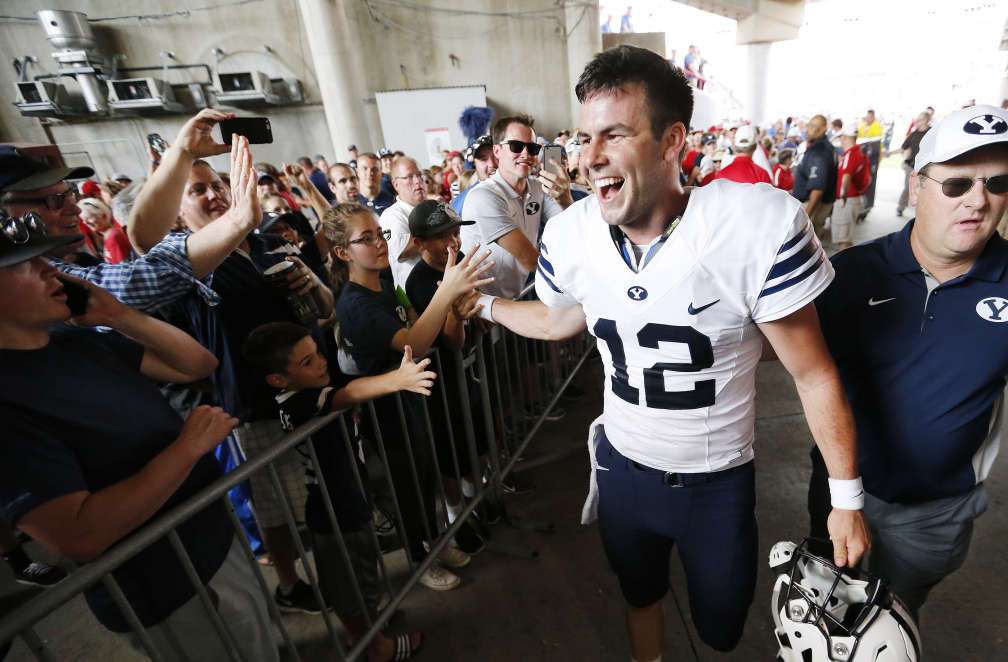 Tanner Mangum's story didn't start at Memorial Stadium where his last-second 45-yard Hail Mary pass connected with Mitch Mathews to lead BYU to a 33-28 victory over the Huskers on Saturday.
But that's as good a place as any to begin it.
The Utah Utes proved to be the better team Thursday night, beating out the Michigan Wolverines 24-17 at Rice-Eccles Stadium.
Although the game score was relatively close, Utah controlled much of the game and kept the Wolverines from threatening to take over Utah's lead.
BYU quarterback Taysom Hill will likely miss the remainder of his senior season after suffering a fracture in his foot in the Cougars' 33-28 road win over Nebraska to open the 2015 season.
Hill completed 21 of 34 passes for 268 yards and a touchdown, and also ran for a team-high 72 yards and two scores on nine carries for BYU (1-0).
Football teaches life lessons to youths that can have a positive impact on future success, whether on or off the field.
Woods Cross star Braxton Gunther has been through a lot the past year, but he's made no excuses — and he won't allow any adversity, no matter how much is thrown at him, to keep him from reaching his goals.
Andrew Rodriguez scored on an 88-yard punt return late in the fourth quarter to help Utah State beat Southern Utah 12-9 in the season opener for both teams on Thursday night.
Rodriguez had eight punt returns for 136 yards, and scored with 4:54 left to play.
×
Most recent Utah stories