Estimated read time: 6-7 minutes
This archived news story is available only for your personal, non-commercial use. Information in the story may be outdated or superseded by additional information. Reading or replaying the story in its archived form does not constitute a republication of the story.
LINCOLN, Neb. — Tanner Mangum's story didn't start at Memorial Stadium where his last-second 45-yard Hail Mary pass connected with Mitch Mathews to lead BYU to a 33-28 victory over the Huskers on Saturday.
But that's as good a place as any to begin it.
When the true freshman from Eagle, Idaho, got the call during the second quarter to replace injured starter Taysom Hill at quarterback, he didn't hesitate. As a backup, it's his job to be constantly ready just in case the moment calls.
"I knew I had to go in and do my part, stay calm and stay focused," Mangum said. "I just had fun. I reminded myself: This is a cool experience, and you have to enjoy it. We've worked hard, and we're ready for this moment."
When Mangum replaced Hill in the second half — the second time when Hill couldn't continue after fracturing a bone in his foot in the opening quarter — he also had to be ready. But this time, he was brimming with confidence. On Mangum's first series as a BYU quarterback, he completed a pass to Nick Kurtz and ran for a first down.
He was more than ready.
"We have great depth, which is a great thing no matter who we are going with," said Mangum, who finished with 111 yards and a touchdown on 7-of-11 passing. "As a backup, you don't get as many reps with the 1's, but you have to make the most with what you get. When the time comes, you just have to do your job."
Mangum echoed the sentiments of his head coach Bronco Mendenhall, who put all the faith in his experienced BYU team on the recently returned missionary's shoulders.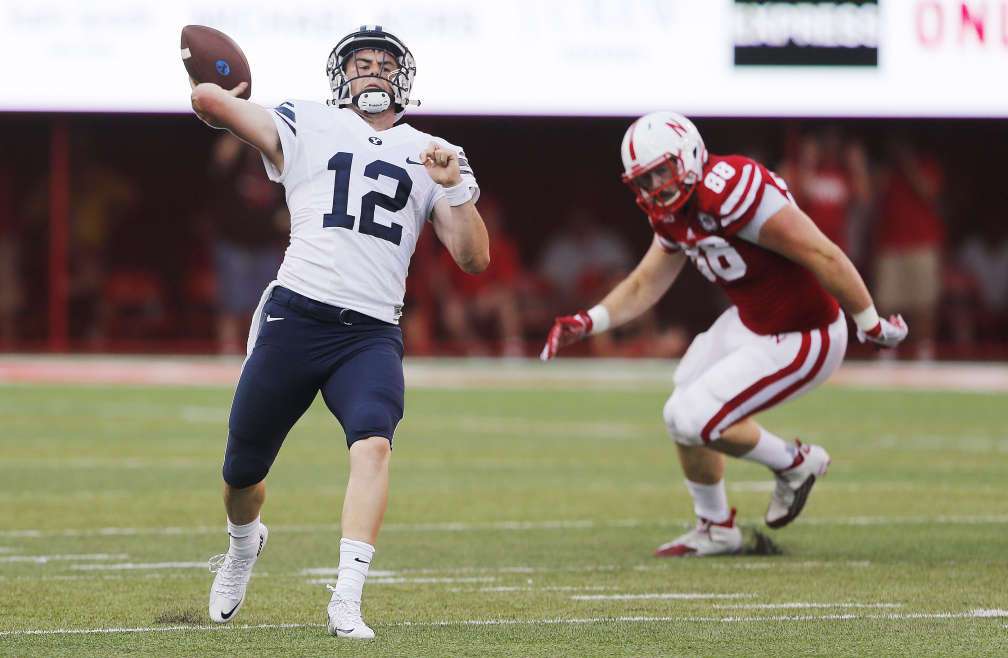 "We love Tanner. Our entire team and our coaching staff does," Mendenhall said. "He's earned that, just from who he is and how he carries himself. I don't know how you top what he's done today, in terms of his career, but I think it's a great indicator of things to come."
Mangum was "heartbroken" when his older, more experienced starting quarterback went to the locker room. So was his team, Mendenhall said.
In the middle of the elation, the jubilee and the thrill of a historic win, Mendenhall looked down at Hill, who was sitting on the locker room floor with tears in his eyes.
"I realized this is not going to be good," the coach said later. "In the meantime, the team went from elation to quiet.
"It's bittersweet; great for the team, a fantastic victory for the program, and really hard for him — and our team, as we think about not having him with us now."
Mangum's job as quarterback during a hotly contested game also involved projecting confidence to his team. No matter how he may have felt deep down as a true freshman in his first career game, he had to make his teammates believe they were going to come back and win.
He said as much to his teammates. They trusted him.
"I knew looking around that everybody else felt it," he said.
Winning isn't new to Mangum or his family. Rated the No. 1 quarterback prospect in Idaho and No. 3 in the nation coming out of Eagle High School in a Boise, Idaho, suburb, he set a school record with 3,885 yards and 35 touchdowns as a senior. The Elite 11 camp Co-MVP then followed in the footsteps of his older brother Parker, who played play college football at BYU in 2006-09. The younger Mangum did so despite offers from hometown Boise State (where older sister Meredith played college soccer), as well as Arkansas, Oregon, Utah and others, while another brother Madison went to Idaho State as a receiver.
---
I just had fun. I reminded myself: this is a cool experience, and you have to enjoy it. We've worked hard, and we're ready for this moment.
–BYU quarterback Tanner Mangum
---
Tanner Mangum enrolled at BYU during winter semester, using a grayshirt year to go through spring football practices before serving a two-year mission for The Church of Jesus Christ of Latter-day Saints in Chile. He returned in June, spent all of fall camp beneath Hill's tutelage and stepped into the primary backup spot ahead of true freshmen Beau Hoge and Koy Detmer, Jr.
Still, none of the spring drills, fall camp simulations or backyard play with his older brothers could prepare him for what was going to happen with one second on the clock Saturday at Memorial Stadium.
"When I threw it, it wasn't my best throw. It was a little wobbly, and I knew it was going to be a bit short," Tanner Mangum said. "But I was so happy when (wide receiver Mitch Mathews) made the play. I was elated."
He didn't even wait for the official review to come back before he started to celebrate with his team.
"I had no doubt," Mangum said. "I think everyone knew it was clean."
As Mangum led BYU to the come-from-behind victory, his parents and extended family were watching Madison open his senior season with the Bengals in Pocatello, Idaho. They saw Madison reach out with his nondominant left hand and grab one of three touchdown catches in the Bengals' 55-0 win over Black Hills State (South Dakota) while watching Tanner make his first start on an iPhone connected to a video stream.
Related Story
"I'm happy for him," Tanner Mangum said when he learned of his brother's performance. "He's an incredible player, and he deserves it."
Just as the final play was set to begin, the phone Mangum's family was using died. Fifteen seconds later, Mangum's father Michael received a three-letter text: "Wow!"
Right after that, another text came in saying BYU had won. Mangum's uncle Geoffrey joked that the family better have reliable friends, he told KSL Sports in an email.
"I'm a lawyer, so I don't believe anything without verification," Geoffrey Mangum said. "Turns out, the friend was reliable."
It was also quite the day for the Mangum family.
Nearly three months to the day that Tanner Mangum came home from his mission, he was leading BYU to a win at Nebraska — the first loss for the Huskers at Memorial Stadium in an opening game since 1985. The 21-year-old freshman never could've imagined it.
But like a seasoned veteran, he deferred all credit to his teammates.
"Ever since I got back three months ago, the guys rallied around me and welcomed me back," Mangum said. "Since Day One, it's been a blast to just be a part of this team."
Now Mangum shifts his focus to BYU's home opener Saturday at 8:15 p.m. MDT against the school from his hometown he grew up supporting, attending games at Albertsons Stadium with his Boise State-fan family.
"I was a big fan," he said. "I have some friends on the (Broncos') team."
Mangum never would've imagined his first collegiate start might come in LaVell Edwards Stadium against his childhood team.
But he's ready for it.
"More than anything, it's another game to prepare and get ready for," Mangum said. "They're a great team, and it will be fun having them in Provo."
×
Related stories
Most recent Sports stories