Estimated read time: 4-5 minutes
This archived news story is available only for your personal, non-commercial use. Information in the story may be outdated or superseded by additional information. Reading or replaying the story in its archived form does not constitute a republication of the story.
GRAND CANYON NATIONAL PARK, Ariz. (AP) — Visitors heading to the Grand Canyon lately know they are going to get two things when they arrive: breathtaking views and long waits, whether it is to get into the national park itself or to find a parking spot inside. A few frustrated tourists have even turned around and left.
The crowds haven't just been coming to the Grand Canyon, where a sign ahead of the entrance gates warns of limited parking.
The throngs of tourists have been showing up in big numbers at other national parks, including Yellowstone in Wyoming, Yosemite in California and Zion in Utah, driven by good weather, cheap gas and marketing campaigns ahead of next year's National Park Service centennial.
With the busy Labor Day weekend still ahead, the Park Service already has recorded 5 million more visitors from this time last year. The result has been the very traffic congestion that many families and tourists alike hope to escape when they embark on trips to the parks.
Many tourists are taking the crowds in stride.
"It comes with the deal," said David Stonecypher of Duarte, California, who was visiting with his wife Jetta mid-week to avoid overcrowding.
Officials at the parks say they are making do with the resources they have, including encouraging visitors to use shuttles to cut down on the number of vehicles within parks and paying overtime to keep as many entrance gates open as possible.
"It has definitely been a struggle. And there hasn't been an increase in base funding to help compensate for the crowds," said Aly Baltrus, spokeswoman at Zion, where officials say search and rescue calls have doubled this year as more people veer off established paths.
---
It has definitely been a struggle. And there hasn't been an increase in base funding to help compensate for the crowds.
–Aly Baltrus, Zion spokeswoman
---
Police had to shut down the road into Arches National Park in Utah over the Memorial Day holiday because so many people wanted to get in.
The increase in visitors is due partly to the Park Service's "Find Your Park" campaign, which launched earlier this year to reintroduce people to the parks. Several anniversaries are drawing bigger crowds to war memorials in Washington, D.C., and Lake Mead National Recreation Area in Nevada and Arizona is getting more visitors despite record-low lake levels.
Another campaign promises to bring more tourists: Fourth-graders and their families are being encouraged to go to national parks with a free, yearlong pass for them, starting this week.
Visitation at the Grand Canyon is approaching a 30 percent rise over last year through August, although exact numbers aren't known yet because officials still are trying to gather data from new traffic counters, said Marlon Avantyr, the park's revenue and fee business manager.
One benefit is the crowds are bringing in more money to the Grand Canyon, which increased entrance fees this summer.
Other parks are seeing double-digit percentage increases. Park Service stats show Joshua Tree National Park with a nearly 30 percent increase so far in 2015 over the same time last year, going from about 920,500 visitors to more than 1.2 million.
More than 2.2 million people visited Zion between January-July this year, a nearly 16 percent increase over about 1.9 million during the same period last year. Yellowstone reported going from 2.5 million to 2.9 million, a 14 percent increase; Yosemite from 2.1 million to nearly 2.4 million, an 11 percent increase.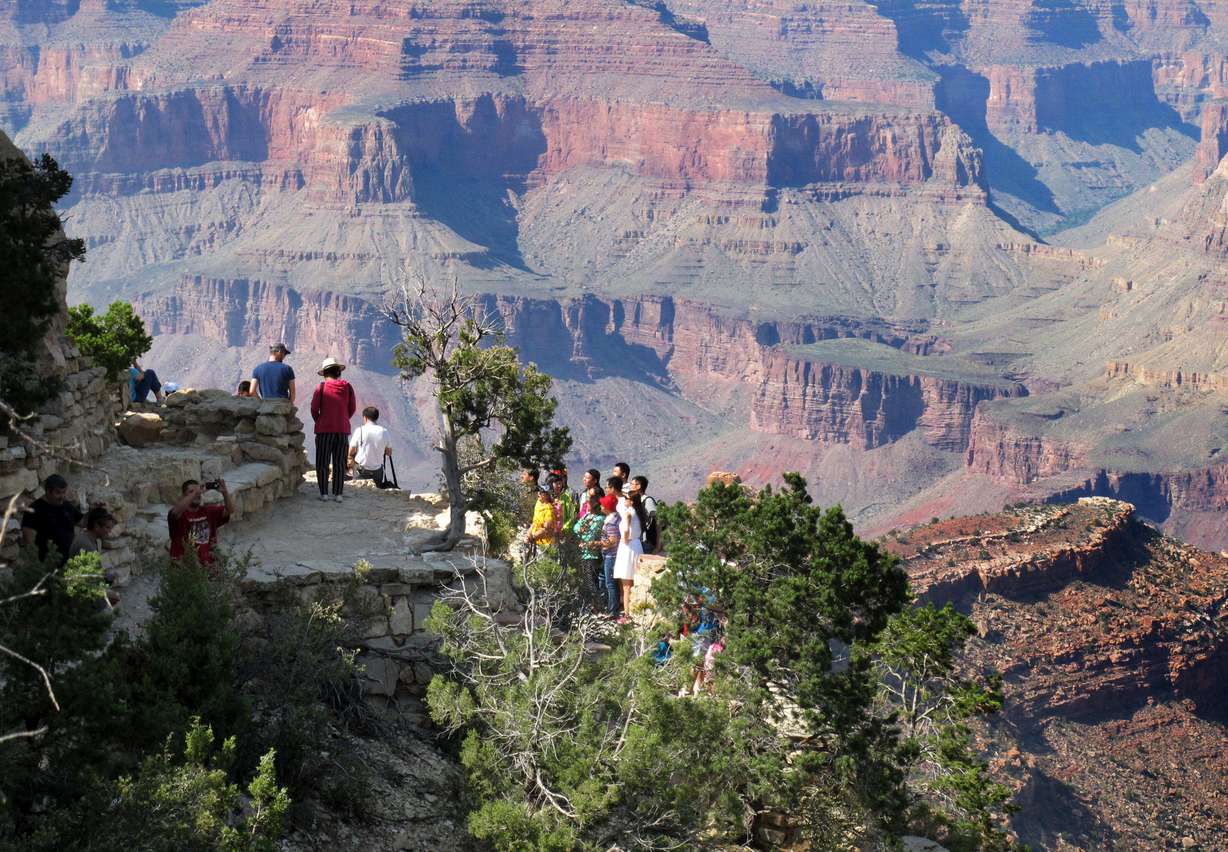 Officials at the Grand Canyon have taken several measures to deal with the crowds. To cut down on a line of vehicles that stretched two miles to the nearest town over the July Fourth holiday, they dedicated an entrance gate to people who already had a park pass.
Some people frustrated by not finding parking among the roughly 2,000 spots have turned around and left, Avantyr said.
A triage desk outside the visitors' center helps answer the two most common questions so a long line doesn't form inside: Where exactly is the canyon and where are the restrooms?
For the first time this summer, the commercial bus lot filled up. Months earlier in December, the visitors' center had 10,000 people come through in one day. That's thousands more than the average 6,000 per day, although it's hard to say what's typical these days, said supervisory park ranger A.J. Lapre.
At shuttle bus lines, visitors jockey for a position for what can be up to an hour wait while employees try to help them figure out what route gets them to their destination fastest. An express route was added this year between the visitors' center and a transfer spot to Hermit's Rest, the most popular scenic route.
The Grand Canyon has no plans to increase staff to deal with the larger crowds. Instead, it's trying to promote the use of shuttles and put up more messaging around the canyon and on social media.
Marie Puirier of Montepellier, France, spent about 15 minutes looking for a parking spot but did not see it as a hassle and expected to wait for a shuttle. She recently made her third visit to the park.
"Everybody knows," she said. "We come here because it's a place in the world that's unique."
___
Associated Press writers Ken Ritter in Las Vegas, Brady McCombs in Salt Lake City and Brett Zongker in Washington, D.C., contributed to this report.
Copyright © The Associated Press. All rights reserved. This material may not be published, broadcast, rewritten or redistributed.
×
Photos
Related stories
Most recent Utah stories