Estimated read time: 5-6 minutes
This archived news story is available only for your personal, non-commercial use. Information in the story may be outdated or superseded by additional information. Reading or replaying the story in its archived form does not constitute a republication of the story.
SALT LAKE CITY — Even if you didn't want to know, you're well aware Michigan is coming in town Thursday. The Wolverines and Utes will begin their season in a highly anticipated competition.
Between Jim Harbaugh's debut to Devontae Booker's road to the Heisman Trophy and skyrocketing ticket prices, there is a lot to talk about heading into the competition. The following are five storylines as the match nears.
Jim Harbaugh's debut
The coach who infamously wears khakis is back in Michigan, coaching his alma mater. The move from San Francisco — where he took the 49ers to three consecutive NFC title games and a Super Bowl — to Ann Arbor has been one of the most talked about stories in the offseason. The media is engulfed in the Harbaugh whirlwind. The coach's iconic style is the inspiration of Fox Sports' tour bus and a rumored "Khaki Cam" that will solely show him for the entire duration of the game.
The Utes aren't letting the hype get to them, though. Booker said he feels like the game is over-hyped and the team isn't worrying about the celebrity factor Harbaugh brings to the game. Linebacker Jared Norris agrees, saying "(Harbaugh's) not the one playing the game."
Harbaugh is considered the man who can save Michigan football. His debut at Rice-Eccles Stadium will be talked about constantly after the game, no matter the result.
"He's a heck of a coach," said Utah head coach Kyle Whittingham. "He's been successful everywhere he's been."
And success is just what the Wolverines are hoping for after a dry spell, missing the Big Ten championship the past 11 years.
#BookerForHeisman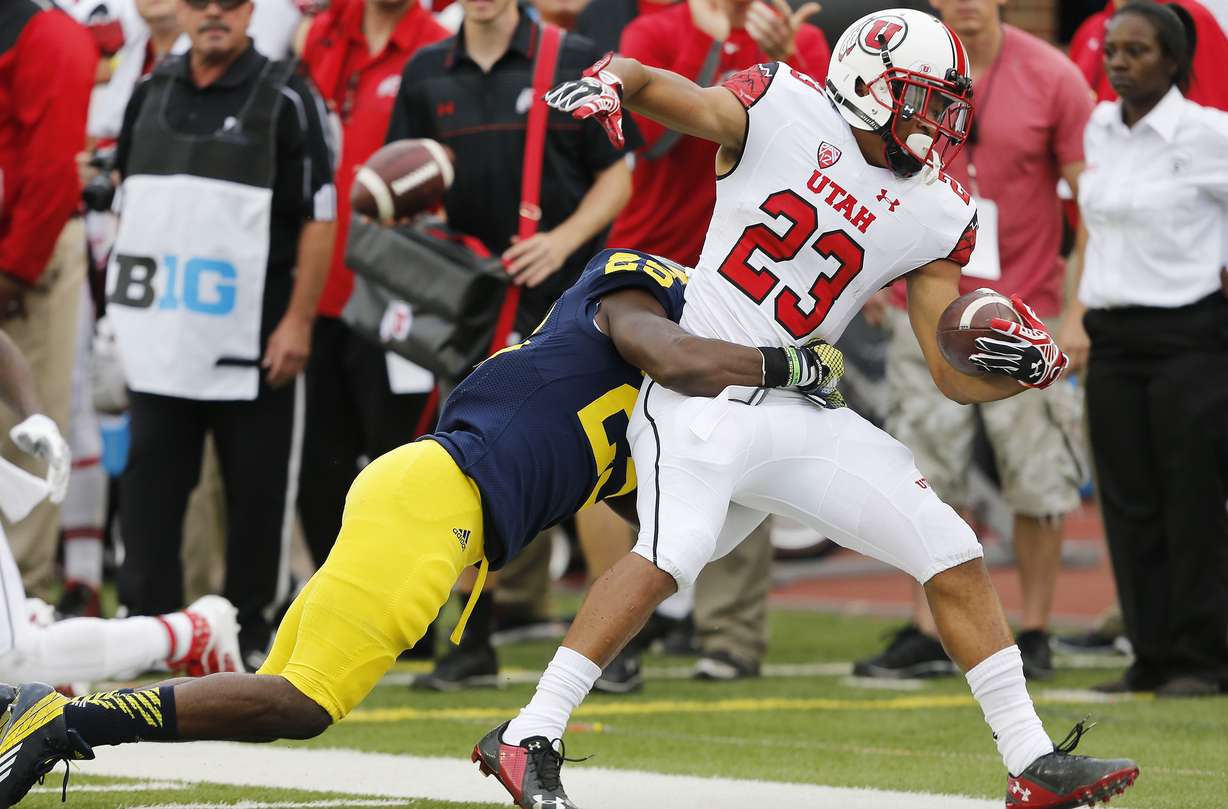 Following an incredible 2014 season, Booker is vying for the Heisman Trophy. The 5-foot-11, 203-pound senior ran for 1,512 yards and 10 touchdowns, including 43 receptions for 306 yards and two more scores last year. He also recorded 100 all-purpose games in every game but two — one against Stanford (99) and Michigan (43).
"Hopefully, he can pick up where he left off last season as far as his production," said Whittingham. "That's been a hot topic all offseason as well. For Devontae to go for 1,500 yards with defenses stacked against him essentially all season long was a pretty good accomplishment. That's where we're at."
This time against Michigan, Booker won't be sharing running duty with back-turned-receiver Bubba Poole. Booker's Heisman campaign premiere should start off well Thursday. He's expected to have a larger role this year and is eager to show NFL scouts he can play better than last season.
Utes' starting quarterback
Whittingham officially announced Travis Wilson as the starting quarterback during his press conference Monday. The news comes after lingering questions were asked during fall camp.
"Travis played the best in our estimation, so Travis is the guy," said Whittingham.
Wilson's continuity of playing well got him the job. Whittingham said he had "poise and confidence throughout fall camp and was just doing everything better."
"He's played a lot of football for us here. He's been starting full time for 2.5 years now and we felt he was playing his best football as a Ute at the end of last season. We're hoping that continues this year," added Whittingham.
Wilson has experience in "big" games. He's been a part of wins at the Rose Bowl, the Los Angeles Coliseum and Michigan Stadium. Additionally, he was the MVP of last year's Las Vegas Bowl. His understanding of what it takes to win games against high-profile teams gives Utah confidence.
"I'm hoping I can start off where I ended last year. I played one of my best games in the bowl game," Wilson said. "Hopefully I can end my career here on a high note and start off the season on the right path."
Related:
Michigan's depth chart
Harbaugh released his team's depth chart Monday and there's still not a lot of clarity as to who will play at Utah. Starting wide receivers will include Amara Darboh or Drake Harris with Jehu Chesson or Grant Perry on the other side. The indecision continues with defensive tackles and the entire special teams unit.
It doesn't stop there. The starting quarterback will be Shane Morris or Jake Rudock per the depth chart. Yet Harbaugh said in a teleconference Tuesday the team knows who will be the starting signal caller.
"We know who's going to start. I want them both to prepare like they're going to be the starter," he said.
When asked if the vagueness is an attempt to keep Utah on its toes, Harbaugh replied saying, "If that's another positive byproduct of it then we'll take it."
The Wolverines' lone returning quarterback is Morris, but he's never thrown a touchdown pass. Rudock, a transfer from Iowa, threw 16 touchdowns for 2,436 yards last year. The Utes aren't focusing on who will be the starter. Instead, they are preparing for both players the same.
"There's not a big scheme adjustment they use depending on which one is the guy," Whittingham said of Michigan's potential starting quarterbacks. "It's not like they're radically different from one another, so which one starts doesn't have a huge bearing on the game preparation."
'Pac' the house
Salt Lake City is buzzing with excitement, hosting the Wolverines for the first time at Rice-Eccles Stadium. The game is anticipated to host the largest crowd in Rice-Eccles' history, breaking the current record that happened last year verses USC in front of a crowd of 47,619.
"I hope it's a record crowd and I hope they see something unique," Whittingham said. "That's nothing but speculation. I have nothing to back that up, other than tickets are hard to get right now."
Ticket prices soared to well over face value — a pair on KSL Classifieds is going for $2,400. Of course not everyone is paying such a steep price — most are going between $200 and $500 — but it shows there is a high demand to get into the game.
"What's significant in a respect is to have Michigan leave the Big House and come here to play. That would have never happened five or six years ago and beyond. Maybe you'd see it happen way back, I don't know what the situations were then, but in recent history that is something that is significant," said Whittingham.
×
Related stories
Most recent Sports stories