This archived news story is available only for your personal, non-commercial use. Information in the story may be outdated or superseded by additional information. Reading or replaying the story in its archived form does not constitute a republication of the story.
SALT LAKE CITY — Thursday night will mark the end of a 234-day drought as live college football returns to televisions and media streaming devices across the globe.
One of the first games of the 2015 college football season is the highly anticipated matchup featuring Utah hosting the Michigan Wolverines.
Here is a statistical look at the matchup between the Utes and the Wolverines:
0.34 vs. 7.23
It is no secret what Utah's game plan versus Michigan, or any other game on its schedule, will be. Running back Devontae Booker is Utah's first Heisman Trophy hopeful since quarterback Alex Smith was a finalist in 2004. Booker eclipsed the 1,500-yard mark last season, despite playing sparingly over Utah's first three games.
According to sports-reference.com, Utah's strength of schedule adjusted rushing yards per attempt in 2014 was 7.23, while Michigan's schedule adjusted rushing defense held opponents to just 0.34 yard per carry.
In last season's matchup between the two teams, the Wolverines did a great job at stopping Utah's rushing attack, holding the Utes to just 81 yards on 37 carries (2.2 YPC), though Booker had not been named the Utes' starter at that point in the season.
On the flip side, we know Harbaugh's Michigan squad will like to run the football (see previous stints with Stanford and the San Francisco 49ers). Utah's schedule adjusted yards per rush play defensively was 1.25, with Michigan's offense earning 7.55 yards per carry. This game will be decided on which team can control the line of scrimmage.
7, 10 & 13
Utah has won seven straight season opening games and 10 straight if you only count season openers played at home.
On the flip side, Thursday's game at Rice-Eccles Stadium will be just the 13th time in the past 50 years (23rd total) that the Wolverines will open the season on the road. Michigan last played a season opener on the road back in 1998.
Michigan head coaches have compiled a 14-3-1 record in their first game at the helm of the program, with one of the three losses happening in 2008, when Utah defeated a Rich Rodriguez-led Wolverine team 25-23 in Ann Arbor. That win was the first of Utah's current seven-game season opener win streak. Will the Wolverines be out for the same fate with a new head coach once again facing the Utes in his first game?
48, 506 & 4
Utah WR Kenneth Scott led the Utes in receptions with 48 in 2014, racking up 506 yards and four touchdowns.
But look at the supporting cast — gone are WRs Kaelin Clay, Dres Anderson and TE Westlee Tonga. Booker is the only returning Ute with more than 20 catches outside of Scott.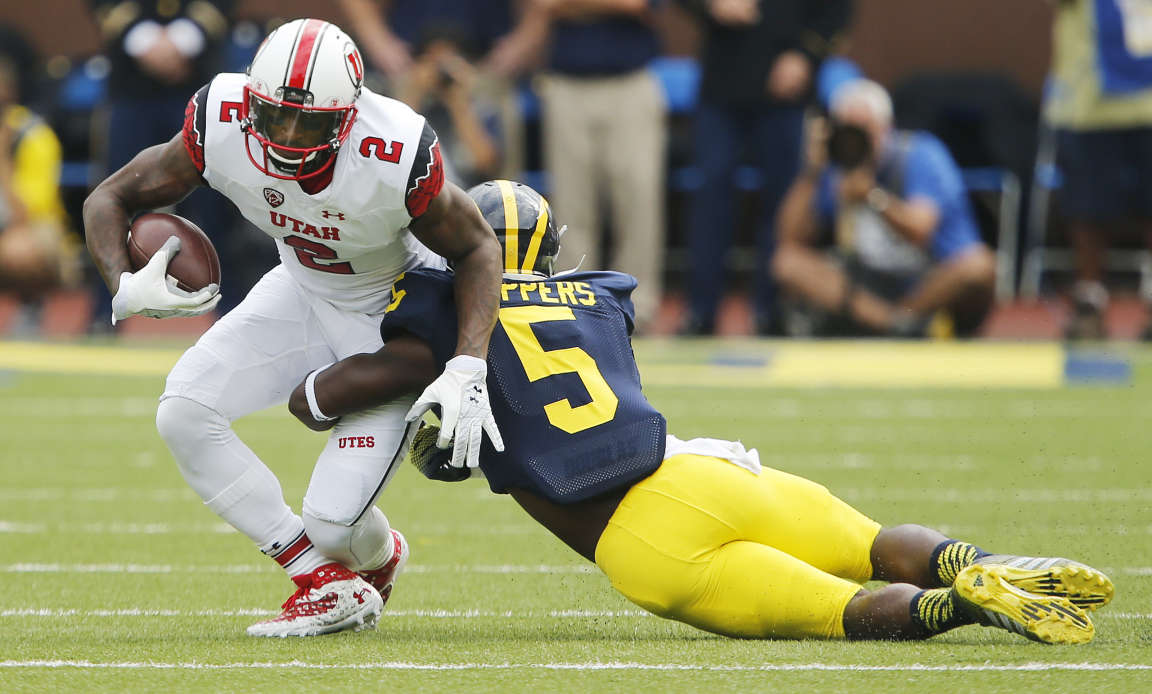 Utah Utes wide receiver Kenneth Scott (2) runs after a catch against Michigan Wolverines defensive back Jabrill Peppers (5) in Ann Arbor, Michigan Saturday, Sept. 20, 2014. Photo: Jeffrey D. Allred/Deseret News
Siaosi Wilson, Tyrone Smith and Britain Covey — all true freshmen — are listed on Utah's two deep depth chart for the Michigan game, with Smith listed as a starter at the Z receiver and Covey a co-starter at the H receiver position.
Many questions surrounding the 2015 Utes will be answered against Michigan: Will Scott be able to match his 2014 reception total now that he'll be the primary route runner? How will Utah's passing attack fare against a Michigan defense that only surrendered 193.7 yards per game through the air? Has QB Travis Wilson improved enough to consistently lead Utah's passing attack?
55, 4.23 & 34.5
Earning themselves the nickname of Sack Lake City, Utah's defense led the nation in 2014 in both sacks (55) and sacks per game (4.23). Current Utes accounted for 34.5 of those sacks.
Michigan allowed 26 sacks a year ago, with four of those against the Utes.
2, 27 & 34
Two players on Michigan's roster hail from the state of Utah — senior FB Sione Houma and sophomore DT Bryan Mone, both of whom attended Highland High in Salt Lake City. No Utes are from the state of Michigan.
Two is also the current place QB Travis Wilson ranks in Utah school history in both starts (27) and games played (34). Only Brian Johnson ranks ahead of Wilson, with 33 starts and 44 games played.
Contributing: Andy Larsen Robert Jackson is the cross platform sports and weather producer for ksl.com and KSL-TV.
×
Related Stories