Estimated read time: 4-5 minutes
This archived news story is available only for your personal, non-commercial use. Information in the story may be outdated or superseded by additional information. Reading or replaying the story in its archived form does not constitute a republication of the story.
PROVO — For a team BYU has never faced in the long history of its football program, Nebraska offers the Cougars quite a few look at what to expect when the game kicks off Saturday at 1:30 p.m. MT on ABC.
First, there's Mike Riley, the former Oregon State head coach who went 1-2 against BYU with the Beavers and is now in his first year in Lincoln, Nebraska. He's also a good friend of BYU coach Bronco Mendenhall through board positions with various football coaching organizations.
"He's ethical, he's moral, he's a really good person and his players are lucky to play for him," Mendenhall said of Riley. "I think he's one of the real good guys in college sports, as well as a quality coach."
The Cougars have been studying film from previous season of the Beavers, which shows a few things that quarterbacks coach Jason Beck can glean from the defense and current Nebraska defensive coordinator, Mark Banker. But he admits it isn't a perfect comparison, either.
"You don't know exactly what you will get from them. You can look at Oregon State film and think it will be similar with the head coach and defensive coordinator both going to Nebraska," Beck said. "But you still prepare a little more generally with the quarterbacks, keeping reads more basic and consistent instead of dialing in on small things that you pick up through film."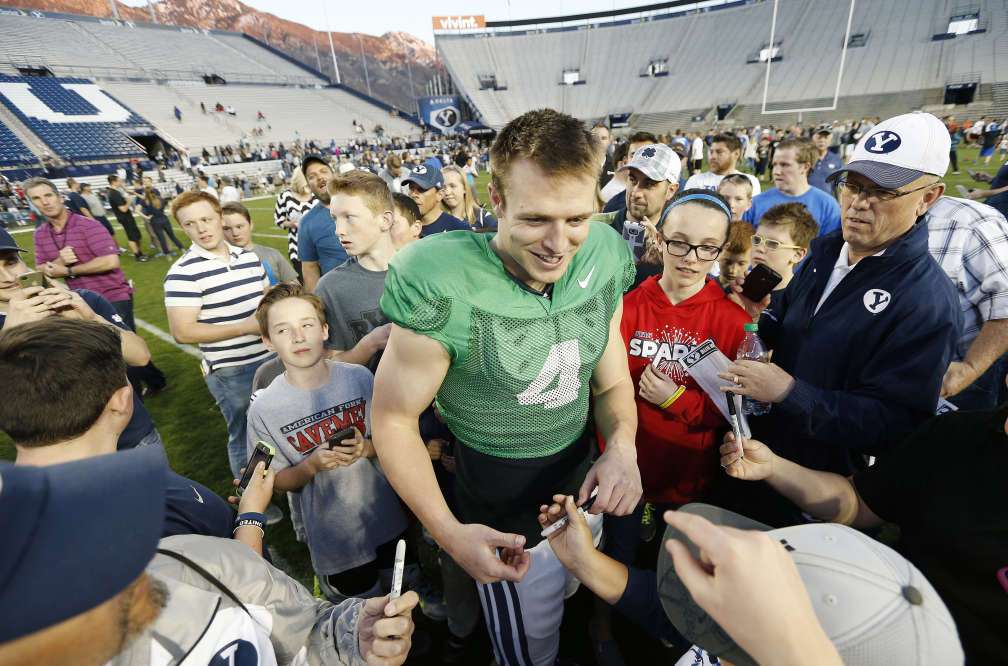 Then there's tradition: The Huskers have a history of being big, mean and quick to the football. Quarterback Taysom Hill said none of that has changed.
"I would say it's a typical Nebraska team," Hill said. "When I think of Nebraska, I think of big guys up front, big physical linebackers and an athletic secondary. That's what we expect, and that's who they've been. I don't anticipate anything changing."
That's also what center Tejan Koroma saw during his study sessions of the Nebraska defense: size, and plenty of it, staring directly across the line of scrimmage from him. The Huskers could have as few as two first-time starters on defense at the Saturday afternoon Memorial Stadium kickoff.
The Huskers also return 6-foot-2, 300-pound junior Maliek Collins and 6-3, 320-pound Vincent Valentine at defensive tackle, and stopping them will be key to the BYU offense. Collins in particular will prove to be handful, after he finished his sophomore year with 14 tackles for loss, 4 sacks and 13 quarterback hurries.
"They're defensive tackles are probably the strength of the defense, maybe even the strength of the whole football team," Koroma said. "It's really up to us, the interior offensive linemen, to control the football game."
But one big difference for Nebraska that Riley didn't have during his tenure at Oregon State will be quarterback Tommy Armstrong. The 6-1, 220-pound junior signal caller can beat teams with his legs and his arm, and he did last year. Armstrong completed 184 of 345 of his passes (53.3 percent) for 2,695 yards and 22 touchdowns as a sophomore, when he also ran for 842 yards and six touchdowns on 145 carries.
"He's an experienced returner, throws the ball well, but he can also run it well," Mendenhall said of Armstrong. "He's similar in size to Taysom; maybe a little bit taller. But (at) 220 (pounds, he) runs hard and is physical. He's certainly a scramble threat.
"Even though Oregon State/Nebraska isn't traditionally a quarterback-run team, you have to believe that will be an element of what they might do."
Tradition also plays a role in the venue of the season opener for both teams. Nebraska hasn't lost a season-opening game at Memorial Stadium since 1985.
But the Cougars also know what it's like to play in big games and big places. BYU is 22-20-1 all-time in season openers on the road, including a 2-2 mark under Mendenhall. Since going independent, the Cougars have played hostile road games at Notre Dame, Texas, Ole Miss and others.
"We've experienced this before," Hill said. "We've been on the road to big stadiums, played big teams and we've won."
×
Related stories
Most recent Sports stories