This archived news story is available only for your personal, non-commercial use. Information in the story may be outdated or superseded by additional information. Reading or replaying the story in its archived form does not constitute a republication of the story.
PROVO — When BYU wide receiver Mitch Mathews woke up early for 5:30 a.m. meetings on campus, he put on a crisp white dress shirt, tie and slacks, and trotted off to campus for a day of football practice, meetings and the first day of classes.
Monday was a special day for the BYU senior. Monday marked the opening of game week.
"It feels like it's football season," Mathews told the media Monday afternoon. "Today was really the first day. Fall camp is different, all-day, but now we have school, classes, food and football. You feel like it's back to the season, and you have to get going."
BYU opens the 2015 season in five days at Nebraska (1:30 p.m. MDT, ABC), and the Cougars are excited after an offseason filled with talk of suspensions, withdrawals and season-ending injuries to a few players.
But mostly, it's a chance for a new start.
"I'm excited about early morning practices," head coach Bronco Mendenhall said. "The first day of class is always a unique challenge for the guys to balance; I think that's the way it is nationwide. When we practice early like we did, it's not as much of an effect."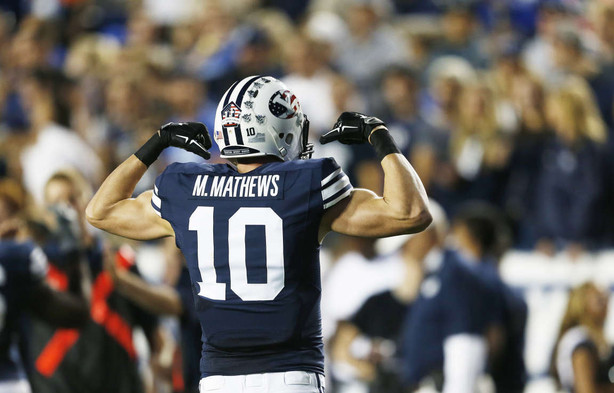 For others on the team, including newly named captain Bronson Kaufusi, it's like football never went away.
"Football started back in January; I don't know if people understand that," the senior Timpview alum said. "When one season ends, the next season starts. You're always getting better so you can go out and play.
"I think it's more of a stepping stone: you work out, you train, then you have fall camp, and then it's game week. It's just a cycle you go through."
Monday also marked the first projected depth chart in 2015 by the school. Mendenhall confirmed that the projected two-deep issued by the school's athletic department is "really close — almost exactly right." The list includes long-believed starters like quarterback Taysom Hill, running back Algie Brown, and Mathews at wide out opposite Nick Kurtz and Devon Blackmon. Terenn Houk is listed as the projected starter at inside receiver, followed by Colby Pearson.
Bronson Kaufusi has moved back to left defensive end, slotting just ahead of fellow senior Remington Peck, and alongside Travis Tuiloma and Logan Taele on the defensive line. Fred Warner, Harvey Langi, Manoa Pikula and Jherremya Leuta-Douyere are projected starters at linebacker, and Micah Hanneman, Michael Davis, Eric Takenaka and Kai Nacua are in the secondary.
A few surprise inclusions are returned missionary freshman Moroni Laulu-Pututau working into the rotation behind Mathews, next to Kurt Henderson, at receiver. Walk-on linebacker Scott Huntsman is also listed as the true backup to Warner, and Parker Dawe is the backup center to returning freshman All-American Tejan Koroma.
Only four "or" positions are listed on the current depth chart, with two on the offensive line: sophomore Ului Lapuaho is available to start at right guard and right tackle, with sophomore Tuni Kanuch listed as the other right guard and junior Brad Wilcox as the other right tackle.
"You have to have some intrigue, otherwise what are (the media) going to do?" Mendenhall joked about the chart.
Jordan Preator is also listed as the backup to Nacua at free safety — though Mendenhall cautioned the move could be a temporary or back-and-forth maneuver from the sophomore's switch from cornerback.
"At this point, he'll play both," Mendenhall said of Preator. "What it does is give us more athleticism and more flexibility. If we choose to blitz, it gives us better matchups. We're hoping to get the best athletes and players on the field at the same time (in the secondary)."
Trevor Samson has cemented himself as the senior starter at place kicker, but junior Austin Brasher could also be the Cougars' main kickoff specialist. Additionally, there's junior Jonny Linehan and freshman Rhett Almond.
Takenaka and Hannemann are the two-deep at punt return, while Takenaka joins Adam Hine (who is not listed on the two-deep at running back behind Algie Brown and Nate Carter) at kick return.
Beyond that, the veteran-led BYU roster has few questions ahead of the first-ever meeting with the Huskers in both programs' histories.
"It's fun and nerve-wracking at the same time. There are a lot of advantages to being a part of a conference," Mendenhall said. "But there are also disadvantages to going to the same hotels and same cities over and over again. Going on 11 years, I like the diversity. It is harder — much harder — but I like the new experiences and I think our players do."
WALK-ONS ADDED — BYU also held tryouts to finalize its roster of walk-ons for the 2015 season, naming 10 players that will join the team when they start school and will mainly contribute to the scout team.
Among the notable walk-ons is K.J. Hall, a former Maple Mountain High wide receiver who could also play defensive back at BYU. Hall is the son of former BYU standout Kalin Hall and older brother of current quarterback commit Jaren Hall. Paul Langi, who played linebacker at Bingham High, is the older brother of current linebacker Harvey Langi.
The Cougars also added walk-on transfers Maurice Maxwell, a former tight end at Dixie State who will play on the defensive line, and Arizona State transfer Elliot Knox, a wide receiver.
You can see the complete list of walk-ons in the table below.
BYU 2015 football walk-ons
| Name | Pos | Previous School |
| --- | --- | --- |
| K.J. Hall | WR/DB | Maple Mountain High School (UT) |
| Paul Langi | LB | Bingham High School (UT) |
| Maurice Maxwell | DL | Dixie State College (UT) |
| Brayden El-Bakari | RB | Brighton High School (UT) |
| Bryan Engstrom | RB | Alta High School (UT) |
| Nate Sampson | LB | Pleasant Grove High School (UT) |
| Corey Edwards | K | Hurricane High School (UT) |
| Cody Stewart | WR | Mountain View High School (AZ) |
| Elliot Knox | WR | Arizona State |
| B.J. Fifita | DB | Oaks Christian High School (CA) |
BYU Athletics
×
Related Stories