This archived news story is available only for your personal, non-commercial use. Information in the story may be outdated or superseded by additional information. Reading or replaying the story in its archived form does not constitute a republication of the story.
PROVO — Travis Tuiloma has a role model, and it's patterned after a recent BYU defensive lineman who he tries to model his game after.
The name is familiar to BYU fans: Ethan Manumaleuna, known best for the game-saving blocked field goal against UCLA that gave BYU a Las Vegas Bowl victory in 2007.
For Tuiloma, he feels he can be that kind of impact player.
"He's my main guy that I try to model the way I play," Tuiloma said on the Cougars' final day of fall camp Wednesday. "I think I could bounce out, but I'm needed mostly at nose right now, so that's my main focus."
Whether in Tuiloma or defensive end Bronson Kaufusi, who is back on the front lines full time after spending his junior year at linebacker, BYU's defensive front expects to take up residence in opposing backfields this year. Tuiloma said the group has been working on pursuing the quarterback and getting past the line, or at least eating up blockers so the linebackers can do their damage.
"I'd say the run game will be good," Tuiloma said. "I trust all my guys, and our front-seven as well as our DBs are coming in from the outside and helping.
"As long as everyone keeps their gaps and makes sure everything is secure, we'll be fine."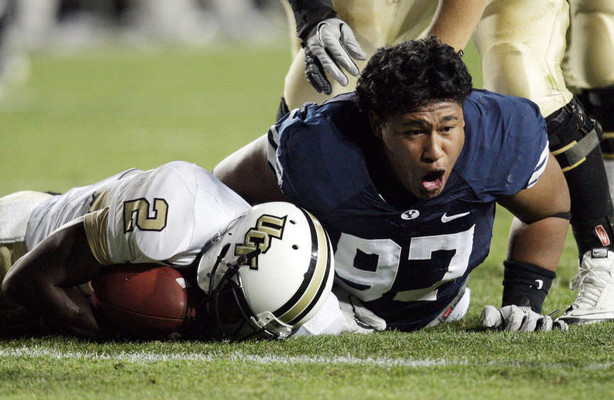 Tuiloma doesn't always pick up the big statistics, and he doesn't rank among BYU's all-time greats in categories like sacks, tackles for loss and tackles. The 6-foot-2, 300-pound junior had 27 tackles, six tackles for loss and two quarterback hurries a year ago.
But the role on the team is plenty valuable for the Outland and Nagurski Trophy watch list candidate.
"He's a bull, down there in the trenches. He's really the key to the defense," Kaufusi said of Tuiloma. "Without that nose guard at a high level, we are in trouble. Having Travis there is crucial for us. He's going to be really good this year."
Kaufusi said the defensive front-seven was tutored over the summer from previous BYU standout defenders like Vic So'oto, Ziggy Ansah and Kyle Van Noy. The senior from Timpview High expects that tutelage to pay off this fall.
"They have so much training from the NFL," Kaufusi said. "We worked a lot of pass rush, different points of attack, hidden movements, hands. All those things help us see what they learn from the teams they have been a part of. It was a good summer."
Tuiloma said he's gotten better about using his hands in the pass rush, occupying space and picking up extra blockers from opposing offensive linemen. That, in turn, leads to big plays from Kaufusi and others.
Related Story:
In other words, he's confident there will be teammates he can make look good.
"I completely trust every single one of them," Tuiloma said of Kaufusi and the other defensive ends. "I think it's really good for us. I'm happy to have (Kaufusi) on the line. As far as rushing off the edge, we definitely will be able to hold the run."
The physical play of the defensive line will also be critical in stopping BYU's opening opponent, at Nebraska on Sept. 5.
"They're a really good football team, just big and physical," BYU quarterback Taysom Hill said. "I think it's tough to beat a team like that on the road. But what we've seen from us as a team is that we are capable of it. We know what we have ahead of us, and we've been preparing for it."
The key, though, will be for the defense to focus on its own assignments, Tuiloma added.
"I'm not really looking at their film yet," he said. "We're just focusing on us right now, and making sure that we are prepared as best as we can be before we start thinking about them."
×
Related Stories