Estimated read time: 2-3 minutes
This archived news story is available only for your personal, non-commercial use. Information in the story may be outdated or superseded by additional information. Reading or replaying the story in its archived form does not constitute a republication of the story.
SALT LAKE CITY — A herd of hungry zombies roamed downtown Sunday in hopes of scaring up food for the Utah Food Bank.
Corpses of all ages shambled through The Gateway Mall and out onto the streets as part of the the eighth annual event, taking zombie selfies and growling behind blank stares. The Zombie Walk is sponsored by the Fear Factory haunted house, which opens Sept. 11, and Salt Lake Comic Con, happening Sept. 24-26.
"We've got about 20 of our funnest zombies here, we all met over at the Fear Factory to come over," said Rob Dunfield, owner of the spook alley. "It's grown a lot, just the number of people who are here today compared to a few years ago, and I think it's great that it's tied to the food bank. Anything that we can do to help will be great."
Participants at the event, both living and undead, who donated a sack of groceries to the Utah Food Bank received free passes to Salt Lake Comic Con as part of the "Food Not Brains" campaign.
"People are excited about zombies and they want to roleplay zombies … and the really great thing is that we're raising food for the food bank," said comic con co-founder Bryan Brandenburg. "There's something about standing on a corner and watching a herd of zombies wander by that's pretty spectacular."
The parade of zombies captured shoppers' attention as they limped through the mall, drawing a few comments of "That's gross! and some startled stares, before meeting up with a crowd of costumed "zombie hunters" as they circled the block.
"It blows people's minds because they don't know if it's the zombie apocalypse or just people having fun," Brandenburg said.
For the Owen family of Salt Lake City, joining the costumed food drive was a no brainer.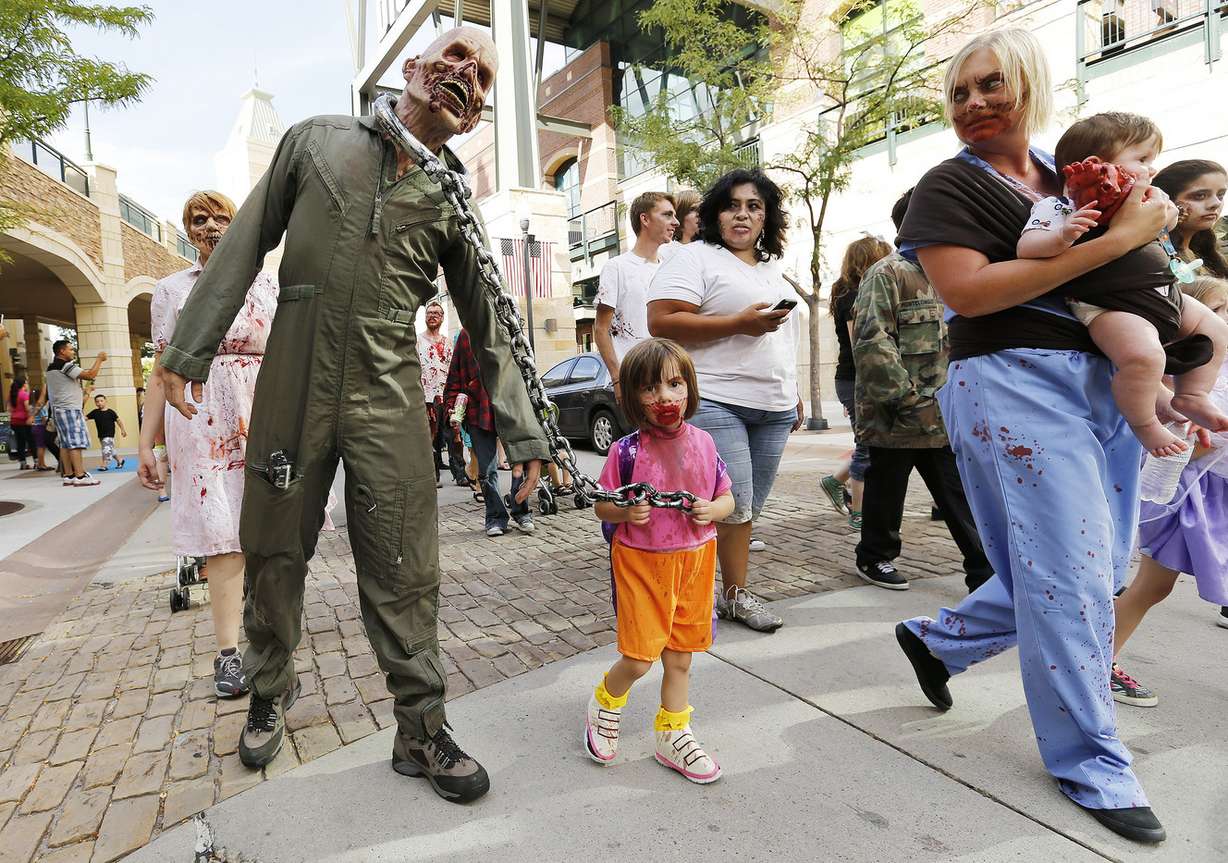 "We just love zombies. We love all the aspects of being a zombie," said Jacob Owen. "It's fantastic, since they do the food donations. It's a a good way to get everyone out and be part of the community. … We always bring at least two bags of food and try to contribute."
Owen's daughter, 12-year-old Kindra, said the trickiest part of the walk was containing her giggles as she was "trying to be realistic looking and always having a dead attitude."
This is the first year that Lynnzie and Ricky Williams of Manti have attended the Zombie Walk, and with the passes they picked up for their food donation, it will be the first year they check out Salt Lake Comic Con.
"We wanted to donate and come see all the cool zombies," said Lynnzie Williams, dressed in a 'Have you seen my zombie?' T-shirt. "We went through our pantry and just got whatever we could to bring."
×
Photos
Related links
Related stories
Most recent Utah stories