Estimated read time: 2-3 minutes
This archived news story is available only for your personal, non-commercial use. Information in the story may be outdated or superseded by additional information. Reading or replaying the story in its archived form does not constitute a republication of the story.
NEPAL — No matter what language you speak, the reaction to a baby is universal.
"The baby is healthy. It's good," said Gausi Loma, the baby's nurse as she held him and smiled.
This little guy is just a few week old, starting his life after so many in Nepal lost theirs.
Loma says he is proof life does go on, even though constant aftershocks remind people how fragile life really is.
"Yesterday there was a tremor, an aftershock, in Kathmandu. They are worried," said Loma.
This village, though, isn't Kathmandu.
This is Dhading, a small village roughly two hours west of the Capitol in an area hard hit by the initial earthquake.
The little medical center was ruined during the quake, meaning women giving birth didn't have many options as to where to go.
However, when a couple of big, gray tents arrived in Dhading, deliveries no longer had to happen out in the open.
"When they provided our tent, they feel comfortable to deliveries. There are many that saved the life of birth mother and children," said Loma.
After the earthquake, many mothers don't feel comfortable giving birth and recovering inside a building.
However, Loma says they feel safer being in a tent.
"Because there is no fear," said Loma. "There is no fear of earthquake in tents."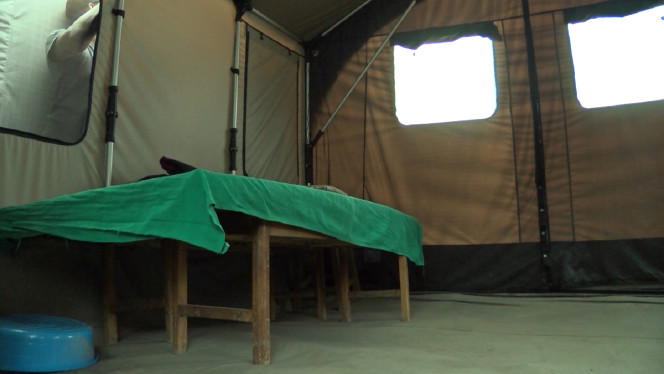 KSL-TV
That's where Saraj Shah comes in.
He's with One Heart World-Wide, a charity organization doing work to help set up the tents.
The tents are BareBones brand tents, provided by TIFIE Humanitarian out of Morgan, Utah.
Shah was busy wiring solar panels to the tops of the tents so doctors would have electricity to work at night.
"Yes, it's very important, especially to deliver at night. They have to use candles, their mobile phone lights, or a flashlight, which is not a practical thing," said Shah.
It is hard work, long hours, in a tough environment, but Shah feels someone has to do it.
"This is what I really want to do. This is, what, our passion. We don't care about, what, we are tired, the harsh weather, we don't care about it. When you see the light and you see the smile on others' face, that's the prize. We don't care about ourself. We are happy," said Shah.
There is a need for these tents.
The wait for medical care has grown, especially after the earthquake.
But there are those working hard to make a difference and to make sure the earthquake doesn't win.
"This, like a nightmare," said Shah pointing to ruins in the village. "Now we are slowly coming out from nightmare."
×
Photos
Related links
Related stories