Estimated read time: 2-3 minutes
This archived news story is available only for your personal, non-commercial use. Information in the story may be outdated or superseded by additional information. Reading or replaying the story in its archived form does not constitute a republication of the story.
Alex Cabrero reportingA 16-year-old boy fell through a skylight at Bonneville Junior High School in Holladay and died Thursday night. He was with a friend when it happened.
Neighbors say it's common to see kids playing on the roof of the school. Thursday, the two teens went to the school to play soccer with some friends, but before the match, they decided to climb onto the roof and play.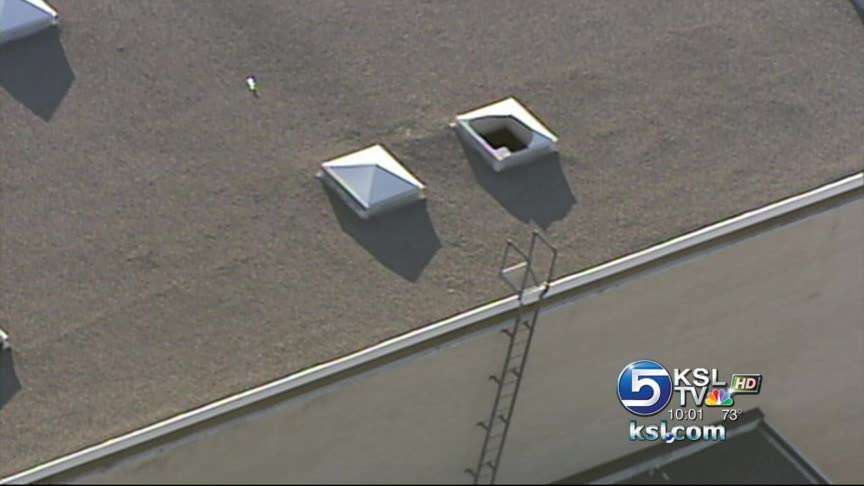 One of the boys climbed onto the higher roof of the gymnasium. When he saw his soccer coach pull up to the school, he figured he would get in trouble if he was seen up there, so he turned to run. When he ran, he fell through a skylight.
It's a tragedy that is difficult to understand. Deputy Shane Manwaring, with the Salt Lake County Sheriff's Department, said, "I have no explanation for why they were on the roof."
Salt Lake County sheriff's deputies received the call that a 16-year-old boy fell through the skylight. The friend he was with heard the crash and went looking for him. "He called for his friend. His friend didn't respond. And so he climbed up the ladder to the gymnasium, where he saw that the skylight had been broken through. He looked down through the skylight and found his friend on the gym floor below," Manwaring said.
It was a 40 foot drop. The friend ran to the first house he could find to call for help. The woman who lives there, Kathy Sanchez, said, "The other boy was just, he was so grief-stricken, and he kept saying, 'I should have done something. I wasn't fast enough.'"
Sanchez also told us she sees kids up there at least once a week. Somehow, the kids are able to climb onto the first roof. From there, a ladder gives them access to the gym roof.
Randy Ripplinger, with the Granite School District, said, "There's no access to the roof normally from the ground. There's no ladders on the ground. There's no walkways from the ground to get people up on the roof."
But they got up there somehow, and sadly, a 16-year-old is dead because of it. "Sadly, it takes something tragic to wake people up, and maybe put wire or something on top of these skylights. Apparently it's very easy to get up there," Sanchez said.
The name of the boy who died has not been released. A Granite District spokesman tells us the boys do not attend the school, but they do live in the area.
E-mail: acabrero@ksl.com
×
Most recent Utah stories