Estimated read time: 3-4 minutes
This archived news story is available only for your personal, non-commercial use. Information in the story may be outdated or superseded by additional information. Reading or replaying the story in its archived form does not constitute a republication of the story.
TOOELE COUNTY — The Utah Division of Wildlife Resources is investigating the potentially purposeful shooting of two baby ferruginous hawks.
Scott Root, conservation outreach manager for the DWR, said a volunteer with a bird organization found the hawks and the DWR is still working out the details.
Root added the ferruginous hawk is a sensitive species and there aren't very many of them. He said the DWR wants to let people know that it is not OK to shoot birds of prey, who are protected under the federal Migratory Bird Treaty Act.
"When you shoot something like this, you are making a significant impact on populations," Root said.
These hawks typically nest on top of a juniper tree in some of the lower-lying areas of the desert and are not hidden by any cliffs. Root said this is "very interesting nesting behavior" for birds of prey.
Root said this may have been too tempting for someone since there aren't any hunting seasons going on right now.
"...it doesn't look good," Root said. "It appears to be that somebody intentionally shot these birds, but we still don't know everything, we'll do investigation and work with the U.S. Fish and Wildlife service on this."
Root is unsure whether the parents of the birds are still alive and said it is unknown what will happen with the parents or these nests in the future.
"...all we know is we're out two ferruginous hawk chicks, and that's never a good thing."
Candice Fitches, the RINS (Raptor Inventory Nest Survey) volunteer who found the birds July 8, said she has been monitoring the nest since 2012, and saw the two then healthy chicks back in June when they were about 20 days old.
The birds, who typically fledge at 40-50 days old, would have fledged any day, Fitches said. Fitches and her husband, Ryan, did not see the parents of the chicks when they found them, but they heard them making a territorial call.
The Fitches' found the first bird a couple of feet away from the nest and the second about 20 feet away. Fitches said it wasn't obvious the first had been shot, but when they found the second, their suspicions were more confident since it's highly suspicious for two almost fledged birds to die so close to their nest.
"We were very sad," Fitches said. "It's hard....to go to a nest that you were pretty confident would be successful and see these successful birds and watch it year after year and be successful every year to see something so senseless happen."
They also saw suspicious ATV tracks that looked as if its rider had stopped in front of the nest and turned around and went back from where it came from. They took pictures of the tracks and the are the birds were killed.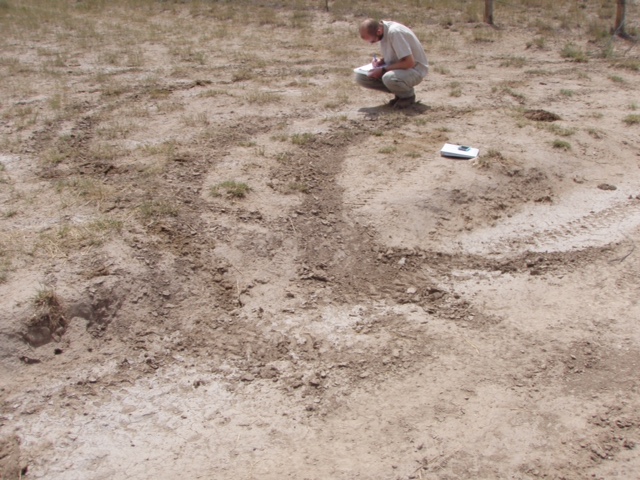 Candice Fitches
Fitches said in the little research she's done, ferruginous hawks have good memories and typically do not renest in the same nest in these situations. She said she does not believe the nest will be active next year.
Ferruginous hawks are very sensitive to people, Fitches said, so their nest is in the middle of nowhere and they are not typically sightseeing birds. Fitches added that she typically visits this nest three times in a birding season and doesn't get out of her car and tries to give them space.
Fitches has never seen anything like this happen, though she said RINS has seen it five other times, since the large birds are easy to spot when they are full-grown in their nest.
"So it does happen, and it's just very needless but this is my first time and hopefully the last," Fitches said.
It is unclear where exactly the birds were found.
Contributing: Brianna Bodily, Nicole Vowell
×
Photos
Related stories
Most recent Utah stories