SALT LAKE CITY — There are forgotten heroes who fought in every war. One such group might be the World War II liaison pilots like Jack Noble, who flew small aircraft in Europe and the Pacific. They didn't get the attention the fighter or bomber pilots received. But the story behind Noble's experience shows there were no insignificant roles.
Ninety-year-old Noble grew up in Texas and already had an interest in aviation when the war broke out. He had just started training and had six hours under his belt. He enlisted in the U.S. Army Air Corps in 1942. Eventually, Noble was assigned to the 173rd Liaison Squadron.
"I went to England first, then to Paris, France, and then all the way to Germany until the war ended," remembered Noble.
Liaison squadrons used light aircraft often known as "L-birds," or "grasshoppers" or "cubs." Their missions included artillery spotting, military errands, aerial reconnaissance, supply runs, evacuating wounded soldiers and getting generals, colonels and other military brass to where they were needed.
"They used the small plane to get into the places where the other planes couldn't get to," said Noble.
The 173rd Liaison flew Piper L-4 Cubs, Twin Cessna UC-78's and Stinson L-5 Sentinels — the plane Noble flew the most. In fact, Noble christened his L-5, "the Wacky WAC" in honor of his wife, Marty.
Aviation also caught Marty's attention, too. She enlisted in the Women's Army Corps, or WAC, and served stateside where she taught B-29 crewmen how to make critical repairs midflight.
"She worked on the instrument part of it (B-29)," said Noble. "She was an instrument technician, repairing them and all that."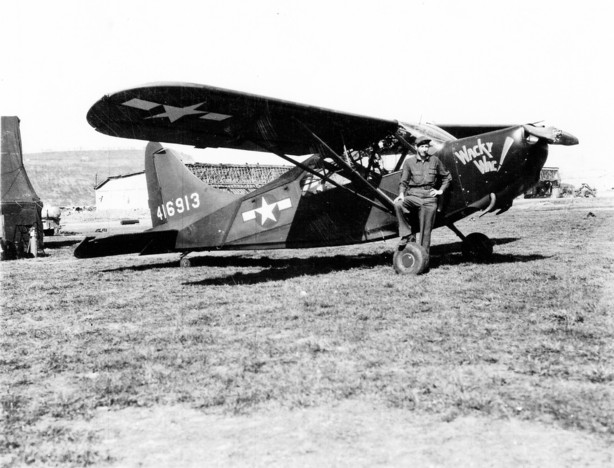 Chris Noble
"I think it was very special to them to have that connection," said Noble's granddaughter, Laura Carr. "It carried over to their business in aviation for years. They were able to do that. They had such a special bond, and those interests they shared with airplanes definitely played into that."
The Stinson L-5's were made of steel tubing, wrapped in a canvas-like material with wooden wings. The lack of armor posed problems for Noble and other pilots.
"As far as I know, I only had one shot," remembered Noble. "I had a shell come up right between my legs and out the cabin. And that was the only one that ever hit me — missed me altogether. Didn't miss the airplane, but it missed me."
Another close call came when Noble was delivering payroll to troops in Southern France. The threat this time wasn't enemy fire. It was the wind.
"Just before you get to Marseilles, there's a big valley that's almost like the Grand Canyon," said Noble. "I went down in that canyon, and the wind was blowing about 70 or 80 miles an hour. It was sending me right out to the Mediterranean Ocean, and I didn't want to go there."
Noble said he looked for somewhere to land to wait out the wind. All the L-5 needed to land was an area about the size of a tennis court. When he spotted a vineyard, he decided to go for it.
"Lots of vineyards have wire between stakes," remembered Noble. "When I landed, of course, I hit into the wire and got stuck. And, of course, my airplane was almost demolished. But, I wasn't hurt in any way, shape or form, except my feelings."
Noble said he also got into a bit of scrap with a much faster American P-51 fighter plane.
"He went all over and scared me to death," Noble said. "But it turned out it was a German who captured one of our '51s."
---
This is what I live for. And, as you realize, we're losing WWII vets at a very fast rate and, unfortunately, it's not going to be too much longer before the last one will be gone.
–Greg Brubaker
---
Noble said he rolled his slower L-5 over onto its back and while upside down, dove it down to the ground — leveling out just above the tree tops.
"I was trying to get as low to the ground as I could because he couldn't hardly get that '51 down there like that," said Noble. "And I disappeared among the trees."
On another flight, Noble said he flew Gen. Omar Bradley to Ohrdruf — the first Nazi concentration camp liberated by the allies.
"He was one of the best pilots that I've ever known," said Chris Noble about his father, Jack. Chris flew commercial jetliners for several years before retiring recently as a Boeing 747 pilot for UPS.
"He raised me in general aviation, and I got to ride around a lot as he got charter work and stuff," Chris said about his father. "He would land in places because of his experience in this (L-5 Sentinel) that no normal person would think about going. I've watched him do some landings and take-offs that just absolutely amaze me."
Greg Brubaker of the Utah Living Military History Group owns a restored Stinson L-5 Sentinel like the one Jack Noble flew. When he heard about Jack Noble, he immediately extended an invitation to him for a flight in his plane.
"This is what I live for," said Brubaker. "And, as you realize, we're losing WWII vets at a very fast rate and, unfortunately, it's not going to be too much longer before the last one will be gone."
Brubaker says liaison pilots like Jack Noble didn't gain a lot of glory or even recognition as they quietly did their job.
"Unlike the bomber and fighter pilots, these were mostly enlisted men," Brubaker said. "They called them 'Flying Sergeants.' These guys were underappreciated. A lot of pilots didn't think they needed small airplanes, but as the war continued on, they started realizing how valuable they were."
Jack Noble accepted Brubaker's invitation and came to the Ogden-Hinckley Airport for that flight. He was surrounded by his grandchildren and great-grandchildren as the crew from Ultimate Aviation rolled out the restored L-5.
"It makes history tangible for them," said Carr. "When they do read things in the history books, things seem so far off. Having a relative that participated in such an important event in history just makes it easier for them to connect with those events and not repeat mistakes made in the past."
Jack Noble easily climbed in the old plane and took off with pilot John Hammans. Jack Noble faced no enemy fire or rough wind on this flight, just cheers from a crowd grateful for his service.
"This is like a dream come true for me," said Brubaker. "To honor these great men and women that served — just an extreme honor."
"His service taught us patriotism and sacrifice," said Chris Noble. "I used to ask him if ever wished he was a fighter pilot or a bomber pilot. He would tell me, 'No, I never wished I would be something else. So many of those guys never came back.'"
"I feel like I lucked out," said Jack Noble. "I feel lucky to have made it through."
---
KSL is a proud sponsor of Utah Honor Flight, which takes veterans like Jack Noble to Washington, D.C., to see their memorials. You can donate at utah-honor-flight.org.
×
Photos
Related Links
Related Stories