Estimated read time: 1-2 minutes
This archived news story is available only for your personal, non-commercial use. Information in the story may be outdated or superseded by additional information. Reading or replaying the story in its archived form does not constitute a republication of the story.
Nicole Gonzales reportingA new technology developed to keep truckers cool in the summer months has finally arrived. It allows a truck cabin to stay under 70 degrees without idling. But this technology will benefit more than just the truckers.
By not having to idle and waste gas to cool their cabs, trucking companies can save up to $800 a month on gas alone. The savings could then be passed along to consumers by reducing the price we pay for the products they carry.
"I'd say probably 80 percent of durable goods, retail goods, food products, are all delivered by the trucking industry. And when their operating costs increase in order to stay in business, they have to pass those increases on to the consumers," said Jeff Frasier, with Webasto Products.
The system will cost truckers a bit, though. To install one truck, it's $3,600 plus labor costs.
Webasto's Blue Cool product is a high-tech, cold-storage unit that charges while the truck is running. When the truck rests, the unit uses small amounts of electricity to pump super-chilled air into the cabin for up to 10 hours.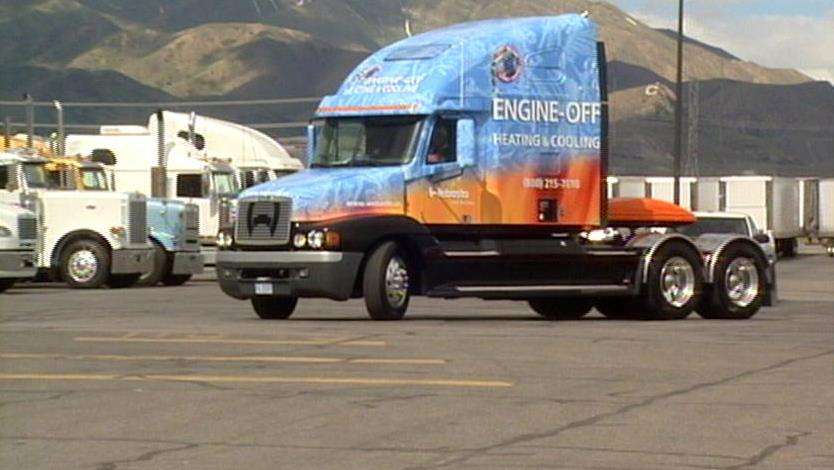 The system uses less fuel and has zero emissions, improving air quality as well. No one is allowed to idle for more than 15 minutes, and now truckers won't have to.
"About 64 percent of the air pollution coming out through the state of Utah is through vehicle pollution and automobile emissions. And what this is going to do is it's going to help reduce that," said Robin Erickson, with Utah Clean Cities.
Traditional engine idling wastes about a gallon of gas per hour. On average, it costs about $10,000 a year for one truck to idle, so this will save the trucking companies a lot of money.
E-mail: ngonzales@ksl.com
×
Most recent Utah stories