Estimated read time: 4-5 minutes
This archived news story is available only for your personal, non-commercial use. Information in the story may be outdated or superseded by additional information. Reading or replaying the story in its archived form does not constitute a republication of the story.
SALT LAKE CITY — Megan Lavin's first child, Carter, was almost one-year-old when she gave him yogurt for the first time.
Carter was sensitive to nine foods at the time and Lavin had waited to give him dairy.
"I remember it well. I gave him key lime Greek yogurt," Lavin, 29, told KSL.com. "He was inhaling it. He really seemed to like it."
Lavin thought she had achieved another healthy food victory, but minutes later, Carter went into anaphylactic shock.
"I had no idea how serious it was, but I had this terrible feeling like 'I need to get in to the E.R. now,'" Lavin said.
She rushed Carter to the hospital as he exhibited more alarming symptoms: itchy eyes, runny nose, vomiting, his body was swelling up and getting red, and his eyes were rolling into the back of his head.
"I was screaming and clapping to try and keep him awake while I sped to the hospital," she said. "I remember grabbing him and running through the doors and just racing towards the admittance lady saying, 'Please help my child.'"
Fortunately, doctors were able to stop the allergy attack and Carter survived just fine. Lavin went straight to a board-certified allergist at Primary Children's Hospital.
Living with severe food allergies
Up to 15 million people in the United States have food allergies and one in every 13 children has one, according to Food Allergy Research and Education Inc. (FARE). Some eight foods account for 90 percent of all food-related allergic reactions in the U.S., FARE states. They are peanuts, tree nuts, milk, eggs, wheat, soy, fish and shellfish.
The allergist determined Carter has severe allergies to milk, peanuts, all tree nuts, eggs and oatmeal that can send him into anaphylactic shock.
"Anaphylaxis is a sudden, severe, potentially fatal, systemic allergic reaction that can involve various areas of the body (such as skin, respiratory tract, gastrointestinal tract, and cardiovascular system)," states utahfoodallergy.com.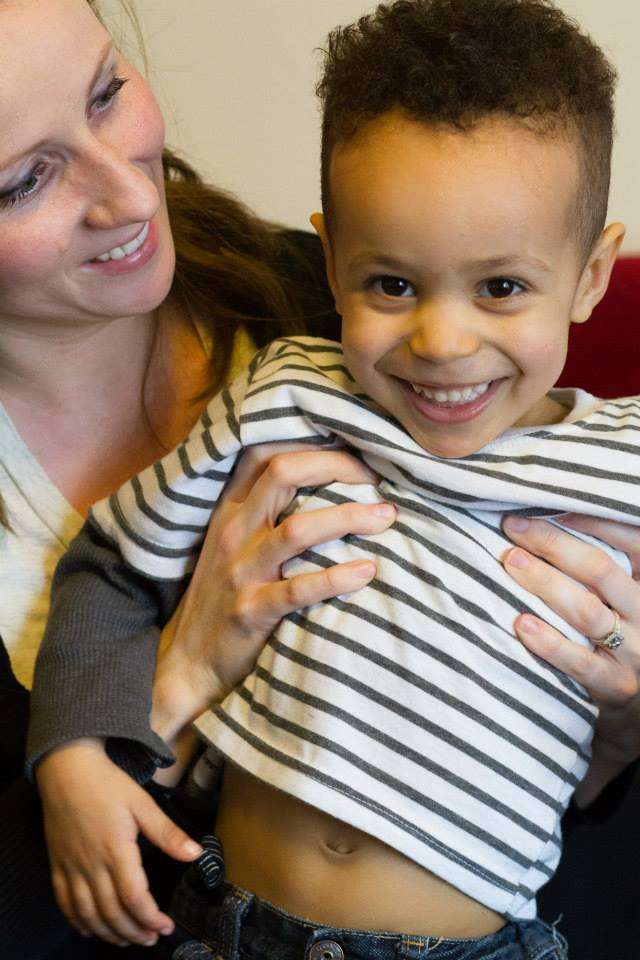 Lavin's life changed almost overnight. Her son is allergic to 39 foods, and that includes almost everything that comes prepackaged in the store. She considers cooking for her family to be a part-time job.
"I have to cook from scratch," Lavin said. "It takes up hours of my day — the planning, prep and clean up."
And it just doesn't affect their home life. When they are around other people, Lavin has to be cautious and make sure her son doesn't touch someone else's food.
"Instead of being thrilled that we're invited to a social event, I get nervous," she said. "Barbeques, birthday parties, holiday get-togethers, all of these could potentially have something life-threatening to him."
Lavin has worked hard to find delectable recipes for cookies and cakes and bread using unusual ingredients. She keeps cupcakes in the freezer to bring to parties where there will be cake. Her second son, Calvin, also has food allergies, but so far he is only allergic to three types of nuts. But she doesn't consider it to be a burden because she says she wants her child to have as normal a life as possible.
"I feel like I'm doing what any mother would do," Lavin says. "Who wouldn't want their child to have a chocolate chip cookie? What mother wouldn't want their child to have a full life, full of yummy things to eat?"
Helping kids with severe food allergies
It's impossible to avoid being around food that contain allergens, but if you know a child with a severe food allergy, ask the parents what you can do to help.
Some would prefer your kids wash their hands with soap and water after coming in contact with the food allergens, others would prefer you to not bring foods like peanut butter, Lavin said.
Anaphylactic shock symptoms
Severe itching of the eyes or face
Swallowing and breathing difficulties
Abdominal pain
Cramps
Vomiting
Diarrhea
Hives
Angioedema (swelling similar to hives, but the swelling is beneath the skin instead of on the surface)
If you have anaphylaxis, seek emergency medical attention immediately.
Source: WebMD.com
"I think there is a way for everyone to feel included and enjoy food, too," she added. "It just depends on how much people are willing to converse and work together."
Is there anything most kids can eat?
"Smarties, Dum-dums, Swedish Fish, Skittles and Mike and Ikes are almost always safe for food allergy kids," Lavin said.
The importance of EpiPens
Lavin always has an EpiPen (a needle fitted into a tube that looks like a pen, used for putting a drug into someone who is having a severe allergic reaction) on hand, but she says it will not always save someone's life.
"People still die who have used EpiPens," she said. "It just ensures reduced symptoms to allow them a greater chance at living through the attack."
She says it would be great if everyone could learn to use an EpiPen.
"With food allergies on the rise, about 50 percent since 1997, it's pretty certain that you, a loved one, a neighbor, a friend, someone in your church, your kids' sports team… someone will have a food allergy," she said. "Administering an EpiPen correctly in that crucial window of time can save someone's life."
Lavin considers it as important as knowing CPR. The University of Utah School of Medicine has "A Shot to Live" program that helps educate school officials and community members on how to use an EpiPen. For more information, visit medicine.utah.edu/pediatrics/ashottolive.
×
Photos
Related links
Related stories
Most recent Utah stories