Estimated read time: 6-7 minutes
This archived news story is available only for your personal, non-commercial use. Information in the story may be outdated or superseded by additional information. Reading or replaying the story in its archived form does not constitute a republication of the story.
TOMORROWLAND — There's no way for me to really discuss "Tomorrowland" without first disclosing my absolute geek-love for Brad Bird.
From my perspective, "The Incredibles" is a perfect movie when it comes to pacing and character development. "Ratatouille" is visually stunning and challenging, and "The Iron Giant" captures the innocent wonderment of the1950s in a way that made me, a child of the '90s, feel nostalgic for black-and-white television and melodramatic monster movies.
Without further diving into Bird's Mission Impossible chapter or Amazing Stories, let me just say, I admire the guy. I expect to like his work. And every time I've raised an eyebrow or expressed concerns about the direction he's taking on one of his projects, I've been happy to later admit my misguided ways after seeing the finished product.
This is why, when less-than-stellar trailers started hitting for "Tomorrowland," I didn't pay much attention. I simply assumed marketing was having trouble selling something genius. Great movies fall victim to terrible marketing all the time, and Bird's perspective was a likely candidate for such a mishap.
So I walked into this movie as a fan-boy waiting to be amazed only to walk out asking fellow critic John Clyde, "Was that brilliant or terrible?" I texted him the same question 24 hours later and now two days after the screening, I'm staring at my laptop still unsure of how I'll approach this review.
I absolutely loved pieces of "Tomorrowland." But it's impossible to make that statement without including the caveat that other parts of "Tomorrowland" feel like a really bad made-for-television movie.
Hopefully after breaking this down a bit, I'll find some clarity in my scattered and conflicting opinions.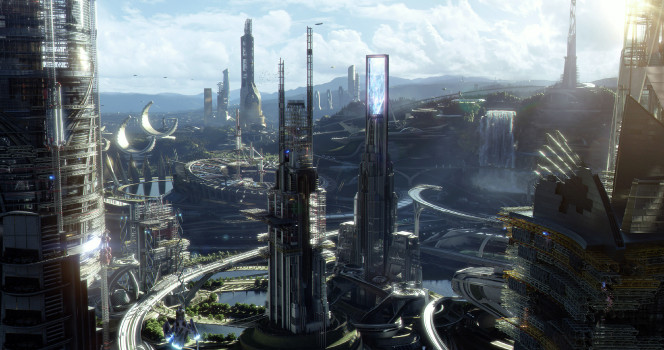 Photo credit: Film Frame/Disney via AP
It's unique
Major kudos to Bird for having the guts to tell this story. I'm not exactly sure how he got Disney's buy-off on the project, or maybe some of the story's quirks are the direct result of studio interference, but to everyone who laments about Hollywood having nothing original to say, this is a movie you need to see.
Told from the perspective of Frank Walker (George Clooney) and Casey Newton (Britt Robertson), the story isn't bashful about its proselytizing ways. The movie audience doesn't exactly know who Walker and Newton are giving their account to, but it's obvious they're trying to convince their unseen recipients of something.
As they tell their story, the details unfold like any water cooler conversation. Everything plays out in an and-this-happened-next fashion, which is clever, but ultimately removes necessary tension. Since we know Walker and Newton are alive and well at the end of the story, otherwise visually stunning action sequences feel long and even unnecessary. At a real water cooler conversation, people would be interjecting a lot, asking the two to get back to their point.
The message
---
The movie is pretty, fun and passionately optimistic. Unfortunately, it's also preachy, melodramatic and full of plot-holes. If you can write the latter off as par for summer entertainment, then you're really going to enjoy the crazy sci-fi that is "Tomorrowland."
---
"Tomorrowland" breaks the basic show-not-tell rule of storytelling with a spectacular spinning roundhouse kick to the teeth. If by some insane happenstance you've made it to the climax of the movie still unsure of the film's message, don't worry, there's a monologue that explains everything.
We're not talking "Here's my evil plan," monologue either. This is a monologue that will leave you wondering if ushers are waiting at the exits with donation plates. Had the movie's villain turned to the camera and said, "Remember kids, always eat your vegetables," it still might have seemed less preachy than the sermon that awaits you in the third act.
That said, it's not a bad message. If you consider this a movie for kids, well, maybe there's room to excuse the otherwise condescending discourse on hope. Or, and sadly this is more likely, maybe I'm a Bird apologist who's really desperate to explain away the terribleness that is the last 20 minutes of this movie.
The players
There is some painfully hokey dialogue in this movie, but the cast embraces the corny exchanges with sincerity. In fact, the performances are so genuine, it made me wonder if the actors were in on some joke I just wasn't getting. Were there winks to the audience, or was Bird celebrating serial science-fiction in a way I just didn't connect with? I don't know. I hope so. But "Tomorrowland" is a movie where characters say all their thoughts out loud and drift off mid-sentence for dramatic effect. In any other movie, I'd have to roll my eyes. But because the cast is so at home in this bizarre world, it feels like the unnatural conversations are by design.
Robertson deserves most the credit for selling the setting. Sure, Hugh Laurie and Clooney are their usual charismatic and charming selves, but it's up to Robertson to make us care about the fantastic events dominion around her character. No matter how the film is received this weekend, "Tomorrowland" at least proves her abilities as a leading lady.
The trouble with Newton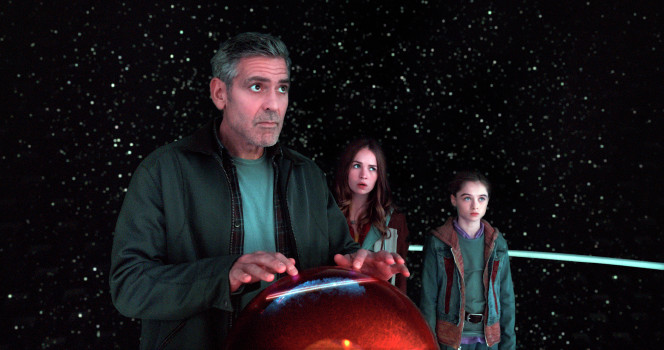 Photo credit: Film Frame/Disney via AP
I can explain away most of what I dislike about "Tomorrowland" by choosing to believe Bird intentionally hammed up the production. However, throughout the movie you're going to hear over and over again how special and important Newton is. That's fine, a protagonist should always stand out for some reason. However, Newton herself has little impact on the story. She's in almost every scene, but as the story comes to a close, you realize any random citizen of Earth could've replaced her and everything would've wrapped up with the same optimistic bow.
Conclusion
I'm still not sure I'm ready to take sides on "Tomorrowland." There's definitely an audience ready to love this movie, but even they will concede many of the film's problems.
The movie is pretty, fun and passionately optimistic. Unfortunately, it's also preachy, melodramatic and full of plot-holes. If you can write the latter off as par for summer entertainment, then you're really going to enjoy the crazy sci-fi that is "Tomorrowland." If, however, you're a little more demanding from your techie-message offerings, you'll probably find the entire experience a bit frustrating.
No matter your camp, I still suggest running out and seeing it opening weekend. We who want Hollywood to continue supporting original ideas need to vote with ticket sales, and right now, the disappointing Avengers sequel has made enough cash to eradicate world hunger. A subject, if I remember correctly, that comes up in that closing monologue as well.
---
![](http://media.bonnint.net/slc/2539/253907/25390738\.jpg)

About the Author: Travis Poppleton ----------------------------------

Travis Poppleton has been covering movie news, film reviews and live events for Deseret News and KSL.com since 2010 and co-hosts the FlixJunkies podcast. You can contact him at tspoppleton@gmail.com.

×
Related links
Related stories
Most recent Family stories