Estimated read time: 4-5 minutes
This archived news story is available only for your personal, non-commercial use. Information in the story may be outdated or superseded by additional information. Reading or replaying the story in its archived form does not constitute a republication of the story.
SALT LAKE CITY — Hace unos cinco meses, Dennis Fay, de 80 años de edad, recibió una llamada telefónica de un hombre en Chicago, que comenzó así:
"Hola, ¿es Ud. Dennis? Creo que yo podría ser su hijo'.
Fay no le creyó. Él pensó que era algún tipo de estafa a un anciano.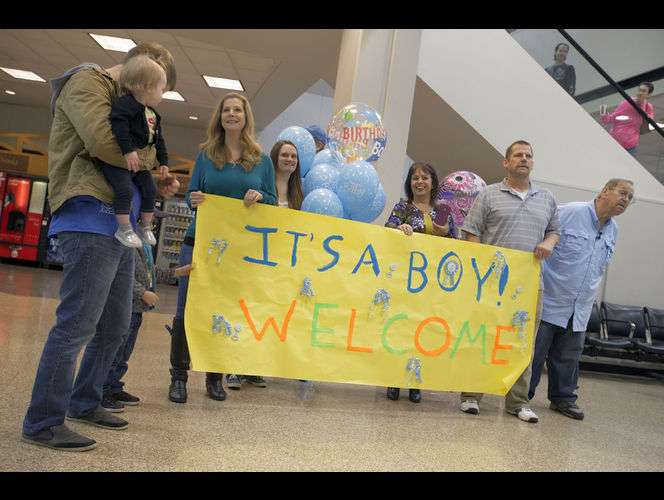 Pero cuanto más el hombre hablaba, más tenía sentido. Hablaron durante mucho tiempo ese día y luego en varias ocasiones después de eso. Una prueba de ADN que tardó un par de meses, demostró que él es el padre de Michael Reed.
"Él ha estado buscando por su padre biológico desde que tenía 12 años, y soy yo", dijo Fay orgulloso.
Y el viernes, padre e hijo se reunieron por primera vez en el Aeropuerto Internacional de Salt Lake City.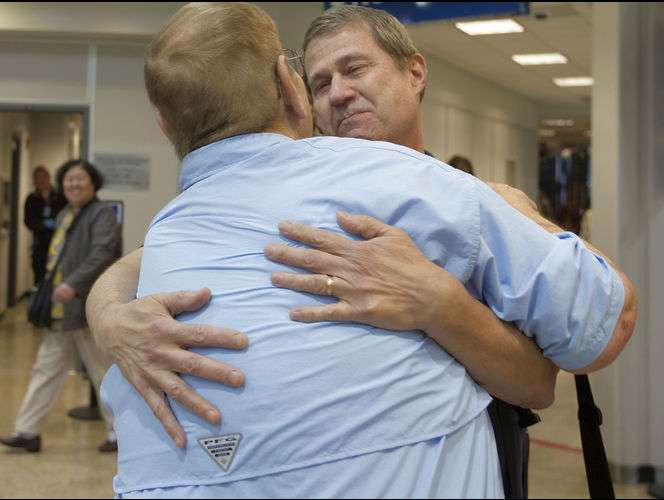 "Hola, papá", dijo Reed, de 60 años, mientras se abrazaron y besaron en la mejilla.
Los ojos de Reed se le llenaron de lágrimas cuando trató de explicar lo que significa para él conocer a su padre.
"La búsqueda de un padre es parte del mito, las leyendas y las historias desde 'Star Wars' hasta la antigua mitología, y mi búsqueda ha terminado", dijo.
Pero la vida de Reed con su familia recién descubierta apenas comienza. Ahora tiene siete hermanos y dos hermanas, junto con un grupo de sobrinas y sobrinos.
"Como hijo única, siempre quise un hermano o hermana. Ahora tengo nueve", dijo Reed.
Mike Fay - Dennis Fay ahora tiene dos hijos llamados Michael - dijo que la familia le dio la bienvenida a Reed con los brazos abiertos y están contentos de tenerlo. Él y algunos de sus hermanos estaban en el aeropuerto con globos azules y una bandera amarilla que decía: "Es un varón!"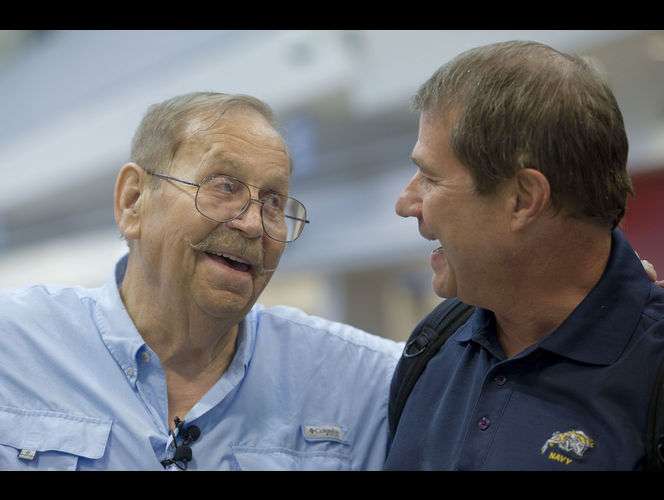 Un poco escéptico acerca de la reclamación de la paternidad en un primer momento, Mike Fay dijo que una vez que la prueba de ADN regresó, "sabíamos que era nuestro hermano".
Aunque admitió haber "corrido de una lugar a otro" en su juventud, Dennis Fay dijo que él no tenía idea de que tenía otro hijo hasta que Reed lo llamó.
Fay mintió sobre su edad para unirse a la Infantería de Marina a los 17 años durante la Guerra de Corea.
Después de un par de años en el servicio, incluyendo 13 meses en combate, regresó al sur de California, donde su vida parecía una escena de "American Graffiti".
El cruzar las calles de Long Beach y Downey y Bellflower en su 1950 Chevy Club Coupe. Pasando tiempo en donde se puede conocer chicas. Recogiendo a las muchachas. Ella fue una de esas muchachas.
La relación fue breve. Ella renunció a su trabajo en el drive-in y se alejó. Dennis Fay no sabía que estaba embarazada o que ella había puesto al bebé en adopción.
Fay se estableció unos años más tarde. Él y su esposa de 56 años, Patsy, tuvieron nueve hijos. Ella murió en el 2011. Fay ahora vive con su hijo Michael en Murray.
Reed dijo que se enteró de que él era adoptado a los 10 años. Sus padres, que murieron hace unos 25 años, le dieron los papeles de adopción cuando tenía 30.
Dejó a un lado la búsqueda de sus padres biológicos, mientras que él y su esposa, Susan, criaron a dos hijos. Sirvió 11 años en la Marina y ahora trabaja en la industria bancaria en Chicago.
Reed tomó una prueba de ADN a través de un sitio web para aprender acerca de sus antepasados - él es irlandés - y mediante el intercambio de genoma se encontró con la prima de Dennis Fay. Ella lo llevó a su padre biológico.
Hizo la primera llamada telefónica a Fay con temor. No quería causarle molestias a nadie. Le preocupaba que aparecer de la nada después de todos esos años les causaría problemas.
"Realmente oré al respecto", dijo Reed. "Yo no quería herir sus sentimientos o interponerme ni hacer ningún daño en lo absoluto a la familia Fay".
Pero la reacción no podría haber sido más amorosa al aceptarme. Fay dijo que siente el no haber sabido antes de Reed.
"Este es probablemente el día más importante de mi vida, al reunirme con él", dijo. "Estoy orgulloso de él. No hay muchas personas que harían lo que él hizo para buscarme".
×