Estimated read time: 4-5 minutes
This archived news story is available only for your personal, non-commercial use. Information in the story may be outdated or superseded by additional information. Reading or replaying the story in its archived form does not constitute a republication of the story.
SALT LAKE CITY — By the year 2024, Utah could be taking on 226,000 college students if projected growth rates hold steady.
It's cause for excitement and some measure of concern for education leaders, who shoulder the task of accommodating the growth between Utah's eight public colleges and universities while ensuring a clear pathway to graduation for all of them.
"Net, we're looking at about a 50,000 increase in headcount in the next 10 years," Utah System of Higher Education Commissioner Dave Buhler said. "That's a lot of students. Are we prepared to handle them? We hope to be."
The Utah System of Higher Education's 10-year estimates for enrollment were presented on Friday to the Utah State Board of Regents, which uses them to prioritize capital projects and other funding needs for each institution.
Institutions along the Wasatch Front will account for most of the growth. By 2024, the University of Utah is expected to maintain a growth rate of 1.5 percent, gaining more than 5,300 students. Utah State University's growth rate of 2.3 percent is expected to produce 7,300 more students. Salt Lake Community College is expected to see the smallest increase, with a growth rate of 1 percent and an increase of about 3,400 students.
Weber State University and Utah Valley University, however, will likely accommodate the most rapid enrollment increases. WSU has a projected growth rate of 4 percent, gaining 13,000 students by 2024.
UVU has the highest growth rate in the state at 4.1 percent, gaining 15,400 students in the coming decade. By 2016, UVU's enrollment is expected to surpass the U. and SLCC, becoming the largest institution in Utah in terms of student headcount.
Quite possibly, the current projections could end up falling short of what's to come.
"This is a fairly conservative estimate," Buhler said. "If we're able to be more successful in increasing the participation rate, particularly among first-generation students, then these numbers will even be higher."
Joseph Curtin, director of institutional research and analysis for the Utah System of Higher Education, said enrollment projections for 2014 turned out to be off by 2.4 percent.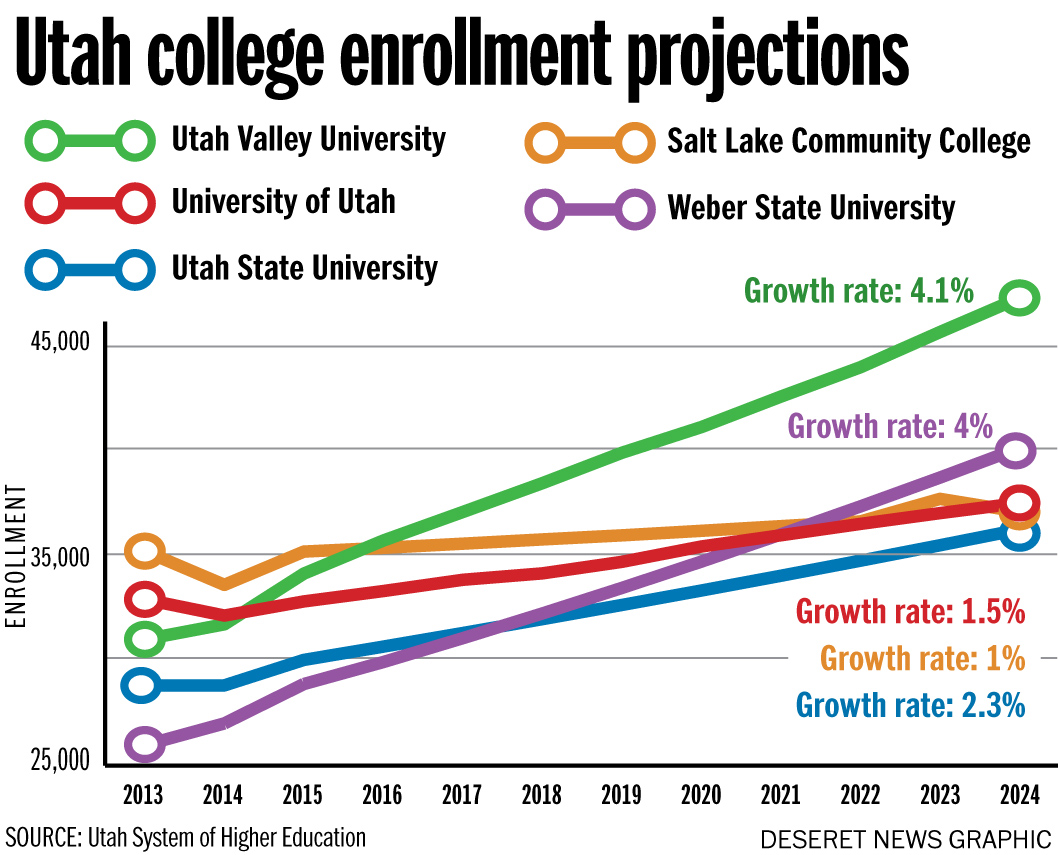 Photo credit: Joseph Tolman/Deseret News Graphic
"When you are using projected data to project data, a 2.4 percent error rate is actually pretty good," Curtin said. "The only thing we can really guarantee with enrollment projections is that we will be wrong. We try and keep the amount that we're wrong fairly small, but no institution is sitting still in trying to make improvements in enrollment and projection."
Such efforts are underway at UVU as institution leaders plan to accommodate the highest student growth in the state. The university has recently hired 70 additional faculty and last December opened its 250,000-square-foot classroom building.
"We're looking at adding the equivalent of a Dixie State University in just the next six years," said Linda Makin, UVU's vice president of planning, budget and human resources.
Makin said the university's academics are also shifting toward a blended model of instruction, including both online landscapes and traditional courses on campus. It is also working to mirror the demands of industry to reduce the bottleneck effect in high-demand majors, such as computer science.
"It's not just about how many students we enroll. That's just part of the story," Makin said. "The rest of the story is graduating more students to contribute to our economy."
---
It's not just about how many students we enroll. That's just part of the story. The rest of the story is graduating more students to contribute to our economy.
–Linda Makin
---
As of January, Utah was still on track to meeting the governor's goal of having 66 percent of its working adults with a college degree or certification by the year 2020, according to Buhler. But even at the current rate of enrollment increases, meeting 66 by 2020 remains a challenge.
"That curve gets more steep as we go forward. I don't know next January if we will still be on track but we did have a record number of graduates this year," Buhler said. "To me, the direction and the momentum is more important than whether we are exactly on that number."
Initiatives such as 66 by 2020 have kept up the momentum among lawmakers in funding Utah's higher education priorities, as well as public education. This year, the Legislature set aside $510 million in new money for education in the state.
However, some say a more comprehensive plan is needed to accommodate the number of students Utah is on track to gain. Last week, the Utah Foundation released a report calling on state leaders to continue developing a statewide education plan that looks forward to the year 2050.
Utah's K-12 schools are looking to gain about 385,000 students by that year, many of them going on to pursue a college degree at one of Utah's colleges and universities. The report shows Utah County alone is projected to gain 120,000 K-12 students — one-third of the state's overall student growth — explaining, in part, why UVU's enrollment projections are highest.
Buhler said the projections presented to the Board of Regents on Friday will help education leaders contribute to the drafting of Utah's comprehensive education plan.
"It's something that we are going to be working on," he said.

×
Photos
Related stories
Most recent Utah stories