This archived news story is available only for your personal, non-commercial use. Information in the story may be outdated or superseded by additional information. Reading or replaying the story in its archived form does not constitute a republication of the story.
SANDY — Real Salt Lake went through a five-match winless streak that stretched about 510 minutes without a goal, plodding through MLS play until earning a much-needed three points at Chicago last Saturday.
This week's training session, then, naturally brought a load of confidence back to the team as it prepares to finish off its two-match road trip at Montreal on Saturday.
And to RSL midfielder Luke Mulholland, "even the water tastes better" after coming home with a win.
"It was great to get the three points, especially on the road," he said after training Tuesday. "It feels like you have four points. I thought training has been good this week, and we're just enjoying it and looking forward to Saturday."
Three points on the road saw RSL vault up to seventh in the league after falling to the bottom of the standings. Better yet, its 1.4 points per game is tied for the fourth-best mark in the highly competitive Western Conference, and the Salt Lake side has a game in hand over two teams above it on the table.
But the most important benefit is in the locker room, veteran defender Tony Beltran said.
"It's a good mental boost," he added. "It was a grueling game, with the travel, the delay, the fact that it was the third game in a week. It's a big credit to the guys, and it's a big mental boost to us. There's a little extra spring in the step this week.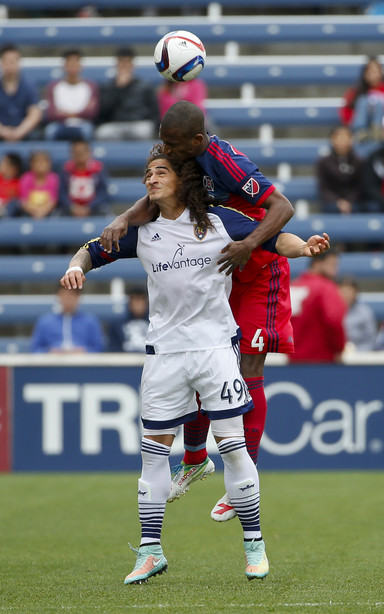 "But again, that's behind us. No games behind us matter. Everything is in front of us."
RSL's double-game week saw the squad earn a 0-0 draw at home against the defending MLS Cup champion L.A. Galaxy, albeit one without star striker Robbie Keane. The 2-1 win at Chicago, highlighted by goals from Alvaro Saborio and Luke Mulholland as well as strong play by creative wing midfielder Jordan Allen, also reminded RSL's players and coaching staff of what the team is trying to do in a year of significant transition.
"It's excellent for the standings and getting points," head coach Jeff Cassar said. "But we have a strong team here.
"We know what we are trying to do, so the three points is good, but it doesn't change anything that we are doing and how the team feels."
ALLEN MOVE TO U-20S DELAYED — Jordan Allen was available Tuesday for training, and Cassar said RSL is in constant contact with U.S. U-20 head coach Tab Ramos about keeping the young utility player around through the weekend before departing for the U-20 World Cup in New Zealand.
"We're not 100 percent sure when he will be leaving; it could be this week, it could be after the game," Cassar said. "We'll see what happens."
If Allen is available for selection Saturday, it would provide a much-needed boost for RSL's midfielder. The Rochester, New York, native assisted on one goal Saturday and provided the through-ball that led to the eventual match-winner against the Fire.
"I wish that I could say he's surprised me, but he really hasn't," Cassar said of Allen. "This is an extremely talented young man."
PLATA, JAIME GETTING HEALTHY — Tuesday also brought more good news to the squad when forwards Joao Plata and Sebastian Jaime returned to position and finished drills with the first team after lengthy foot and leg injuries, respectively. Cassar said the goal-scoring duo could be ready to return to full training as early as next week.
"Everything is looking good," the second-year head coach said. "I would venture to say after this game (Saturday at Montreal), they'll be more involved. Then we'll see their fitness and how they react to full training sessions. But everything is moving forward."
Midfielder Javier Morales, the catalyst in RSL's early season surge, also received clearance to begin MLS's return-to-play protocol following a concussion suffered two weeks ago.
"He's good," Cassar said of Morales, who was not at America First Field on Tuesday but began light conditioning tests Wednesday. "Hopefully he'll keep progressing and can join us soon."
Progressing and improving is also the way Beltran described RSL's season, even after a four-point week and the closure of its most recent winless run.
In other words, there is still work to be done.
"It's only two games in such a long season; I don't want to say too much," Beltran said. "I think Wednesday was a better performance, and Saturday was a good result. But we have to continue to string those performances and results together if we want to be an elite team. We want to move on and try to get better."
×
Related Stories