Estimated read time: 2-3 minutes
This archived news story is available only for your personal, non-commercial use. Information in the story may be outdated or superseded by additional information. Reading or replaying the story in its archived form does not constitute a republication of the story.
OSLO, Norway — Alex Lyngaas loves his mother, and he thinks you will love her too.
After this doting son saw his mother go on a few failed dates while looking for love the "past couple of years," he decided to take matters into his own hands. Lyngass secretly made a video to show a world full of potential suitors how beautiful, fun and loving his mother is.
The video is called "Looking for Adam" — a cute play on his mother's name, Eva. It begins with Lyngaas telling his mother he has something for her, showing her the video that we virtually watch with her.
"I would like to introduce you to my mother, Eva, who's single and deserves a good man," says Lyngaas in the YouTube video.
It's almost five minutes of pure sweetness and joy that describes a few of the activities his mom enjoys from swimming and skiing to art and dancing. But perhaps her most important characteristic, as Lyngass implies in the video, is Eva's capacity for love as she cares for her sister, mother and other family members, who all certainly look well cared for and loved in the video.
While Lyngaas' main purpose was to help his mom find love, the video is also the sweetest love letter from a child any mother could hope to get. After all, what mother doesn't want to know that their child sees them as a beautiful human being full of love?
The video ends with Eva's reaction and her shy agreement to let her son post the video on YouTube to help her search for love, which he thanks her for in the video description.
"And last but not least I would like to thank my mother for being so brave that she let me post this video, and at the same time exposing her to the world. Please be kind to her and everyone else, including animals. We all deserve to be loved."
If you or someone you know fits the bill, Lyngaas said you can "send a nice letter with a picture" to icouldbeadam@gmail.com.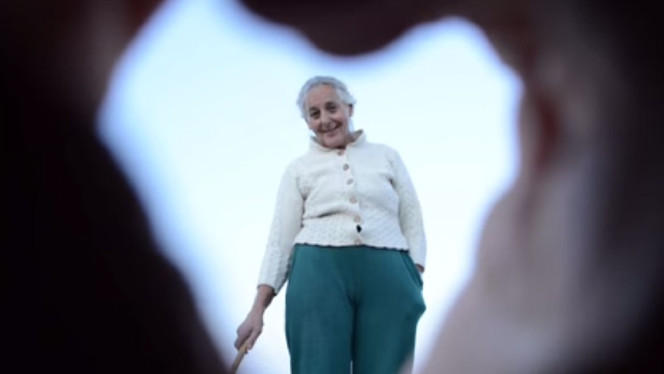 Photo credit: James Porter/YouTube
×
Photos
Related links
Related stories
Most recent Family stories