Estimated read time: 5-6 minutes
This archived news story is available only for your personal, non-commercial use. Information in the story may be outdated or superseded by additional information. Reading or replaying the story in its archived form does not constitute a republication of the story.
WEST JORDAN — Just before Zach Douros drove his 2-year-old daughter, Khloe, to dance class, he buckled her car seat on the opposite side of the car than usual.
Minutes later, that area of the car would prove to be the one undamaged area in the car accident that nearly killed Douros, he said.
On March 12, Douros was driving south on Mountain View Corridor at 90th South when a woman, who was looking down at her GPS, ran a red light, according to Adam Horman with the West Jordan Police Department.
The woman then struck the car on the driver's side, sending it rotating into a pedestrian control signal pole on the southwest side of the intersection, Horman said.
"The next thing I knew … I woke up about two or three minutes later in the car with like a cop and a fireman holding me … it was extremely difficult to breathe, and I felt my lungs were just screaming." Douros said.
Douros was extricated from the vehicle and transported to the University of Utah Hospital in a medical helicopter where he received surgery, while Khloe was transported to Riverton Hospital by ambulance, Horman said.
The woman in the other vehicle sustained minor abrasions and was treated and released at the scene, Horman said.
Although Khloe was unharmed, Douros sustained several injuries, including a ruptured diaphragm big enough to fit a softball through, a collapsed lung, broken ribs and his stomach going inside his chest, Douros said.
During the surgery, the doctors reinflated Douros' lung and restored his diaphragm.
The doctors were unsure if he would live or if he would have brain damage, but they said if he ever had an incident like this again, he wouldn't be so lucky, Douros said.
---
As much of a miracle of me not dying is the miracle of how fast and how well the recovery has been because they didn't expect a full recovery.
–Zach Douros
---
Just five days later, Douros was released. During following doctor visits, he learned if things go well, he may get 100 percent of his lung capacity back and make a full recovery in just six months to a year.
"As much of a miracle of me not dying is the miracle of how fast and how well the recovery has been because they didn't expect a full recovery," Douros said. "They said, 'you can expect less out of life physically than you could' but that looks like it's getting better."
Initially, doctors didn't think Douros would be able to lift as much weight as he used to or participate in athletic events such as half marathons, which Douros has run before.
Now, doctors say if Douros tries hard enough, he could make a full recovery and lift about as much as he did before, though he currently can't lift more than 40 pounds.
Starting this week, Douros will undergo four to six weeks of physical therapy. It won't be until after the physical therapy, around mid-June, that Douros will be able to return to work, something he said has been one of the hardest parts.
"I still can't lift a lot of weight now and I still have to be careful with what I do, but I do feel just a lot better," Douros said. "Things are getting really well, I can just feel the prayers of the hundreds of people that have prayed for my family and I, it's given me a lot more strength, more than I ever, ever could have possibly imagined."
Douros has seen many miracles since his accident, the biggest one being his daughter's survival, he said.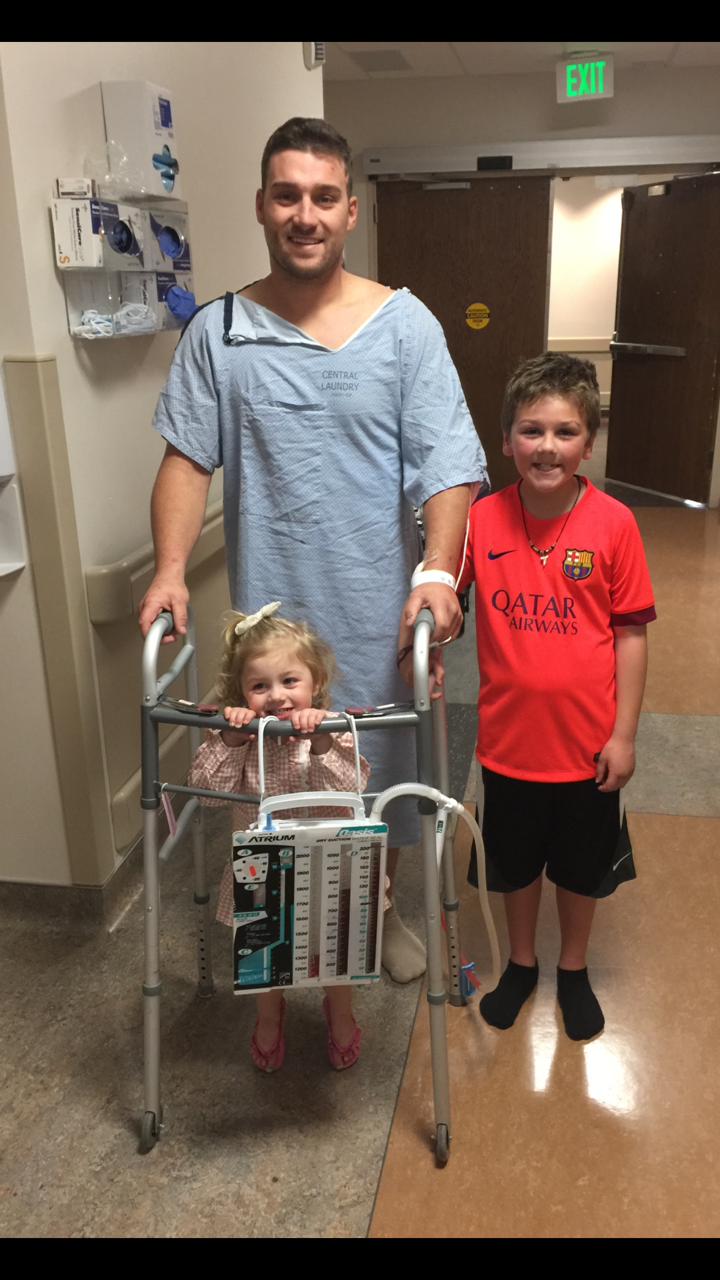 He remembers hearing her cry after they crashed, but when he was unable to get out of his seat to comfort her, a bystander crawled through the broken window to hold her hand, which made her stop crying, Douros said.
Though Khloe was shaken up by the accident and still talks about it, she is doing really well, Douros said.
Another miracle occurred before Douros even made it to the hospital.
As a helicopter medic was working to get Douros' lung stable for an hour before he could transport him to the hospital, he had the impression to puncture the side of his chest, which wasn't standard procedure, Douros said.
As a result of his decision, he felt Douros' stomach inside of his lung. If he hadn't discovered that, Douros said, he wouldn't have been able to get to the hospital as quickly and his life could have diminished. Nine times out of 10, the helicopter medic told Douros, a victim of that type of accident would have died.
Life has become "a little bit more delicate and special" to Douros, especially since May 4, when his third child, Adalyn, was born.
"I feel incredible ever since she came," Douros said. "I kinda went from getting better fast to just feeling good almost all the time. … I don't wanna say things changed, but life has certainly gotten a lot better since she came along."
Douros' boss Ladd Thorn and his wife, Brittany, have set up a GoFundMe* account to raise $10,000 for Douros' medical bills.
To donate, click here.
---
*KSL.com does not assure that the monies deposited to the account will be applied for the benefit of the persons named as beneficiaries. If you are considering a deposit to the account, you should consult your own advisors and otherwise proceed at your own risk.
×
Photos
Related links
Most recent Utah stories