Estimated read time: 3-4 minutes
This archived news story is available only for your personal, non-commercial use. Information in the story may be outdated or superseded by additional information. Reading or replaying the story in its archived form does not constitute a republication of the story.
FREMONT INDIAN STATE PARK — You can get somewhere fast by taking the interstate, but you'll probably miss a lot of interesting places.
"They've got their nose pointed somewhere to go, and they go," said George King, who sees cars zooming by his favorite place in Sevier County every day.
However, he always sees the faces of those who stop.
Located right off I-70 near Richfield, Fremont Indian State Park is a gorgeous place that honors and preserves Native America culture in the area.
"They come and they are totally impressed with everything here," said King.
"We need to get the people aware of what's here that they're not aware of," said Franzez Sorensen, who helps run the Friends of the Fremont Indian State Park group.
Sorensen and her family first visited this area 31 years ago and never left.
"Oh, what can I say? When we started here, grandpa gave our family a blessing. We've had experiences up here as a family I could write a novel. If I only knew how, I would," said Sorensen.
Walking through an area full of petroglyphs called Dog Canyon, Sorensen can tell you all about the natives who lived here, the struggles they had and of the writings they left behind.
"The zigzag line, whenever you're talking about zigzag lines, it's talking about the water," said Sorensen pointing to some petroglyphs roughly 20 feet up a wall. "If there is a line underneath, it's talking about the lack of water."
One of her biggest concerns is that the next generation coming up doesn't have the same passion for this place as she has.
Sorensen is worried when she dies all her stories and knowledge about this place will disappear for good.
---
I need somebody I can give them to that's going to love it like I've loved it. I need somebody who will come up here and hold on to these stories." -Franzez Sorensen
---
"I need somebody I can give them to that's going to love it like I've loved it," said Sorensen while sobbing. "I need somebody who will come up here and hold on to these stories."
If it wasn't for I-70, most of this place and stories might still be undiscovered. When road crews were building the road, they found the petroglyphs on rock walls.
"They were kind of in awe that this was here," said King.
Soon after, the place became a state park.
Of course, there are places to camp, things to see and trails to hike.
There is also a cave full of handprints.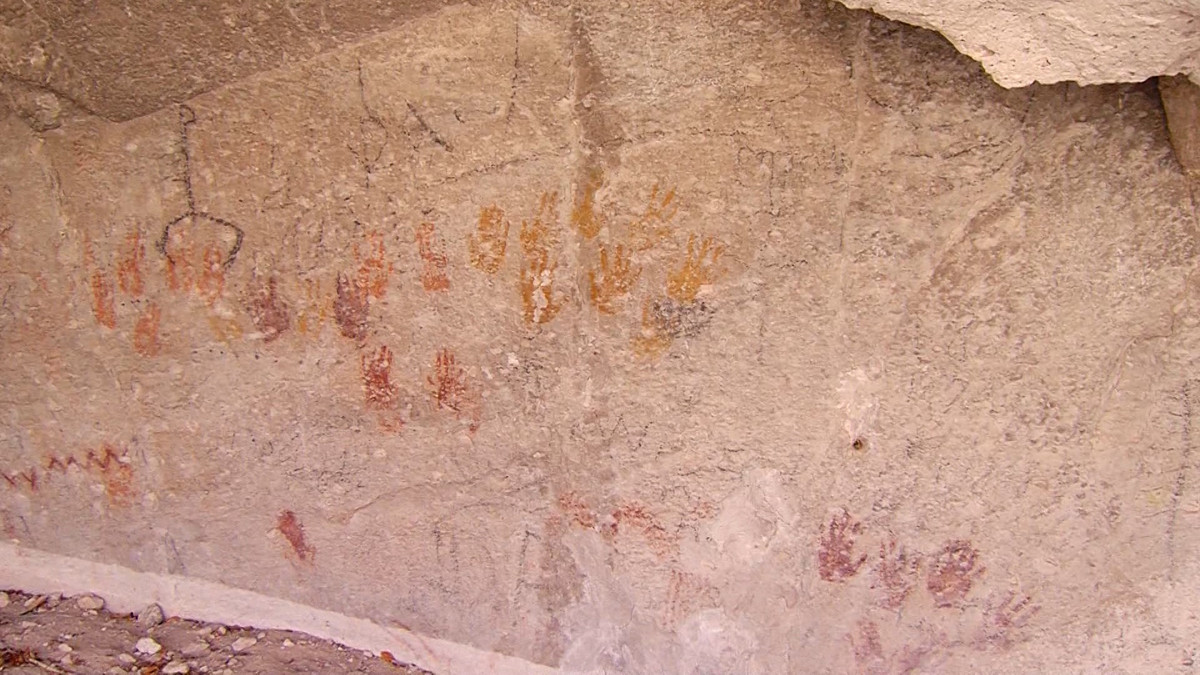 Bob Leonard, an archaeologist with Fish Lake National Forest, was doing field work when he came across the cave.
"I counted 27 handprints. And on the site form, if you read it, it says 27 handprints," said Leonard, who thinks the handprints may be from Fremont Indians.
However, the cave became known the Cave of 100 Hands, thanks to a project supervisor.
"I mean, if I just bought a truck for $13,000 and I tell people I paid $27,000 for it, because the bigger, the better," said Leonard with a laugh.
Yeah, it's a place that maybe should be more popular than it is.
"It's really important to preserve," said King.
And it's just a minute off an interstate exit.
×
Photos
Related links
Related stories