Estimated read time: 8-9 minutes
This archived news story is available only for your personal, non-commercial use. Information in the story may be outdated or superseded by additional information. Reading or replaying the story in its archived form does not constitute a republication of the story.
SALT LAKE CITY — Seventy years ago Friday, Utah and everyone else in the world finally got the headline they had waited on for five years or more. The headline from the extra edition of the Deseret News read:
V-E DAY HERE
WAR IN EUROPE OVER!
According to surrender terms signed by Col. Gen. Gustaf Jodl, chief of staff of the German army, hostilities were set to formally end at 4:01 p.m., Mountain war time, on May 8, 1945.
That morning, President Harry Truman proclaimed complete and unconditional victory in Europe.
"This is a solemn but glorious hour," Truman declared. "General Eisenhower informs me that the forces of Germany have surrendered to the United Nations. The flags of freedom fly over all Europe."
The British, French and American governments declared the day as "Victory in Europe" day. The Soviet government waited until the following day to make a similar declaration. Millions of people celebrated wildly in the streets of London, Paris and cities across the European continent. And a huge crowd mad with sheer joy overtook Times Square in New York City.
"It was quite wild in New York and Chicago and some other places," said Robert Voyles, director of the Fort Douglas Military Museum. "The celebration in Salt Lake City was fairly subdued."
Salt Lake City Mayor Earl Glade urged all businesses deemed non-essential to the war effort to close their doors in observance of V-E Day. Most businesses from cigar shops to banks to restaurants complied with the mayor's request. The schools were open, but let out early after students attended special memorial exercises.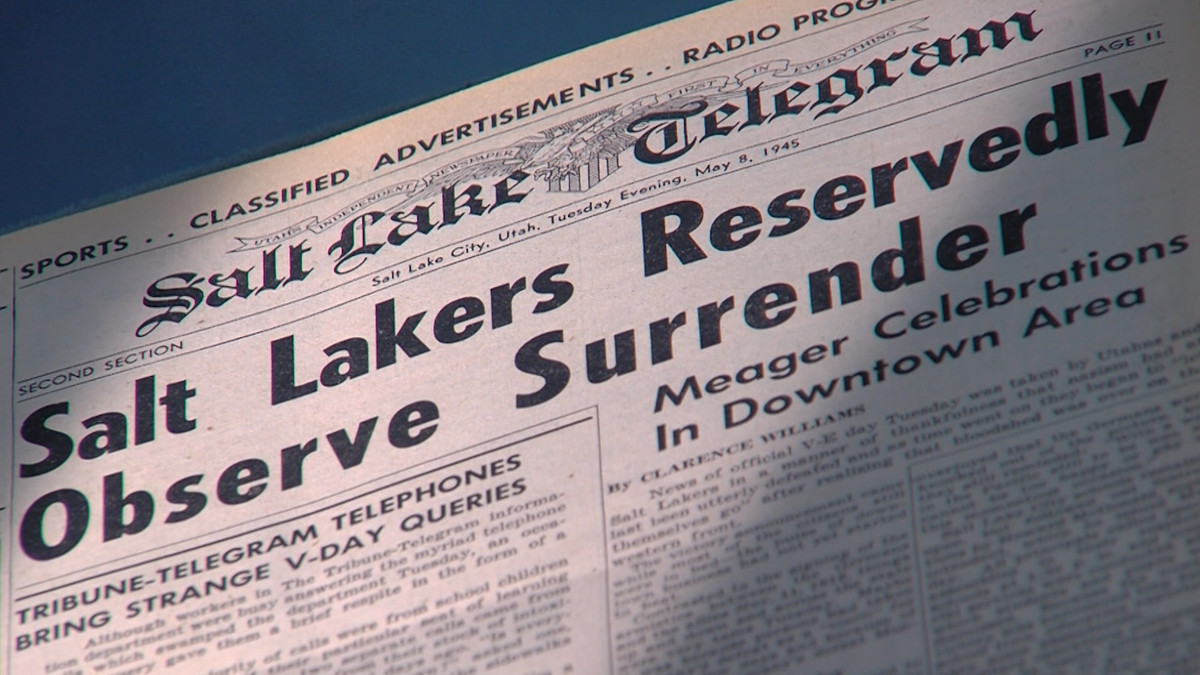 Mayor Glade also urged citizens to restrain their revelry as he reminded them of tragic losses suffered by hundreds of Utah families throughout the war. Meanwhile, Utah Gov. Herbert Maw declared V-E Day a legal holiday, forcing taverns and liquor stores to close.
The news staff of the Salt Lake Telegram couldn't help but notice the calm in downtown Salt Lake. The Telegram's evening edition showed a photo of a relatively empty Main Street side-by-side a 1918 photo of a Main Street full of thousands of people celebrating the German surrender that ended the first World War.
Hundreds of thousands of Americans crowded churches on V-E Day. Utah was no exception.
"They held Mass at the Cathedral of the Madeleine, and another Mass at St. Mark Episcopal Cathedral," said Voyles. "There was a special service held at the LDS Tabernacle."
There was another reason for prayer and restraint. The victory was only half-won.
"When the last Japanese division has surrendered, unconditionally, then only will our fighting job be done," President Truman told Americans in his V-E Day speech.
"There was this idea that, 'my husband, my brother is still in the Pacific' — that's where most of the Utahns had gone," said Voyles. "There was a 'let's wait until this thing is over, then let's celebrate.' "
---
This is a solemn but glorious hour. General Eisenhower informs me that the forces of Germany have surrendered to the United Nations. The flags of freedom fly over all Europe.
–President Harry Truman
---
In 1945, John "Dixon" Stewart entered German territory riding on the back of a Sherman tank. At that time, he was a sergeant with "E" Company, 355th Infantry Regiment – marching east into Germany with General George S. Patton's Third Army.
Stewart said he knew victory was close at hand in April, when American and Russian forces met at the Elbe River near Torgau, Germany.
"That cut the German army in half," remembered Stewart. "It made Germany a little strip of land running north and south that may have been only 50 or 60 miles wide. There wasn't any Germany left! That's all there was — that little strip of land."
Stewart said the policy for American soldiers was not to talk to German civilians as they pushed their way East.
"Most of them, as much as possible, hid and stayed out of the picture altogether," recalled Stewart. He thought most of the civilians would have to start over once the war ended.
"There were a few homes left — not much of anything," said Stewart. "Most of the cities that were defended [by the Germans] were left as rubble. It was a terrible thing to see.
Stewart said he was about 15, 20 miles west of the Elbe River when he got word of Germany's surrender.
"Well, we were survivors — of course we were glad the fighting was over," Steward said. "But the war had not been won yet. My enlistment was for the duration of the war. So, I'm still stuck."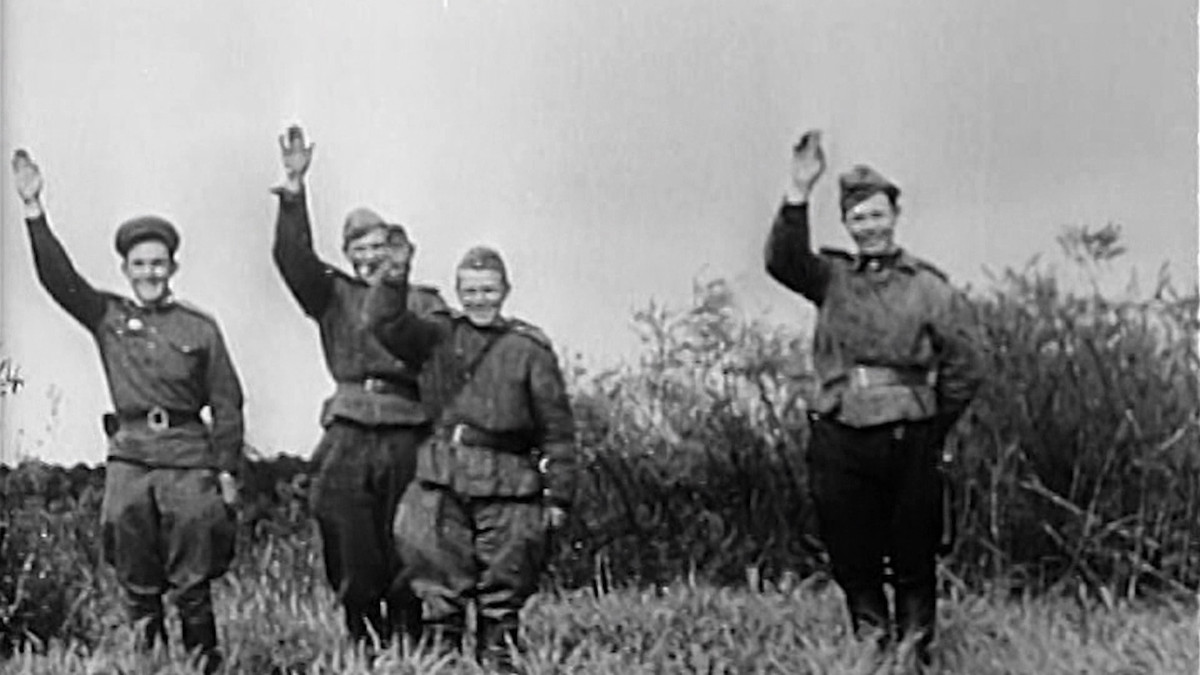 Hermann Goering was also stuck. Once Germany's No. 2 Nazi, Goering earned a spot on Adolf Hitler's hit list by suggesting the war was lost. Hoping to avoid capture by Russians and Germans still loyal to the now-deceased Fuhrer, Goering made a beeline for the American line in Austria.
The U.S. army sent a small group to meet the former reich marshal and to guard him and his family at nearby Fischhorn Castle. The group's commander was Lt. Golden Sill of Layton, Utah.
"General [Robert] Stack was notified by one of the aides that a Luftwaffe major came in and said I've got General Goering held up in this castle, and he wants to surrender," said Dave Sill. "My dad happened to be in the right place, at the right time."
A photo of Goering's surrender at the castle still hangs in Sill's Café in Layton, opened by Lt. Sill several years after the war.
Dave and John Sill said their father, who died in 2002, found Goering to be a gregarious, sociable man.
"He talked about how friendly he [Goering] was," recalled Dave Sill. "As far as offering food and accommodations at the castle. Meals, drinks — all that stuff was available. Goering wanted everybody to toast his surrender.
---
He said [Goering] looked very well-kept, and was quite heavy.It really bothered him, because of what was going on. As he fought through Germany and saw how needy some of the German people were and then to see [Goering] living his life of luxury.
–Dave Sill
---
In an interview for HistoryNet.com, one of Lt. Sill's men, Lester Leggett, said Goering wanted to surrender to Gen. Dwight D. Eisenhower.
"He thought he would sit down with Eisenhower and work out the means of surrendering the rest of the German forces and revitalize Germany to assist the Allies," said Leggett, "because the Germans thought we'd be fighting the Russians."
Goering's apparent arrogance and self-indulgence didn't sit well with Lt. Sill.
"He said [Goering] looked very well-kept, and was quite heavy," recalled Dave Sill. "It really bothered him, because of what was going on. As he fought through Germany and saw how needy some of the German people were and then to see [Goering] living his life of luxury."
The lieutenant had a much more pressing matter at hand: making sure Goering got to 7th Army headquarters safely.
"When he got to the castle, he went into the barracks where they had several of the German S.S. troops," Dave Sill recalled his father telling him. "He said as he and a German major walked in there, everybody stood up, did the 'Heil, Hitler', clicked their heels and stood up. My dad, only stood about 5-foot-8-inches, and he said all these guys were well over six feet. They were the biggest players in the game," chuckled Dave Sill.
"So he said he thought, 'Oh boy, hope this goes well, because we're in a lot of trouble if it doesn't," remembered Dave Sill. "We've got German troops we've got to worry about attacking, and we've got American troops that might think we're a German convoy.
"What he did was put on U.S. soldiers with an S.S. troop," recalled Sill. "He paired them off. That way, it would even the odds. That was an interesting concept."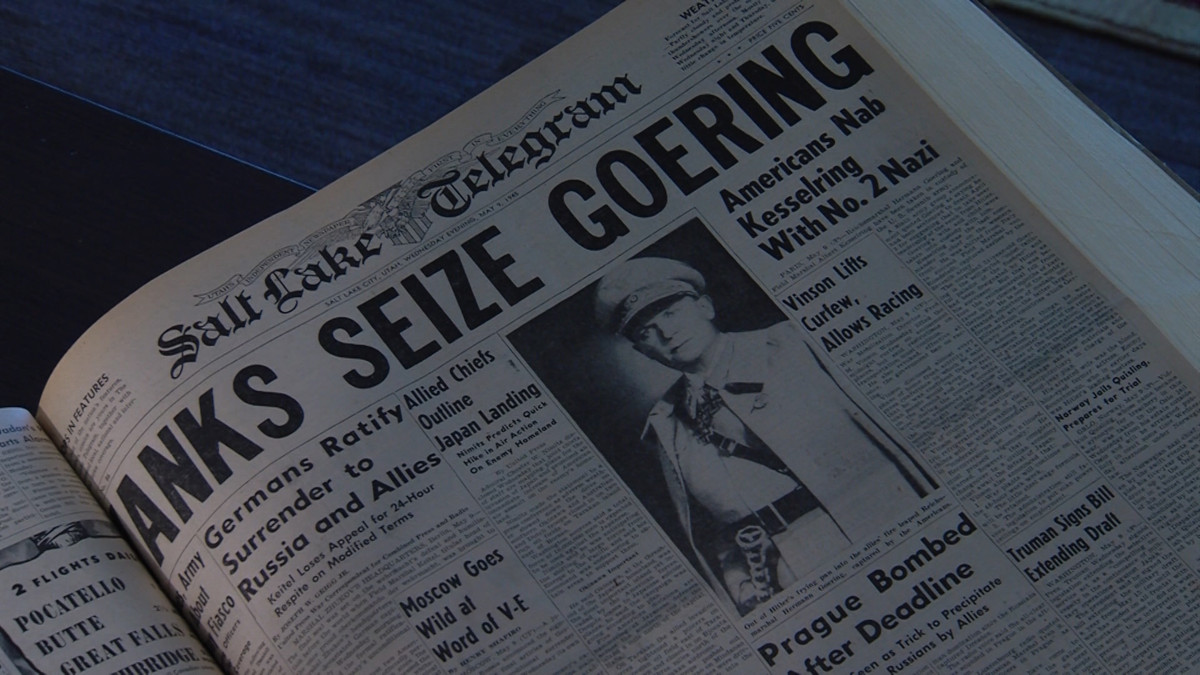 Goering made it to Army headquarters unharmed and Lt. Sill's guard duty came to an end. A year-and-a-half later, Goering was sentenced to death for war crimes. But he cheated the executioner.
"[My father] thought [Goering] was a coward, and thought [Goering] took an easier route by taking the cyanide," recalled Dave Sill. "But, he said, 'dead is dead. Goering was no longer there.' "
As V-E Day wore on in Salt Lake City, more and more people began to cut loose. Celebratory horn honking could be heard from passing cars, reported the Salt Lake Telegram. Eventually, some shredded paper was tossed from the top floors of the Walker Building and other Main Street high-rises, reported the Telegram. Workers in Midvale blew smelter company and railroad whistles in celebration.
And that night for the first time since the U.S. entered World War II, floodlights bathed the LDS Temple in Salt Lake as Utahns looked for a final victory.
"I think people in Utah realized — more than anywhere else, especially back East — that this was not over yet," reflected Voyles. "Let's hold off a little bit until the whole thing is done." KSL is a sponsor of the Utah Honor Flight, which flies surviving World War II veterans to see their memorial in Washington, D.C. To donate, log onto Utah Honor Flight.Org.
×
Photos
Related stories
Most recent Utah stories