Estimated read time: 2-3 minutes
This archived news story is available only for your personal, non-commercial use. Information in the story may be outdated or superseded by additional information. Reading or replaying the story in its archived form does not constitute a republication of the story.
SALT LAKE CITY — "Here comes the hero!"
Behind shiny foil balloons and miniature American flags, the Ord family cheered as their soldier returned home from Europe Wednesday.
Nearly 70 years past the war's end, 90-year-old World War II veteran Sgt. Robert Ord finally received his hero's welcome.
"He's our hero," said Sandy Tyson, Ord's daughter. "We want to give him the homecoming he never got after the war."
The nonagenarian returned home to Magna Wednesday from a 10-day trip through Germany and France, where he fought in the second World War. The trip realized one of Ord's longest-held dreams.
"My father has always dreamed of going back to France to retrace his steps," Tyson said. "When he turned 90 last year, he decided it was now or never and bought himself a plane ticket."
Ord prepared thoroughly for the trek, taking daily walks around the neighborhood to strengthen his legs. He also rode a stationary bike in an attempt to lose weight, "but that didn't work," said wife Jan Ord.
"I mean, when you're 90, you're pretty much at the end of your rope," she quipped.
Ord also prepared a detailed travel itinerary, building in several old marching routes and forgotten combat zones, along with the grave of a close friend killed in combat. The locations were chosen as much for the benefit of Ord's two sons, who accompanied him on the journey, as they were for his own reminiscence.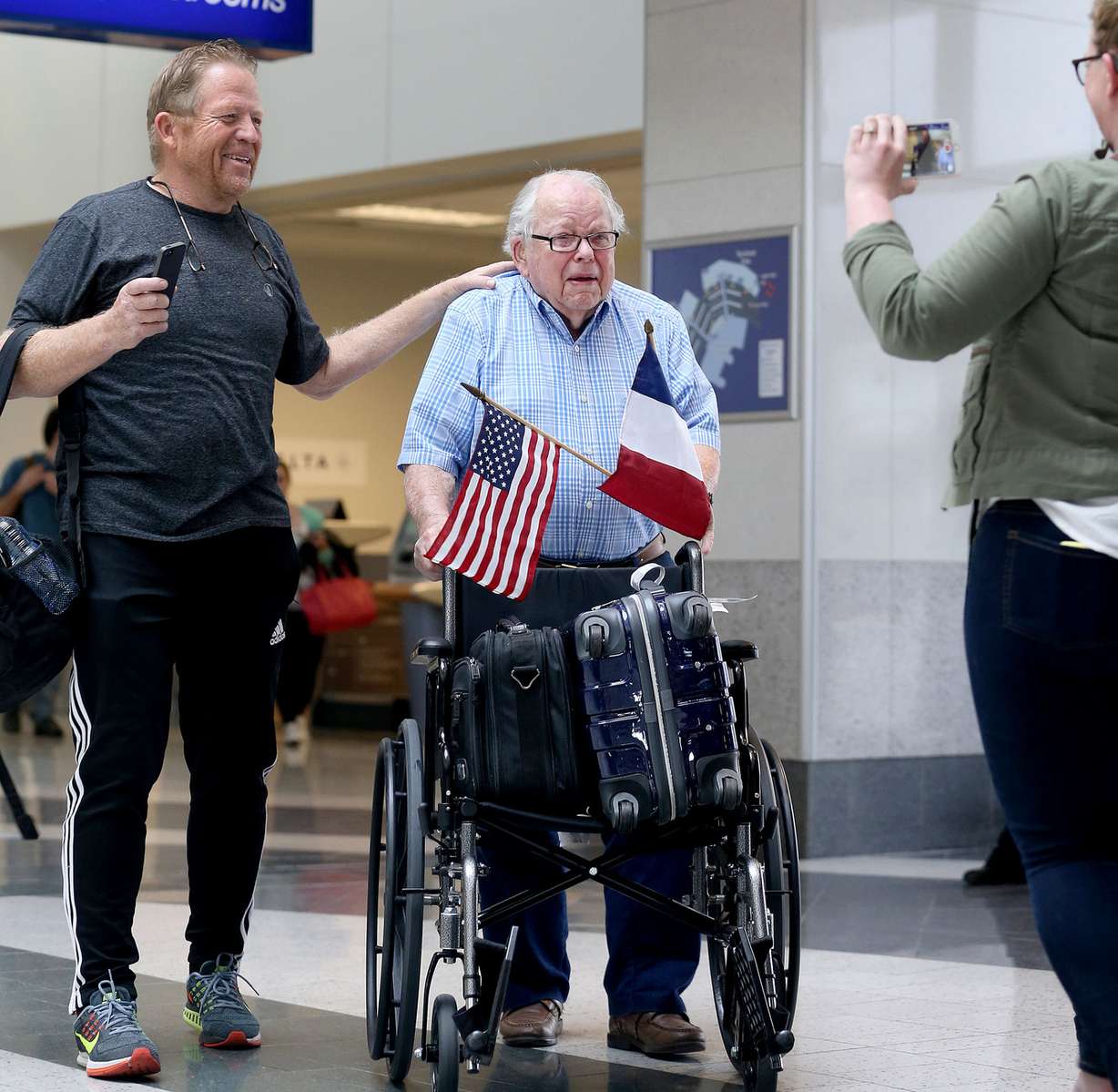 "I wanted my sons to see the conditions under which we fought," he said.
The experience left a lasting impression on Ord's son Daniel.
"I learned a lot more about what missions were like firsthand," Daniel Ord said. "It really gave me a greater appreciation for the sacrifice my father made and for all the soldiers from our country and our allies in France."
The French people, too, expressed their appreciation.
While visiting the cemetery where the friend was buried, Bob Ord was approached by a woman who asked him about his war experiences. After learning that Ord's Army unit had liberated the village, the woman insisted that he meet the mayor and she made the arrangements.
Ord was subsequently honored by the mayor of Saint-Die with the town's Medal of Honor.
"The mayor said, 'Mr. Ord, I just want to thank you. The people of France and the people of our town love you and appreciate your service.' He felt so appreciated," Daniel Ord said of his father.
Jan Ord hopes receiving the award will bring her husband a sense of closure.
"It was very rewarding," Bob Ord said. "I fought for my country, and I fought for theirs. … I deserve this medal." Email: aoligschlaeger@deseretnews.com Twitter: allisonoctober
×
Photos
Most recent Utah stories