Estimated read time: 3-4 minutes
This archived news story is available only for your personal, non-commercial use. Information in the story may be outdated or superseded by additional information. Reading or replaying the story in its archived form does not constitute a republication of the story.
BOUNTIFUL — Lakeview Hospital has joined other Utah hospitals in using 3-D ultrasound technology, known as tomography, for finding breast cancer in dense tissue patients.
"If you have dense breasts, don't stop at the mammogram. Get this scan, too!" said Nancy Asay, an 82-year-old patient, raising her voice as she pounded her hands on the table.
Asay was the first patient with breast cancer that doctors at Lakeview Hospital discovered using the facility's new Automated Breast Ultrasound System. It's the only Utah hospital to acquire this state-of-the-art system.
Although Asay had received all of her mammograms, none of the scans detected cancer because Asay has dense breast tissue — a physical and hereditary attribute of approximately 46 percent of women.
Dr. Jose Perez-Tamayo, a radiologist at Lakeview Hospital, said dense breast tissue is caused by increased amounts of stroma or connective tissue. This stroma appears as white strings or wisps on mamograms and if there are enough of these wisps, the stroma may mask potential cancerous cells — which appear white, but as clusters.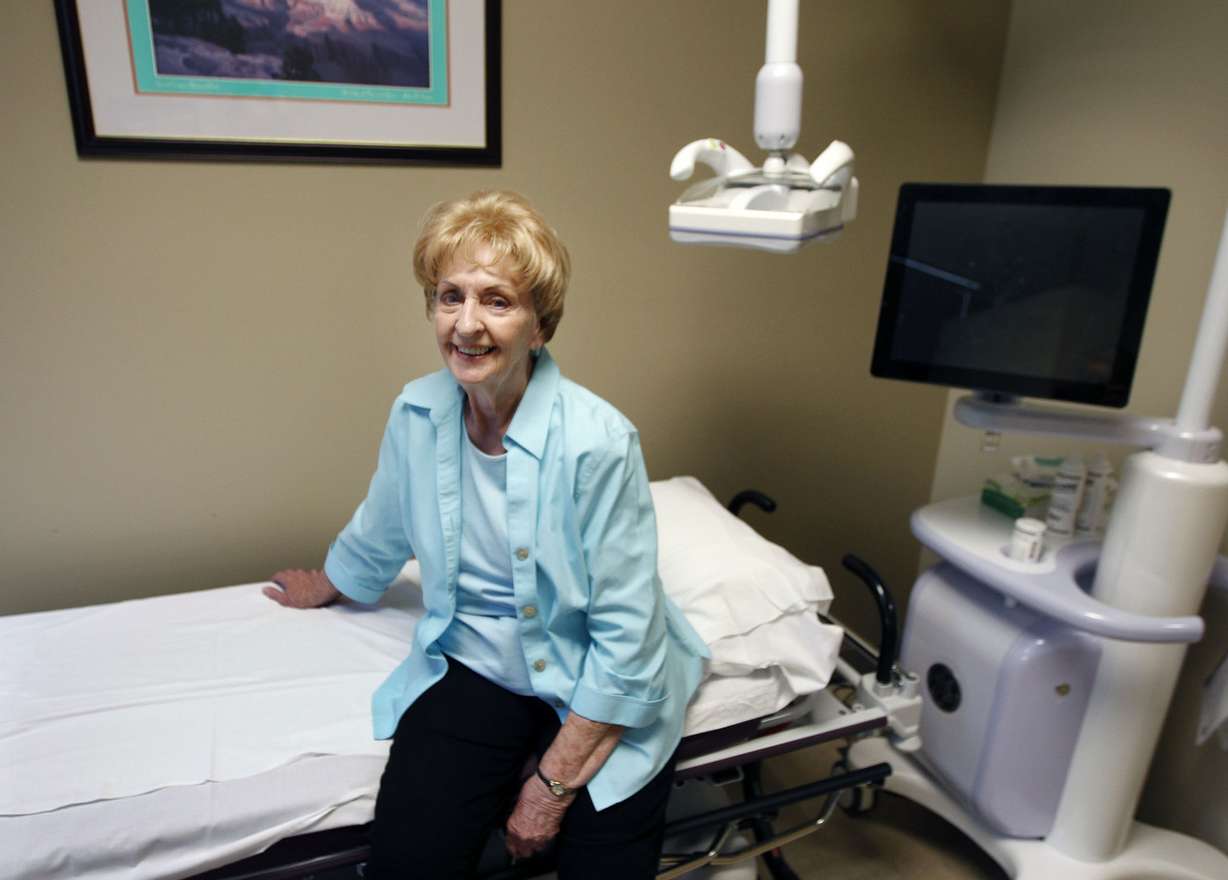 When discussing how dense the breast is, "the official designation breaks it down into four categories," said Perez-Tamoyo.
He continued by describing how a breast categorized as a 1 would have 0 percent to 25 percent stroma coverage and each subsequent class features a 25 percent increase in stroma presence, so a category-4 breast would have 75 percent to 100 percent coverage, which is the most dense.
Breast density itself is determined by doctors and specialists when a woman goes in for her mammogram. Usually, a mammogram alone can help doctors find cancer if breasts are in the first or second category of density; however, categories 3 and 4 make cancer discovery increasingly difficult for doctors.
Fortunately, the mysteries within dense breasts can be unraveled using tomography, which "uses sound waves, much in the same way that ships use sonar," Perez-Tamayo explained. "So it uses sound waves by bouncing them against tissue, and measuring the time reflection to create images. The density doesn't matter at all."
While Lakeview Hospital is the only hospital in Utah to have the Automated Breast Ultrasound System, other hospitals have similar equipment. Both the Davis Hospital and Medical Center and McKay-Dee Hospital Center own SonoCiné machines — technology that also uses tomography.
Additionally, an MRI is also able to find smaller cancerous cells in dense breast tissue, but at a much higher cost, Perez-Tamayo said. Specifically, the Automated Breast Ultrasound System and SonoCiné scans cost anywhere from $200 to $300, where MRIs can cost over $1,000.
---
If you have dense breasts, don't stop at the mammogram. Get this scan, too!
–Nancy Asay, patient
---
As far as doctors knowing about these types of technology, Perez-Tamayo said, "The word is getting out, but it's slow and screening has been under pressure in the media."
The pressure he is talking about comes from a study released in the journal Health Affairs, which suggested that the U.S. spends millions of unnecessary dollars on false-positives seen in mammograms and tumors that are not cancerous.
But for women like Asay, the extra exam and its cost were worth its value.
"I called both my daughters who live out of town to get scanned and all my dense breast tissue friends," she said.
Ultimately, the decision to implement a scan using tomography and other treatments to search for breast cancer should be discussed between doctors and their patients.
---
Cassidy Hansen is currently studying both Political Science and Communications at Brigham Young University, while working as an intern at the Deseret News. Contact her at chansen@deseretnews.com
×
Photos
Most recent Utah stories