SANDY — When Elizabeth Smart was kidnapped in 2002, raising public awareness by widely broadcasting pictures of her in the media made all the difference, her father said.
"What brought Elizabeth home was everyone's help in finding her," Ed Smart said Friday as he and his daughter lent their voices to encourage others to look for a Provo woman who has been missing for more than a week.
Elizabeth Elena Laguna Salgado, 26, was last seen leaving the Nomen Global Language Center, 384 W. Center, on April 16. She lives with roommates at the Branbury Apartments, 449 W. 1720 North.
"I really think that somebody has seen her," Ed Smart said during a press conference at Rio Tinto Stadium.
But because Salgado's face isn't as widely known as his daughter's was, Smart encouraged media outlets to get her picture out to the public.
Elizabeth Smart said if not for her picture being regularly broadcast by the media, she wouldn't have been recognized by members of the public as she was walking along State Street in Sandy in 2003 with her kidnappers.
"I am continually humbled and grateful for all of the prayers and all of the coverage and everyone who did so much for my recovery," she said. "The one thing that I continually hope and pray for is that every child that is missing can have the same coverage, have the same prayers, have the same support that I have."
She said it was important for everyone to stay alert and keep their eyes open when they're out and about, not just police officers.
Salgado is from Mexico, where most of her family still lives. She has only been in Provo about a month. She came to Utah on a scholarship to learn English at the Nomen Global Language Center.
Rudemberth Salgado, the woman's uncle, made several emotional pleas Friday for the public to help find the family's "beautiful angel."
---
We need everyone's help to bring one of our loved ones home. No matter how unimportant you think it might be, pick up the phone and call.
–John King, Provo Police Chief
---
"I know right now she is praying for us to rescue her," he said, then addressed his niece. "If you're watching this, please know that we love you and we're looking for you and we're not going to stop looking until we find you."
As of Friday, Provo Police Chief John King said there is no evidence to suggest Salgado has been abducted. However, her disappearance is suspicious because she has not contacted her family nor gone to work or school. Her uncle said Salgado would call her family regularly.
There also has been no activity on her cellphone or any bank cards, King said. She last used her phone to text her uncle on April 16 about 1:30 p.m. asking for a ride to Wal-Mart. She was last seen walking north on 500 West after leaving school.
As part of their investigation, detectives want to question two men who had reportedly asked Salgado out on dates. One was particularly insistent, King said. She declined both invitations.
King urged the public to think about where they were on Thursday, April 16, and to call police if anyone saw anything that might even remotely provide a clue.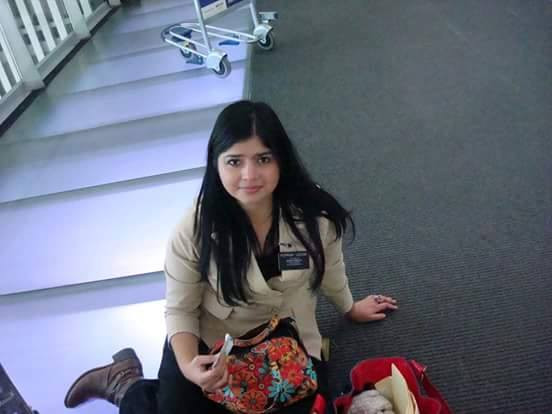 "We need everyone's help to bring one of our loved ones home," he said. "No matter how unimportant you think it might be, pick up the phone and call."
Elizabeth Smart acknowledged that while it hasn't been confirmed that Salgado was abducted, "at least we're doing everything we can."
She said she would tell Salgado to "keep fighting" if her disappearance was the result of foul play.
"Do what you feel like you have to do to survive," she said.
"We really feel someone out there knows where she is or saw her at some point," Ed Smart said.
A volunteer search is scheduled for Saturday in Provo. Volunteers are asked to meet at the parking lot of the Covey Center for the Arts, 426 W. Center, at 9 a.m. Tips on Salgado's disappearance are being taken by police at 801-852 7307.
"It's very hard to explain the feeling that we're feeling right now," Rudemberth Salgado said. "If you have a daughter or a sister, you would feel the same way not to be able to see them anymore."
In 2002, Elizabeth Smart was abducted from her Salt Lake home when she was 14 years old. She was found nine months later. Street preacher Brian David Mitchell and Wanda Barzee were convicted and sentenced to prison in her kidnapping.
Today, Ed Smart is the director of rehab and rehabilitation for Operation Underground Railroad — a group "dedicated to the rescue of children from labor and sex slavery around the world" — and Elizabeth Smart is a member of its board of governors.
Contributing: Nkoyo Iyamba
×
Photos
Related Stories