This archived news story is available only for your personal, non-commercial use. Information in the story may be outdated or superseded by additional information. Reading or replaying the story in its archived form does not constitute a republication of the story.
EMERY, Emery County — Like the people who created them thousands of years ago, the images of wild animals and human figures chipped into the rock at a site known as the "Rochester Panel" speak to Jonathan Bailey's soul.
"Creating rock art is an extension of nature," said Bailey, a 20-year-old artist from the nearby town of Ferron.
"You've got an artistic and a natural force sort of blended into a single set of images," he said.
Bailey says he visited his first prehistoric site with his family when he was 6 years old. Over the past 13 years, he's spent countless hours wandering Utah's remote San Rafael Swell, finding pristine cultural sites that don't appear to have been touched since their original creators left them behind centuries ago.
Recently, however, Bailey has noticed a disturbing trend. It used to be that he would find vandalism at three sites a year. Now, he says, he's finding it at as many as 10 sites annually.
"It's really almost murder," he said, describing the damage he's found to petroglyph panels, rock shelters and other sensitive cultural sites. "You're killing something that's existed for thousands of years."
What's behind this apparent spike in vandalism? In Bailey's opinion, it's the increase in blogs that provide descriptions of remote sites and the prevalence of social media posts that offer pictures of prehistoric artwork most people have never seen before.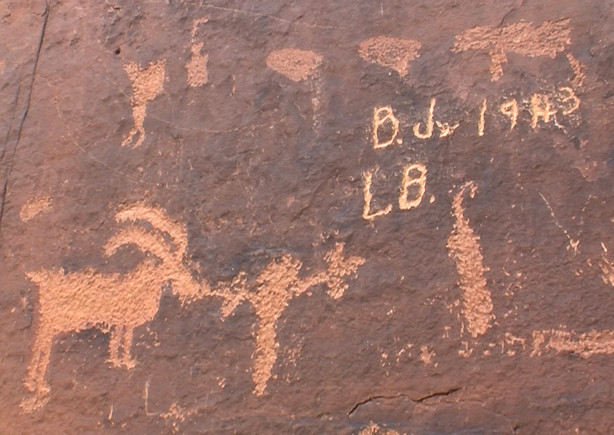 "Once they post them, there's obviously a correlation to vandalism," said Bailey, who said he recently hiked 17 miles to a prehistoric site he'd visited in the past only to find that it had been hit by vandals.
"Who hikes 17 miles to vandalize something?" he said.
Much of the vandalism Bailey finds happens to sites on ground managed by the U.S. Bureau of Land Management's field office in Price. The office is responsible for 2.5 million acres of land, which is home to culturally rich areas like Nine Mile Canyon, Range Creek Canyon and the San Rafael Swell.
The office only has two archaeologists and one law enforcement ranger on staff, which makes public involvement critical when it comes to preventing vandalism or detecting it, according to Price field officer manager Ahmed Mohsen.
"We definitely try to send the message that this type of activity is not going to be accepted, not only by the government, but by the community itself," Mohsen said.
The Price office manages more than a dozen public interpretive sites, like the Rochester Panel, which bears the marks of vandals dating back to the 1930s. Mohsen declined to put an exact number on how many pristine or remote cultural sites exist in the region, saying only that it's in the thousands.
"We don't just have culture sites, we have a cultural landscape," he said.
---
The analogy I always use is don't give a (historic site location) to anyone that you wouldn't give your credit card information to.
–Jonathan Bailey, artist
---
Mohsen acknowledges that online posts and social media are responsible for spreading the word about cultural sites that otherwise might rarely see visitors, but he said those posts also raise awareness about the need to protect these sites.
"Take what you can out of (the experience), but leave the resource intact for future generations," Mohsen said, adding that anyone who discovers vandalism should contact their local BLM office.
"Some of the vandalism can be mitigated pretty quickly," he said.
Bailey shares Mohsen's hope that people will become more appreciative of Utah's prehistoric past. Until that happens, though, he wants people who find pristine cultural sites in remote areas to think before spreading word of their discovery online.
"The analogy I always use is don't give a site to anyone that you wouldn't give your credit card information to," he said.
×
Photos
Related Stories