Estimated read time: 2-3 minutes
This archived news story is available only for your personal, non-commercial use. Information in the story may be outdated or superseded by additional information. Reading or replaying the story in its archived form does not constitute a republication of the story.
Courtney Orton and Marc Giauque reportingA cat stuck in a fence, a naked lady and an auto accident. That was the bizarre scene in Sandy this morning. Police were responding to a reported auto accident, but when officers got there they realized there was more going on.
The victim in the auto accident says he and his friend were driving around the neighborhood, trying to find his cat, when a woman drove her car directly at them. She hit them head-on, twice.
"This lady was speeding directly toward us. I tried to warn my friend to get out of the way. It seemed like she was intent on hitting us, and she did. And as we backed out of the way, she came and hit us again!" Fred Rollins said.
Surveillance cameras from homes in the neighborhood caught the collisions and what happened next.
When Rollins' car came to a stop, he and his friend were able to get out and inspect the damage, but that's when things got weird. "She jumped out of the car and she was naked, stark naked, and tried to attack me or something; and then she tried to jump in my buddy's truck and take off," Rollins said.
In the video, you can vaguely see the woman, identified as 38-year-old Rachel Hanson, push Rollins. He says after that, she tried getting into his car before she took off on foot. That's when neighbor Steven Simmons went after her.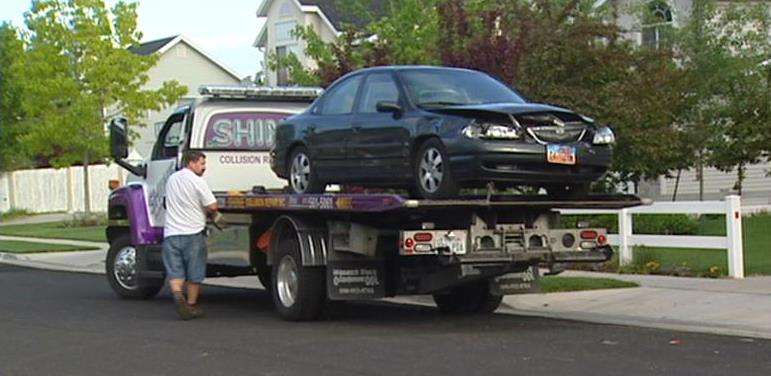 "As I started following her, there were some people walking down the street. She started yelling and screaming at them, yelling at cars, and then she saw that I was behind her and she came after my truck," Simmons explained.
Police say she knocked on several doors and even tried getting inside one home before they arrived and took her into custody. "Kind of different. You usually don't get people driving around naked, number one; and then, number two, acting the way that she did is very unusual," said Sgt. Victor Quezada, spokesman for the Sandy Police Department.
"Stuff happening like that, it's crazy. I'm just trying to get my cat. That's all I was trying to do," Rollins said.
Hanson was taken to a nearby hospital for a mental evaluation. She faces charges that include aggravated assault, leaving the scene of an accident, trespassing, criminal mischief and lewdness. Police say this is not her first run-in with police.
And the cat--almost forgotten in all the excitement-- was found hiding behind a fence.
E-mail: corton@ksl.com
E-mail: mgiauque@ksl.com
×
Most recent Utah stories