This archived news story is available only for your personal, non-commercial use. Information in the story may be outdated or superseded by additional information. Reading or replaying the story in its archived form does not constitute a republication of the story.
LEHI — Two cousins in the fifth grade tried their hand at robotics for the first time and came out on top at an underwater competition.
Students from public elementary and middle schools were invited to build their own robots and compete at the third annual Utah Underwater Robotics Competition in Lehi Wednesday. About 175 teams attempted to earn points by using their robots to complete various tasks in a pool.
This year, students tackled a scenario where a plane crashed into Lake Powell, so they needed to use their robots to open the door of the plane and bring back a black box. The teams also could drop oil absorption canisters and scrape nearby rocks for points during the simulation, which lasts 10 minutes.
"The students have that mission in mind the whole school year and we give out kits to each of the different teachers," said Brigham Young University student Kip Hacking, who helped plan the event. "The teachers go back to their students and they help the students build the different kits and then they modify their robot to fit the task and compete in that competition annually here in March."
The competition's goal is to get students excited about engineering and science. Cousins Emma Robison and Mary Steeley won the competition by earning 856 out of 1,000 possible points and seem to have caught the bug.
It was their first time at the event, but they earned 200 more points than even the top second-year team. The girls, who call their team "H20 Amigas," are fundraising* to go to the SeaPerch National Challenge in Massachusetts this May and are already thinking about how they can improve their robot for the competition next year.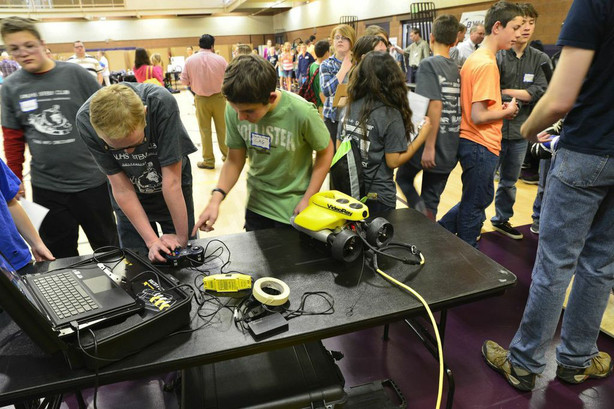 "Before we began this process we had never even heard of an ROV. We didn't even know what it stood for — ROV stands for remotely operated vehicle," Emma said. "Through the process we learned about buoyancy, propulsion, electricity, and the most important thing we learned was how to work as a team. We couldn't have done this without each other."
The girls spent two hours every Saturday for the past few months working on their robot. They said it took a lot of time but it was "definitely worth it."
Utah's underwater robotics competition has grown significantly since its inception three years ago. The event was held entirely at BYU the first two years, but it quickly grew too large and was split into two parts for 2015. A northern Utah competition was recently held at Weber State University.
The program directors at BYU measure students' attitudes toward science, technology, engineering and mathematics before and after the robotics project to see if there is any change, according to Hacking. Afterwards, the program is adjusted accordingly for the next year.
"We have definitely seen a big increase in interest in science and engineering from the students that are competing in this competition," Hacking said.
---
*KSL.com does not assure that the monies deposited to the account will be applied for the benefit of the persons named as beneficiaries. If you are considering a deposit to the account, you should consult your own advisors and otherwise proceed at your own risk.
×
Photos
Related Links