Estimated read time: 3-4 minutes
This archived news story is available only for your personal, non-commercial use. Information in the story may be outdated or superseded by additional information. Reading or replaying the story in its archived form does not constitute a republication of the story.
BOUNTIFUL — Brandon is a typical 19-year-old in many ways. He's 6-foot-2. He wants to be independent. And he loves movies.
"But on the other hand, he doesn't understand safety issues," Lisa Wade, Brandon's mother, said. "He doesn't understand personal space. He doesn't understand a lot of the unwritten laws of society."
Brandon was diagnosed with autism when he was 2 years old.
"He wanders," Lisa Wade said.
His parents use extra precaution, like door chimes and surveillance video, to keep him safe.
"He has to be watched 24-7," she said.
So it hit close to home when a Syracuse man with autism died a few days after being put in a headlock when he entered a neighbor's home uninvited.
"We put ourselves in that situation and it was just a horrifying story," Russ Wade, Brandon's father, said.
The Wades say it's helpful for their neighbors to know about Brandon.
"We're a little bit more open," Lisa Wade said. "We want everyone to know so that there's more eyes, more ears, more help."
But the circumstances vary with each person.
"It's one of those fine lines to balance between privacy and safety," she said.
---
You can see those little quirks and you can see that's just them, there's nothing scary there.
–Danika Amott
---
The Amotts have five children, two of whom are adopted.
"All of our kids have some sort of special need," Russ Amott said.
Their youngest has fetal alcohol syndrome.
"I was worried that she would go walking around and so that's when we started our neighborhood Facebook page," Danika Amott said.
About a year ago, the Amotts adopted a child from KSL's Wednesday's child program. His name is Alden.
He has an autism spectrum disorder and other special needs. The page evolved as a space of education.
"Danika started a Facebook page and she started to reveal things about her kids," Vivian Dearden, the Amotts' neighbor, said.
Dearden has lived in the neighborhood for 27 years. With her medical background, she thought she knew about autism. But the information Danika shared online has changed her perspective.
"(It has) really broadened my knowledge base tremendously," she said.
"As we educate more about autism and you can see those little quirks and you can see that's just them, there's nothing scary there," Danika Amott said.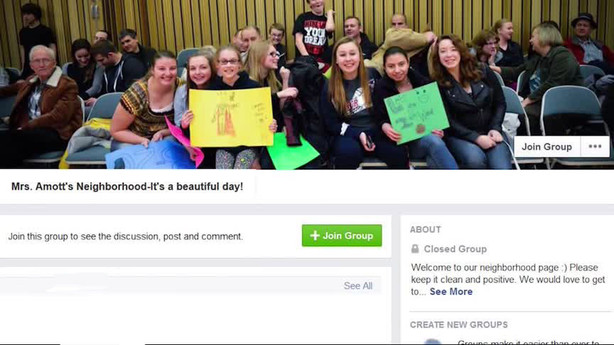 The neighbors know not to give Alden artificial coloring, and that he loves a high-five and a thumbs up.
Those are small bits of information Danika Amott said they wouldn't know without the Facebook page.
Now the online community that began three years ago has increased all neighborhood communication.
"If you know who lives around you, if you know what's going on with your neighbors, if you know who they are, if you recognize faces, in that sense it can diminish some of those challenges," Russ Amott said.
"It makes a more cohesive unit," Dearden said. "Not just because of autism, but because it's a nice friendly way to be."
The Amotts say the Facebook page has really changed their community. And Dearden agrees.
"(Maybe) a neighborhood of, like the old days," she said. "Be more able to know each other and help each other and be there for them."
Those interested in learning more about autism can visit the Big MAKS, mom's of autistic kids, website. A list of parent and family groups specifically for autism in Utah can be found on the Utah Parent Center's website.
×
Photos
Related Stories