Estimated read time: 3-4 minutes
This archived news story is available only for your personal, non-commercial use. Information in the story may be outdated or superseded by additional information. Reading or replaying the story in its archived form does not constitute a republication of the story.
SALT LAKE CITY — Twenty design volunteers collaborated over the weekend to provide Salt Lake City with ideas to improve Pioneer Park.
Soren Simonsen helped organize the volunteers from various landscape, architecture, urban design, and illustration backgrounds to create the Urban Design Assistance Team.
"The idea is, once we finished this charrette weekend, this information will be basically handed over to the city as kind of a catalyst, and then the city can decide how to move forward," said Simonsen, a former Salt Lake City councilman.
The future changes to the 10-acre park stem from a master plan approved in 2006 that was meant to guide future park developement.
"The first phase of that, which was this concrete pathway around the park, was installed in 2007," Simonsen said. "Then the economy tanked and money dried up, and so none of those improvements have happened."
But Simonsen said the city has had a recent emergence of funds, and the team is working to finish the improvements. Some of the funds are ready for immediate use by installing a new bathroom and multi-purpose field.
The team had an open house Thursday and invited the public to share their vision of the park and field. Some commented that they would like to see a sidewalk promenade and better lighting, a pavilion and cameras for surveillance. Some also suggested artificial turf for the new field, while others preferred traditional grass.
Simonsen called it the idea-generation phase.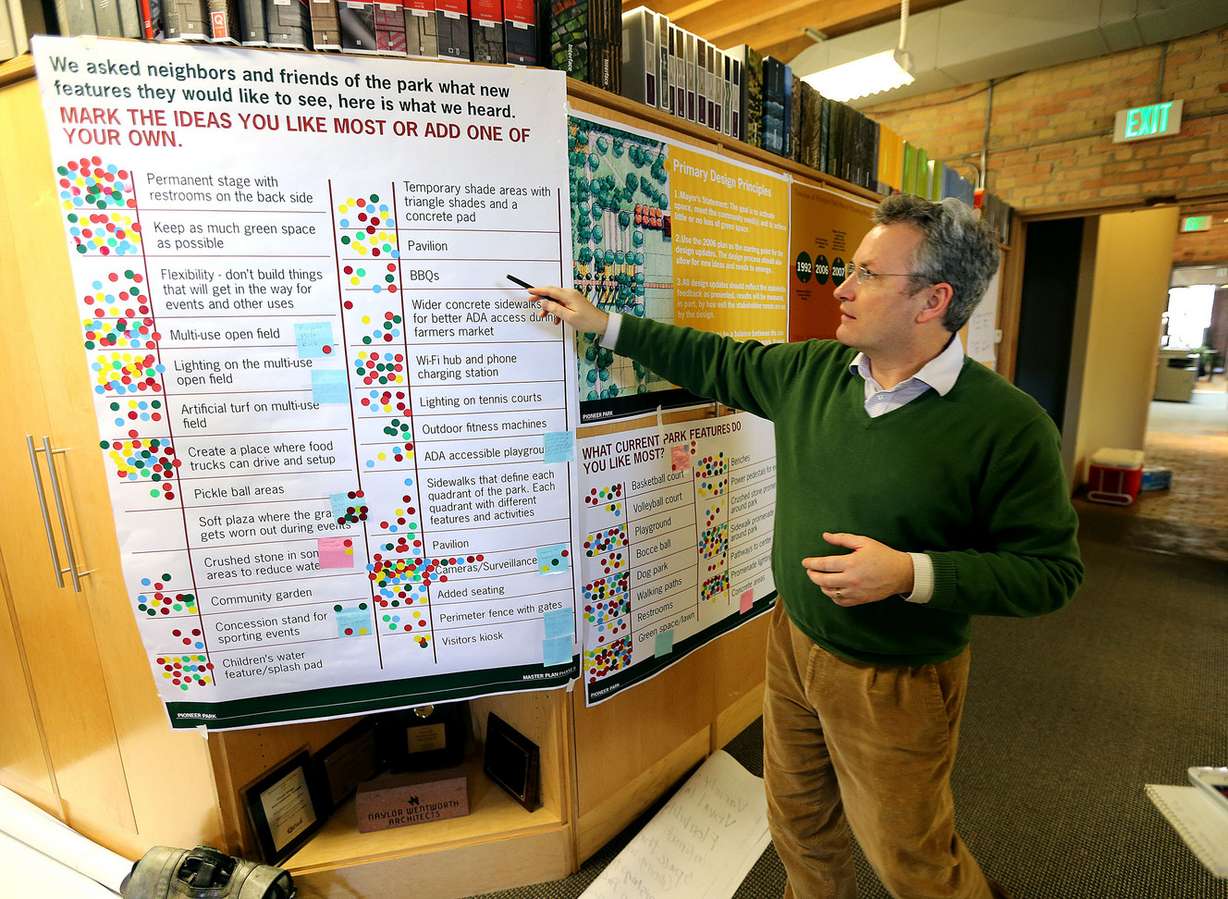 "We're trying to create as many different approaches to all of these things that the community has said they want the park to do," he said. "We're generating ideas and approaches to say there are lots of different ways to do those sorts of things."
The team will present to the city four ideas Monday that are built on the framework of the 2006 master plan and incorporate comments from the public.
Simonsen said the team acknowledges the homeless services in the area and recognizes that the park will have a variety of users. But he said it's not likely that those with chronic illness or homelessness will leave the area altogether.
"That's simply part of highly urbanized areas," he said.
Simonsen said there are some elements the team has tried to develop that those without homes could utilize, or activities they could do in the park.
"That can actually be part of other services that they're receiving to help get them back into a home, back functioning in society," he said. "The park's not going to solve those complex social issues, but to the extent that we understand what's going on and the park becomes a help rather than a hinderance, those are some things that we're exploring."
The Urban Design Assistance Team volunteers donated hundreds of hours and nearly $50,000 in services to help the city make improvements a reality in the near future.
Simonsen said those efforts will help speed up the process by about a month, and he speculated that improvements could be made as early as late summer or the fall.
---
The idea is, once we finished this charrette weekend, this information will be basically handed over to the city as kind of a catalyst, and then the city can decide how to move forward.
–Soren Simonsen, former Salt Lake City councilman
---
The motivation, he said, is a shared desire to improve their communities.
"So for me, volunteering a few hours over the weekend to help generate interest and build some momentum to actually see this neighborhood improve, that is something to get excited about," Simonsen said.
Troy Cook, a landscape architect, was part of the original team in 2006 and said it is good to see the work continued.
"Things have since changed — recessions, layoffs, office closures. We've all moved on since then, and it's been kind of fun to come back with many of those same individuals. Each of us now at different places to contribute and continue to push this forward," Cook said.
Laura Clayton, an architectural designer, said her motivation comes in two parts: the chance to collaborate with others with design backgrounds, and to create something that can benefit the diverse society in downtown Salt Lake.
×
Photos
Related stories
Most recent Utah stories