Estimated read time: 3-4 minutes
This archived news story is available only for your personal, non-commercial use. Information in the story may be outdated or superseded by additional information. Reading or replaying the story in its archived form does not constitute a republication of the story.
SALT LAKE CITY — Utah has a serious shortage of doctors. One prescription for change: expand the class size and the number of students who qualify for in-state tuition at the University of Utah School of Medicine. So far, the healthy boost in enrollment and in those qualifying for a tuition break seems to be working.
Each spring, Dr. Ben Chan and his admissions team assemble a class of students who will become the doctors of the future. "I am very optimistic that if we keep our best students here, they'll end up staying here and practicing here," he said.
Chan has had no trouble convincing students who have spent time in Utah to stay here for medical school. Susan Folsom grew up in Oregon and graduated undergrad from BYU. Now, she is in her second year of medical school at the U. of U.
"Many of us come from a background that's very altruistic. We really want to be here. We're willing to go through the hard things," Folsom said.
Some of the hard things students must deal with include paying out-of-state tuition and getting into a medical school like the U. of U.'s with a limited number of positions. "We have many more qualified applicants than we do positions, and so I'm excited to admit a class of 122," Chan said.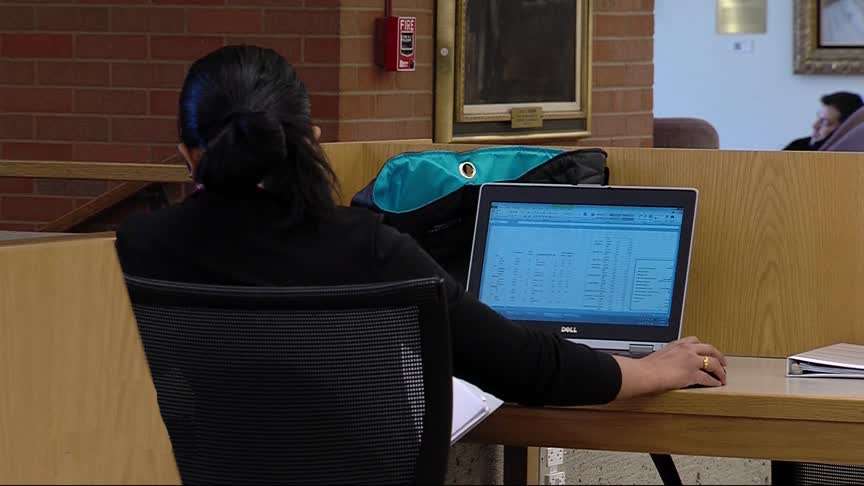 He is overseeing a growth spurt in admissions to the U.'s School of Medicine, from 82 students in 2012 to 122 this fall. Each year, more than 80 percent of those coveted spots go to students with strong ties to Utah. Alex Woodcock is a first-year medical student.
"I've always been a Western girl at heart. I love being in the mountains; my family lives 30 minutes away in Park City," she said.
Woodcock graduated from Park City High School but lost her Utah residency after spending four years at Harvard and a year working in California. But she is still paying in-state tuition thanks to a rule change that allows any admitted student who graduated from a Utah high school, college, or university to apply for in-state tuition. The graduate admissions office has the final say if residency will be granted after looking at a number of criteria.
"The cost is really attractive. Being able to have that in-state tuition is fantastic. I don't have to be as worried about the amount of loans that I'm taking out," Woodcock said.
Folsom compared costs and said, "I know that in-state tuition in Utah is actually very low relative to most states."
In fact, at approximately $35,000 a year, Utah's resident medical school tuition is below the national average of $40,000, and $30,000 less than nonresidents will pay.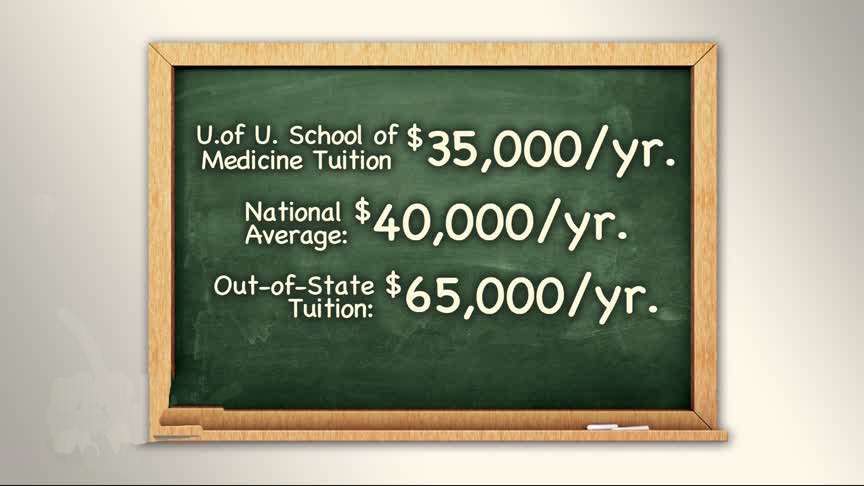 Students are also attracted to Utah's medical school by the faculty and the application process itself. "The admissions committee really takes into account every aspect of an applicant, and they try as hard as they can to create a class that's cohesive," said Jacob Basilius, a second-year medical student.
Basilius grew up in California and graduated undergrad from BYU. He was attracted to medical school here by in-state tuition, the lifestyle and the emphasis on life experience and community service during the application process.
"I think the University of Utah's application was the most difficult one to fill out," Woodcock said, "because they are looking for those altruistic people. They are looking for those people who absolutely want to become doctors for the right reasons."
The U.'s medical school reputation also keeps growing and boosting the number of highly qualified applicants from 1,500 in 2014 to 3,000 this year. Chan said, "I am very hopeful, I am very optimistic."
He is hopeful that both students and residents at the medical school will be Utah's medical caregivers of the future.
Folsom believes she will stay here.
"We talk about it all the time, how much we love Salt Lake and how much we really appreciate this school," she said.
×
Photos