Estimated read time: 3-4 minutes
This archived news story is available only for your personal, non-commercial use. Information in the story may be outdated or superseded by additional information. Reading or replaying the story in its archived form does not constitute a republication of the story.
**(AP Photo/Nick Ut)**Team Coverage
The California Supreme Court has overturned a voter-approved ban on gay marriage. In a 4-3 vote, justices ruled that domestic partnerships are not a good enough substitute for marriage. The ruling paves the way for same-sex couples to tie the knot.
The California court's decision Thursday will likely have no impact on Utah law because of Amendment 3 that says relationships other than those between a man and a woman will not be recognized in Utah.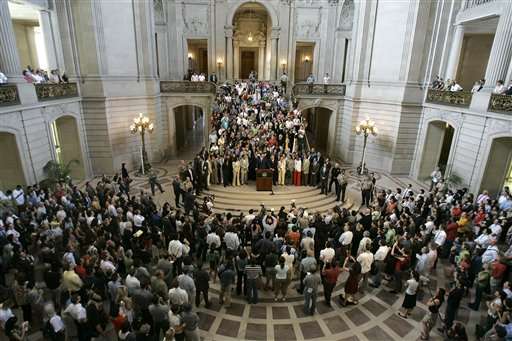 "Utah voters wisely protected this state against the kind of bad acts that we have seen transpire today in California. We see Amendment 3 fulfilling the purpose for which it was presented to the voters," explained Monte Stewart, with the Marriage Law Foundation.
California's ruling is getting reaction from people on both sides of the issue. Utah State Senator Scott McCoy is openly gay and has worked toward same-sex marriage laws. He calls the court ruling in California a moral victory for couples here. Still, he expects Utah same-sex partners to travel to California to get licenses there.
Salt Lake City Rep. Christine Johnson called Thursday a joyous day. She spoke to Eyewitness News Thursday afternoon about what she's been hearing from those in the gay and lesbian community here in Utah.
"I'm hearing that some people would like to go to California and get married, but they want to come home. But they are sad that they will come home and there will be no recognition of their marriage in California here," Johnson said.
We spoke to a couple that hopes one day Utah will follow California's lead. In fact, they were already planning to spend next year in California and may now take advantage of the opportunity to get married. However, Elizabeth Clement and Kellie Custen both know their California marriage license, if they got one, would be worthless in Utah.
Eventually, they would like to see Utah allow marriages for same sex couples, or at least allow some type of civil union law. "I like to entertain that fantasy. I think it would be slow in seeing that here, but yeah, it's something that I can imagine. Everybody would hope to be treated with the same civil rights as everyone else in the state," Custen said.
Clement said, "It's extremely disappointing to be discriminated against, and it has a real economic impact on our family. If Kellie and I could get married, I could cover Kellie on my health insurance, which I can't do right now."
Being allowed to get married here in Utah would also allow for the two to adopt each other's children.
Other reaction included a statement released by The Church of Jesus Christ of Latter-day Saints reaffirming its position on gay marriage. The statement reads in part: "The Church of Jesus Christ of Latter-day Saints recognizes that same-sex marriage can be an emotional and divisive issue. However, the Church teaches that marriage between a man and a woman is ordained of God and that the family is the basic unit of society. Today's California Supreme Court decision is unfortunate."
California is the second state in the nation where same-sex couples can marry. Massachusetts legalized such marriages in 2004. Of course, just because California allowed it doesn't mean Utah will any time soon.
*E-mail: aadams@ksl.com*E-mail: corton@ksl.com
E-mail: acabrero@ksl.com
×
Related links
Most recent Utah stories