Estimated read time: 6-7 minutes
This archived news story is available only for your personal, non-commercial use. Information in the story may be outdated or superseded by additional information. Reading or replaying the story in its archived form does not constitute a republication of the story.
Editor's Note: The body camera footage is intense and may be disturbing to some viewers. The footage has been edited for broadcast regulations.DRAPER — For 17 minutes the confrontation was very calm.
For 38 seconds it was violent and deadly.
On Friday, the Draper Police Department released the body camera video worn by one of its officers during Wednesday's fatal officer-involved shooting of Jeff R. Nielson, 34, of Sandy.
Most the video shows four calm police officers, two from West Valley City and two from Draper, being very courteous, and a seemingly subdued Nielson.
But that changed without warning.
"Things will change in an instant," Draper Police Chief Bryan Roberts said before showing the video. "His actions highlight the very difficult nature of our profession. Without notice, an officer can be confronted with a violent circumstance and be involved in a fight for their life."
West Valley police officer Jason Vincent, who was on his way to work Wednesday morning, spotted Nielson slumped over his steering wheel in a parked SUV, possibly asleep. Because the vehicle was in Draper, Vincent called for backup from Draper police. A West Valley police sergeant on her way home from work also stopped by the scene.
Draper Police Sgt. David Harris was wearing a body camera on his uniform, and the camera was running.
As the video begins, Nielson is seen out of his vehicle and talking to Vincent.
"I've been driving all over. I really don't have anywhere to go. I just lost everything I've worked for my entire life," a quiet and despondent-sounding Nielson tells the officer.
What police were unaware of at that time was that Nielson and his wife were separated and that his wife had a court order requiring Nielson to stay away from their Sandy house. Sandy police investigated five reports since Dec. 1 of Nielson violating a protective order. He was arrested on Dec. 24 by Sandy police for failing to stop at the command of a law enforcer and violating a protective order, according to one report. Nielson was also charged for an incident on Dec. 6 in which prosecutors said he entered an apartment where his estranged wife was staying "without permission and began arguing" with her. One witness described Nielson as "enraged."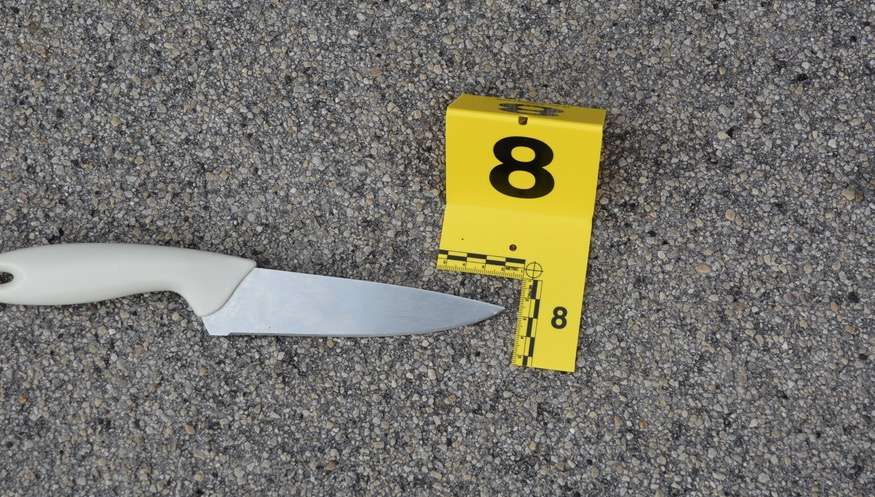 When officers asked him Wednesday when he had last been arrested, he is heard on the video saying, "A few months ago."
Both Vincent and Harris sound very calm when talking to Nielson. Initially, he denies having drugs.
"There's no dope in my car," he says. At one point he quietly says what sounds like, "I don't buy and sell drugs. I have to go to court and I can't have drugs, I can't see my kids."
Nielson has been described by neighbors as a devoted father of three children.
Initially, Nielson acts very politely with officers and even thanks them for the way he is being treated.
"Thanks for being cool and sorry for wasting your time," he tells Vincent.
"You've been good with us, we'll be good with you," Harris responds.
Four minutes into the video, handcuffs are placed on Nielson. Later, he tells the officers that there's a knife in his glove box, a kitchen knife with a 7- to 8-inch blade. West Valley Police Chief Lee Russo said Friday that at that point there was no imminent threat to officers because Nielson was in handcuffs 15 feet away, so they left the knife in the vehicle.
When Nielson is searched eight minutes into the video, Harris discovers that Nielson has heroin. A search of his vehicle reveals crack, cocaine and syringes. At one point, Harris walks over to Nielson's vehicle and the body camera shows several papers inside the cab and what looked like a picture of his family.
Twelve minutes into the video, Vincent reads Nielson his Miranda rights. Nielson asks if he can smoke a cigarette before going to jail.
"As long as you're decent, we'll be good," Harris says.
Again, the courtesy between Nielson and the officers is evident on the video as Nielson sits on the curb, still handcuffed, while an officer lights a cigarette for him.
"That's really nice of you," he tells the officer.
Related Story
Vincent tells Nielson he won't arrest him for DUI, even though he could. He says he is going to arrest him for possession of drugs and drug paraphernalia.
Nielson mentions to the officers several times that he is cold. He asks at one point if he can get something out of his SUV before he goes to jail. Sixteen minutes into the video, a West Valley sergeant preparing the paperwork to transfer Nielson to jail asks him whether he is injured or suicidal.
Less than a minute before Nielson runs away from the officers, he tells them, "You've been very polite and kind."
About 17 minutes after the video begins, Harris is heard telling Nielson that the officers are going to take his handcuffs off him and then put on a pair of handcuffs from the West Valley officer who will take him to jail. Apparently because he had been so calm and cooperative with police, they allowed him to put his left hand on his head when one cuff was removed.
But as soon as the right handcuff is removed, Nielson can be seen making an immediate dash to his vehicle. For the next 38 seconds, a very violent struggle ensues.
"When the suspect breaks free and runs to the vehicle, the threat of that knife now becomes an imminent threat," Russo said.
All four officers can be seen in the video attempting to pull Nielson out of his vehicle and they appear to be successful at one point. It was revealed Friday that West Valley Police Sgt. Margo Lund attempted to "drive-stun" Nielson with a Taser, meaning the Taser was applied directly to Nielson's body rather than with prongs that are shot out.
The Taser had no effect on him, Roberts said.
As Nielson struggled to get back in the cab again, Harris' camera was knocked off his uniform. Although the shooting was not captured on video, the audio was recorded.
Harris was closest to Neilson, Roberts said. Almost as soon as an officer is heard yelling, "Knife!" a shot is fired, followed by four more rounds in quick secession. Roberts said two shots hit Nielson in the side, one in the chest, another in the arm and one in the back. He was pronounced dead a short time later.
Heavy breathing and some swearing can be heard by the officers shortly after the shooting as they try to collect themselves, seemingly in disbelief over what just happened.
"I didn't even see the knife," Harris says at one point in the video.
"He it had in right in his hand. I was worried I shot you in the shoulder," Vincent tells him.
Harris then thanks Vincent for helping him.
Vincent remained on paid administrative leave Friday pending investigations by the Salt Lake County District Attorney's Office, Draper police and an internal investigation by West Valley police.
×
Photos
Related Stories