Estimated read time: 4-5 minutes
This archived news story is available only for your personal, non-commercial use. Information in the story may be outdated or superseded by additional information. Reading or replaying the story in its archived form does not constitute a republication of the story.
DAVIS COUNTY — A storm is expected to bring high winds up to 75 mph and freezing temperatures as low as 30 degrees below zero Monday evening.
Wind damage, wind chill, power outages and avalanche potential are all concerns in the anticipated, high-wind event.
The storm is expected to have its greatest impact on Davis County, but emergency managers said their primary worry was the effect of the high winds on road conditions and driving.
"The good news is we don't have school right now, a lot of people are in vacation mode right now, so hopefully the impact will be a little bit less — but we're still going to have a lot of people on the road," said Sgt. Ellis Bruch, Davis County Emergency Services coordinator.
Bruch said the winds could blow 6 to 8 inches of recent snow across roadways, surprising drivers in spots. Evidence of that phenomenon was already visible in the Farmington area Monday night as winds began to pick up.
Utah Department of Transportation spokesman John Gleason said officials could make a decision as early as the overnight hours of Tuesday morning to restrict high profile vehicle travel through Davis County.
Gleason said crews generally start to see "wind-assisted" crashes when gusts reach 45 mph, and at 65 mph, drivers can be impacted regardless of their skill level.
UDOT is planning to bring extra resources into Davis County Tuesday to clear roads suddenly covered by drifting snow, Gleason said.
Some drivers, including Linda Hadley, said they planned to stay home Tuesday rather than brave potentially hazardous road conditions.
"It's not safe to drive in that kind of stuff and you'll slide all over," Hadley said.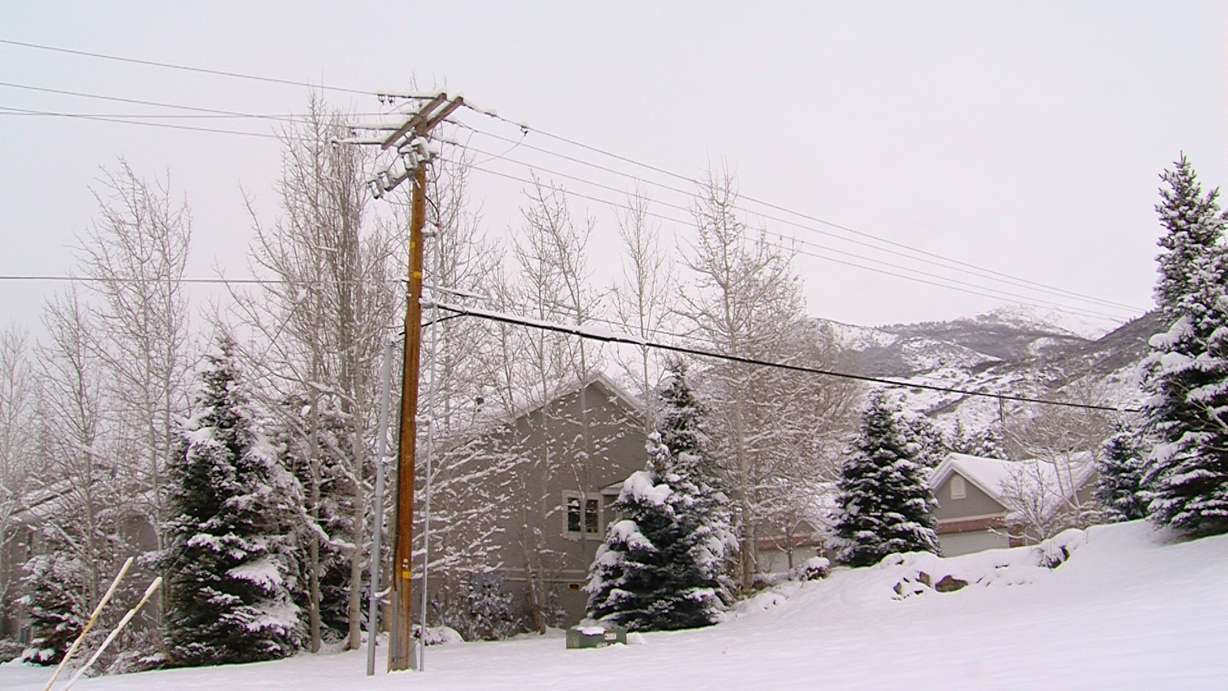 Truck drivers were also considering taking additional precautions, regardless of whether their travel plans may be altered by restrictions.
"I have an empty trailer and it's brand new, so we want it in one piece — one good piece — when we get it delivered," said Rick Tysen, a semi-truck driver from Oregon.
Tysen said if gusts got too strong, he would sit out the storm. But Monday night, he was to leave the affected area before the strongest winds hit.
Fuel trucker Mike Farrell said tankers are less impacted because of the weight they carry, but winds are always tricky and reason for caution.
"If it pulls you to the left, you kind of go to the left with it," Farrell explained. "And don't cut back into it too hard or it will flip you over."
Plan for power outages
Rocky Mountain Power said it has been monitoring the incoming storm and crews are ready to respond to any outages. The company wants its customers to be prepared as well.
"Have a kit close at hand where everything is gathered," Rocky Mountain Power spokesperson Margaret Oler said. "Have it in some kind of a container — a bag, a bin or a box or something — so it's all gathered in one spot, easy to find."
During the winter, the kit should include warm clothing, blankets, water, easily prepared food, a flashlight, a radio and spare batteries, Oler said.
Oler advised Utahns to call Rocky Mountain Power if their power goes out.
"We don't always know the extent of an outage without those calls coming in," Oler said. "Our personnel resources are all in place. We have a 24-hour center in this valley ready to go."
Plan for pets
The extreme weather may bring danger to pets that typically stay outside.
Tracy Roddom, the assistant director of Davis County Animal Shelter, said owners should limit a pet's time outside.
"Typically, the best case scenario is to have your animals inside in this kind of weather," Roddom said. "But if they are going to be outside, you're going to want to position their dog house so that it's not into the wind and they do have some kind of covering over the entrance into their kennel."
Moving outdoor pets into the garage is another option, and lining their bed with straw is better than giving them a blanket, Roddom said.
"You also want to make sure they have access to water all the time," Roddom said.
Contributing: Megan Marsden Christensen, Jodi Saeland
×
Photos
Related links
Most recent Utah stories