Estimated read time: 2-3 minutes
This archived news story is available only for your personal, non-commercial use. Information in the story may be outdated or superseded by additional information. Reading or replaying the story in its archived form does not constitute a republication of the story.
OREM - Un hombre en Orem tendrá una nueva sonrisa brillante para esta temporada de las fiestas gracias a la amabilidad de algunos extranjeros que reconocieron su necesidad y quisieron ayudar.
Para el observador casual, lo que podría parecer una típica visita al dentista es cualquier cosa menos eso. Para Kenneth Huff es una oportunidad de un nuevo comienzo, una oportunidad de conseguir una nueva sonrisa gracias a algunos generosos desconocidos.
Desde hace varios años Huff ha estado viviendo sin la mayoría de sus dientes porque no podía pagar por la atención dental.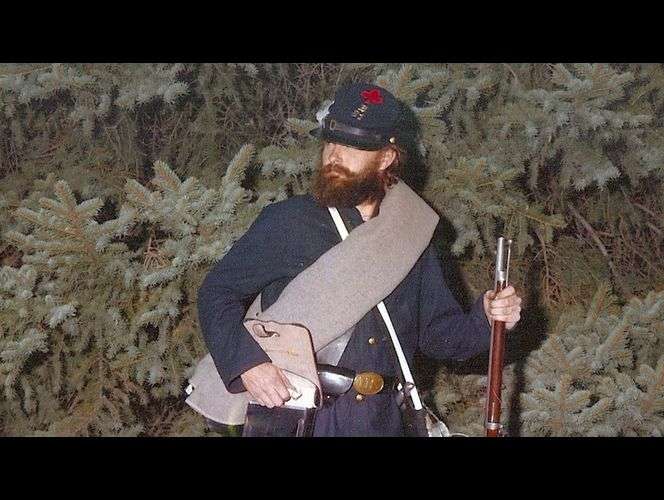 "He tenido mala dentadura toda mi vida", dijo: "Por lo general, yo nunca iba (al dentista) ni bien se me rompían; esperaba hasta que comenzaban a dolerme".
Huff hizo ajustes a su vida y aprendió a comer sin dientes.
Pero esto es sólo una pequeña parte de la historia de Huff. En julio de 1983 se encontraba participando en las celebraciones del Festival de Libertad de Provo cuando las cosas terminaron mal, muy mal.
"Estábamos haciendo una reconstrucción de una batalla de la Guerra Civil en el parque Kiwanis en Provo", Huff recordó. "Yo estaba en el cañón y lo estaba cargando. Habíamos disparado cinco tiros y yo hice algo mal. No sé que fue, pero cuando puse el último, este se disparó hacia mí ".
El fallo de encendido del cañón tomó sus manos, un ojo y un tímpano. Debido a sus lesiones finalmente perdió la visión en el otro ojo, y ha sido incapaz de trabajar. Huff dijo: "Básicamente tuve que aprender a hacer las cosas de nuevo".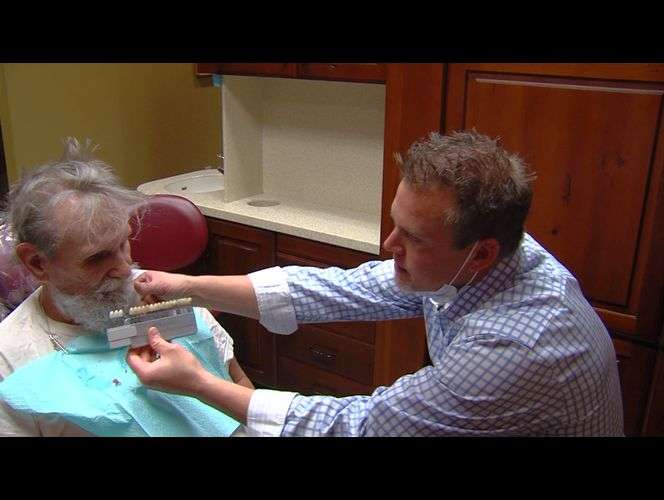 Hace varias semanas de Scott Lazerson, un extraño para Kenny, se enteró de su historia y quería ayudarle en esta Navidad. Lazerson dijo a KSL: "Yo no lo podía creer. Se trata de un hombre que durante 30 años ha perdido sus dos brazos. Ha perdido su visión, y ahora también ha perdido sus dientes. Cuando me enteré de todo esto pensé que tenía que llamar a mi querido amigo Dr. Goodman y ver lo que podía hacer".
Goodman es el Dr. Chris Goodman de Anytime Dental. Cuando Lazerson le habló de la situación de Huff, Goodman estaba ansioso por ser voluntario de sus servicios.
"Esta historia me pareció algo de lo que me gustaría ser parte", dijo Goodman. "Fue bastante fácil para mí decir que sí".
Goodman fue tocado por el difícil pasado de Huff, por lo que se acercó a sus amigos So Nature's Smiles Lab y se enteró de que también estaban dispuestos a proporcionar un conjunto de prótesis dentales. El procedimiento, que suele costar al menos un par de miles de dólares, fue proporcionado a Huff de forma gratuita.
Contribuidora: Brooke Walker
×
Most recent News stories