Estimated read time: 2-3 minutes
This archived news story is available only for your personal, non-commercial use. Information in the story may be outdated or superseded by additional information. Reading or replaying the story in its archived form does not constitute a republication of the story.
PROVO — Fed up with forgetting names? A new app from a Provo company could help people to never forget a name.
Ben Larson and Russ Zimmerman of Awesome Geekness have forgotten more names than they care to remember. So they created Name Shark, an app they say will help people remember the names of people they should know.
"Cousins, nieces and nephews, and you can't ask your nephew what their name is. I'm terrible at names," Zimmerman said.
Name Shark works by the user uploading someone's name along with his or her photo into a group, say co-workers, sales clients, or perhaps a child's Little League team.
"I know the parents on my son's basketball team were thrilled with the fact they could know the names of the other players on the team and then could cheer for them when they scored," Larson said.
Once the name and photo is in Name Shark, users can quiz themselves in four different modes to help sear that person's name and face into memory.
"We recommend people start with flashcard mode to get the names down. After that, we've got some other modes where you show the name and we put in nine pictures and say 'pick out the right one.' We've got another mode where we show the picture and put five names down there, and say, 'which name is it?'" Larson said.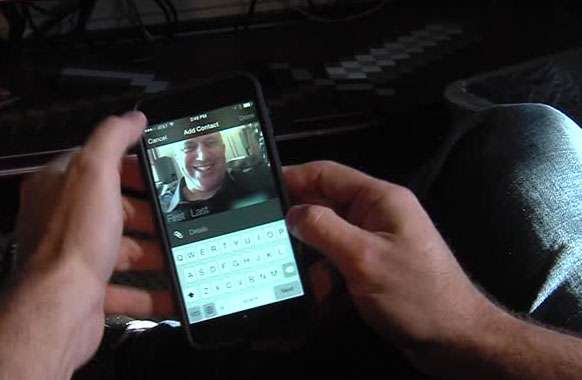 Larson and Zimmerman say mixing it up with the different quizzes solidifies a name. There's also a details quiz that refreshes the user's memory on facts and tiny details about a person.
Users can also share their groups with others and download public groups and private groups sent by another user.
"You can have a support staff, perhaps event planners and things like that. They can make them and easily share those with the people who need the information," Larson said.
Both Zimmerman and Larson said taking extra steps to remember someone's name isn't just about avoiding moments of embarrassment and anxiety. People are also flattered when greeted by name.
"People really like their names," Larson said. "They care about their names and it makes them feel good when you remember their names. And by using their names, you communicate that I care about you."
Name Shark is free unless users want to share a private, password-protected group of names. Public groups are free to share and download.
An Android version is in the pipeline.
×
Photos
Related links
Most recent Utah stories