Estimated read time: 2-3 minutes
This archived news story is available only for your personal, non-commercial use. Information in the story may be outdated or superseded by additional information. Reading or replaying the story in its archived form does not constitute a republication of the story.
SALT LAKE CITY — When Reva Morton learned through the news media about needs of homeless families at the Road Home, she wanted to help.
So she started purchasing and collecting items they need. Every now and then, she and her family visit Rio Grande Street to hand out hot cocoa or sandwiches to homeless people gathered there.
Morton, who lives in West Valley City, said she lives a middle-class existence but she looks for ways to share what she has with others.
"I'm very, very blessed with health and the means to share. Anyone can do it," she said.
The latest Volunteering and Civic Life in America report indicates that Utah — for the past nine years running — leads the nation for voluntarism nationwide.
According to the report's results for 2014, released at a press conference at the Candy Cane Corner in downtown Salt Lake City Wednesday, 45.3 percent of Utah adults volunteer. Among mid-size cities, Provo and Ogden rank first and second respectively, while voluntarism rates in Salt Lake City rank second among large metropolitan areas.
"Utah citizens are extremely generous and consistently demonstrate their commitment impacting the lives of individuals and their communities," said LaDawn Stoddard, executive director of the Utah Commission on Service and Volunteerism, noting that the national average of voluntarism is 25.6 percent.
Utah Lt. Gov. Spencer Cox said the world got a glimpse of Utah voluntarism in action during the 2002 Winter Games.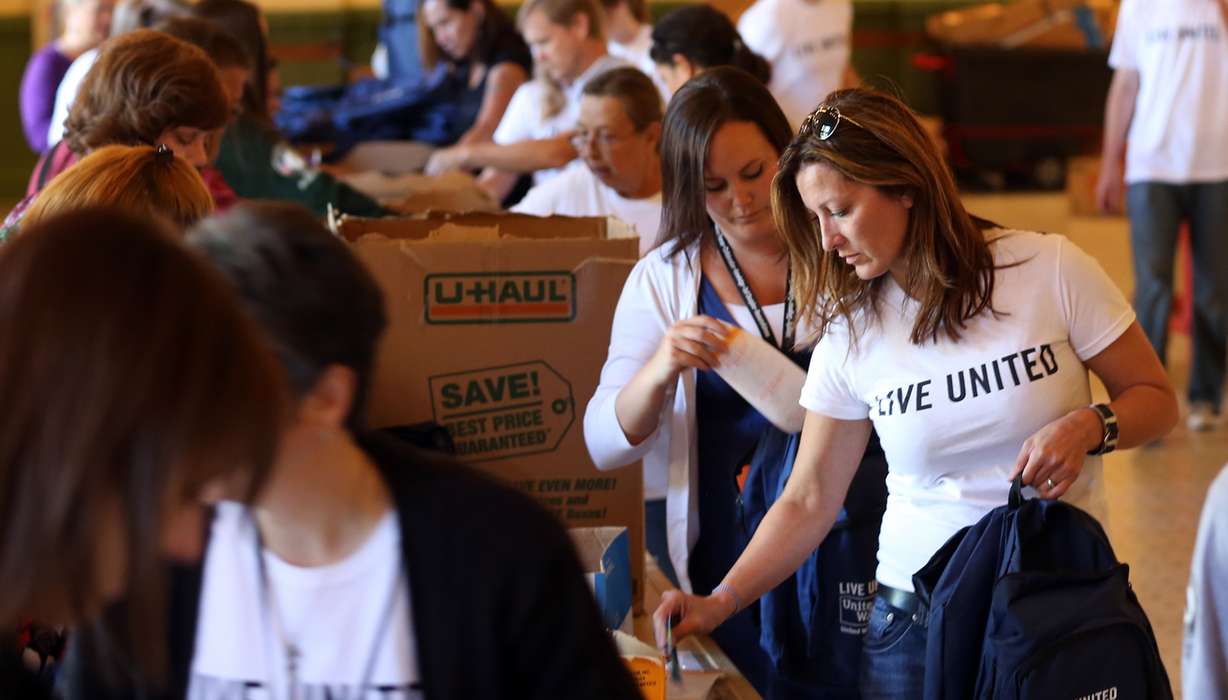 "That tradition has really carried on. We're seeing it in all facets of life. We're seeing it in our schools. People are volunteering to clean up the environment. People are volunteering to help the homeless in our state and those in need," he said.
Cox commended employers who give their employees the opportunity to volunteer on company time, which he said results in happier employees, better employees and more efficient employees.
"They're realizing the companies are better when they're giving back to the community," Cox said.
Morton, along with her daughter Michelle Thompson, pitched in at Candy Cane Corner Wednesday. Morton said she helps because needy families need assistance and she and her family members enjoy serving others.
As Cox and other officials addressed the media, Morton and Thompson were in a nearby room sorting children's pajamas. Candy Cane Corner is a collaborative effort of the Road Home, Volunteers of America–Utah and YWCA Utah. The three direct service providers ask the community to help provide a holiday shopping experience for the families they serve. All gifts are donated and the "store" is run by volunteers.
Morton said this was the first year she had been invited to volunteer at Candy Cane Corner so she was pleased to see its efforts run full circle from donations to families selecting gifts.
"We share in the joy," Morton said of her family's tradition of voluntarism.
×
Photos
Related stories